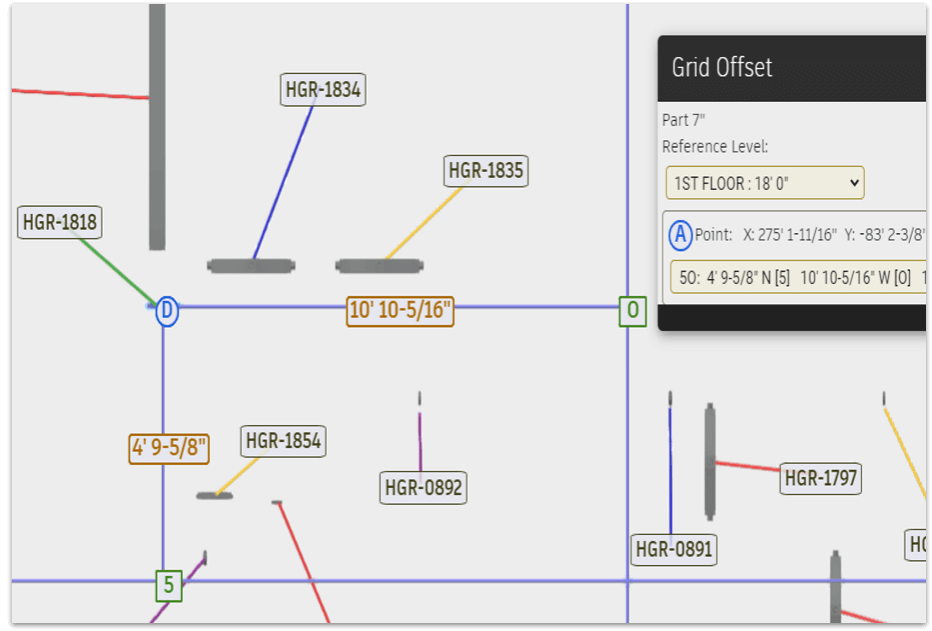 With a goal of eliminating paper in the shop, increasing efficiency in cutting, and using barcode labels to improve shop workflows, Postler & Jaeckle started working with STRATUS software from GTP Services in 2015. Since then, the company has seen a continuous return on investment with STRATUS, most recently by using labels to increase efficiency with hangers.
To reduce the amount of time field workers spent laying out hanger points or searching for material, Postler & Jaeckle began using STRATUS to create hanger packages, pre-cut hangers in the fabrication shop, and generate labels. STRATUS extracts information directly from the model, makes it available in a digital model viewer, and prints it directly on the label.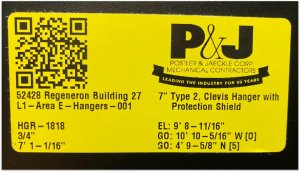 The contractor previously tried different methods for hanger installation. For example, they would send a person with a tablet to layout points on the floor in advance and have an installer use the tablet to continuously find the location of each hanger. Another method involved using a total station to map out points or creating a shop drawing with dimensions and tags. All of these approaches led to a bottleneck further in the process, as the field workers were left depending on one person with a tablet or total station or waiting for the drafting shop to complete a sometimes difficult-to-read installation drawing.
STRATUS bypassed all those issues by simply creating a label designed for manufacturing and installation. The labels include information such as the hanger number, rod size, rod length, hanger type, elevation, attachment type, and grid offset. The grid offset tool in STRATUS tells a user exactly how far east, west, north, or south of a gridline to install a hanger. Now, an installer can easily read the hanger coordinates on the label and install a hanger without using a tablet or referencing installation drawings.
In a recent project that involved more than 10,000 hangers, Postler & Jaeckle prefabricated most of the hangers in packages of roughly 250 hangers each, with a built-in allowance for rod length adjustment. They had 3,000 hangers built in the truck before installation began, and they did not have any issues with slab sag or structure. Overall, fewer than 1.5 percent of the 10,000 hangers were duplicated or changed. That project solidified the company's conviction that manufacturing from labels reduces material handling and dependence on tablets or internet connections. As a result, Postler & Jaeckle could install hangers with smaller crews and reduced supervision time.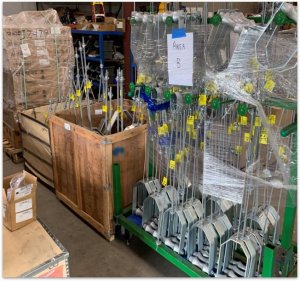 "The STRATUS Manufacturing and Installation Labels (MAIL) have allowed us to gain double-digit productivity savings," said Jesse Gorman, operations manager at Postler & Jaeckle. "Productivity gains allow us to have bigger margins and win more work."
Utilizing labels for efficiency does not stop with hangers. Postler & Jaeckle continues to pioneer innovation with labels for pipe installation. Using a system of sequential lettering labels, the field crew can install assemblies similar to building with an erector set. Starting with a STRATUS "reference" label to locate one specific part in a package coupled with the grid offset functionality, the "A-A" or "B-B" labels on each end of every assembly quickly show the orientation of assemblies. This simple approach provides an installation roadmap for the workers in the field.
Postler & Jaeckle's commitment to embracing streamlined and impactful solutions drastically decreased redundancies, increased efficiency, and contributed to the quality of their finished product. In New York state, where journeyman labor costs $1.20 a minute, saving minutes brings value quickly. As demonstrated by Postler & Jaeckle, increasing efficiency by building directly from labels produced by STRATUS is a quickly attainable win for any company.
For more information, visit gogtp.com.