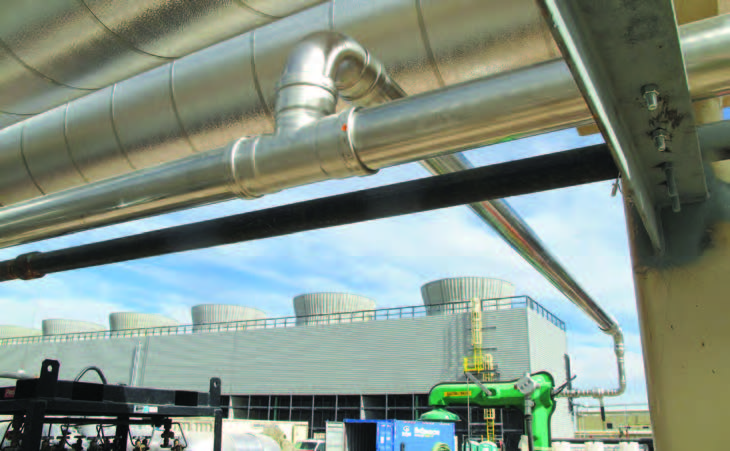 Finds Pressing Faster, Safer than Welding
The speed and ease of installation with Viega ProPress® fittings, as well as overall lower costs, were significant factors for MMC Contractors as they installed more than 15,000' of stainless steel piping in a new solar power plant in the southwestern United States. Jim Ed Thompson, project superintendent at MMC Contractors, said that by using Viega ProPress to join stainless pipe, MMC's installers saved a significant amount of time per fitting.
The world's largest solar power plant, constructed in 2013, will generate electricity using concentrating solar power technology. Covering an area of 1,900 acres, the plant has a 280-megawatt capacity, which is enough to power 70,000 homes while avoiding approximately 475,000 tons of carbon dioxide output.
Solar energy is here to stay thanks to renewable energy source regulations. The local metropolitan utility service contracted to purchase all of the power generated from the new station to meet the mandate that the state's regulated utilities provide 15 percent of their electricity from renewable sources by 2025.
Project Specs Call for Viega ProPress
"The original potable water plans for the solar power generation station construction had to be updated," said Dan Goellner, industrial account manager at Viega LLC. "It was essential that the system was compliant with the ASME B31 Piping Standard and was listed with the NSF-61G Zero Lead™ certification." The updated project plans also specified Viega ProPress for stainless in the station's construction plans for process water, service water, and instrumentation air systems.
By selecting Viega ProPress for stainless, the construction project saved more than 30 percent on materials and labor combined. The process water system is used for transporting waste water produced during cooling. The service water system encompasses the emergency eye wash stations and safety showers at the power plant. The instrumentation air lines are used to regulate media flow using air pressure.
MMC Leads the Way
MMC Contractors acted as the lead contracting company for the Viega ProPress installation. At any given time during construction, as many as 2,000 installers were onsite. Although MMC had experience with Viega ProPress on copper systems, all of the contractors installing the system took part in training with Viega representatives.
"Our team's training on Viega ProPress for stainless was quick and easy but it was also thorough," said Thompson. "Pressing with the Viega system provides a tremendous time savings and makes the entire setup process much more flexible. It takes only seconds to join the pipe with pressing compared to over an hour if it had been welded."
Thompson pointed out that Viega's system saves more than time. "Aside from being quick, there's an additional safety factor of not exposing anyone to the fumes produced from welding. Also, the system doesn't have to be
drained fully in order to do repair work or make changes on it, which was another benefit."
"Pressing with the Viega system provides a tremendous time savings and makes the entire setup process much more flexible. It takes only seconds to join the pipe with pressing compared to over an hour if it had been welded."

— Jim Ed Thompson, Project Superintendent, MMC Contractors
Quality Counts
Thompson explained that quality and consistent connections were important in the construction of the solar plant. "The foolproof connections that Viega ProPress for stainless provided were extremely valuable with so many different contracting companies working on the same systems installations on such a large-scale project," he said. "It was clear that Viega was offering an overall better product with Viega ProPress for stainless. Since Viega offers the larger-diameter sizes, we could do much more of the work with pressing than with other options. The speed of installation and the overall lower costs were also significant on this project."
The Viega ProPress system includes stainless steel pipe, valves in sizes ½" to 2", and fittings in sizes ½" to 4". Using Viega's revolutionary ProPress technology, installers can make watertight or airtight connections in less than seven seconds. The patented Viega Smart Connect® feature on all Viega ProPress systems guarantees easy identification of unpressed connections.
"It was a big project and there were a lot of deciding factors in the materials we specified in the plans," said Goellner, "Overall cost was important but we also needed materials that were quick and consistent to install and offered low maintenance. The goal was to be able to put it together and go."
"Viega's distribution channels came through for us and for the other contractors using it. We received all of our orders in a timely manner, helping keep the installation on schedule. It was clear that Viega offered the excellent inventory and delivery that a project with this magnitude requires."
For more information, visit www.viega.net.
MCAA thanks Viega for being a major sponsor of MCAA 2014.