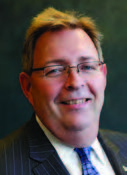 Efficiency is key to maintaining your competitive edge. In this issue of Smart Solutions, read how contractors are using prefabrication to speed installation, as FW Spencer and Son did for a stadium's plumbing systems using Anaco's Husky couplings. Braconier found that Jay R. Smith Mfg. Co.'s solutions allowed for faster installation of their prefabricated systems. Palmer Christiansen used Victaulic grooved couplings to quickly install 130,800' of prefabricated pipe.
Still others are employing advanced technology to make the most of every job. Starco is using GRINNELL products and services to maximize efficiency. With Trimble technology, U.S. Engineering can locate thousands of points in a fraction of the time that traditional methods take. MMC Contractors credits Autodesk® Point Layout construction software with helping them shave weeks off a hospital construction schedule.
Join me in welcoming our
newest supplier partners:
A-Gas RemTec
Anaco/Husky
Autodesk, Inc.
Fastenal Company
iBusiness Technologies
Makita USA
Wheatland Tube
Innovative products increase efficiency as well. For a job requiring welding hundreds of feet in the air, Modern Piping saved time and enhanced safety using Miller Electric Mfg. Co.'s PipeWorx 350 FieldPro™ System. Broadway Mechanical-Contractors found that OmegaFlex's TracPipe CounterStrike® corrugated stainless steel tubing was easy to install and ideal for projects in earthquake-prone areas. For a campus retrofit, John E. Green met a rush deadline thanks to the unique heat fusion process for Aquatherm Blue Pipe®. Using Viega ProPress® fittings, MMC Contractors rapidly installed more than 15,000' of stainless steel piping in a new solar power plant.
Computer software for contractors continues to evolve. West Chester Mechanical Contractors, Inc., partnered with iBusiness Technologies to streamline operations by moving to mobile technology. By adopting WennSoft's Signature® system, Atomatic Mechanical Services dramatically simplified its accounting processes, improved capabilities, and boosted productivity.
In this issue, learn how you can take advantage of expertise in the field to realize efficiency. Bradford White explains how to plan ahead for new energy efficiency mandates, and GPS Insight offers tips on what to look for in a GPS tracking system. Read how BMW Constructors partnered with Lifting Gear Hire for both equipment and planning expertise.
Environmental efficiency remains a key concern. For two Los Angeles buildings, ACCO Engineered Systems replaced aging technology with new BITZER compressors, helping their client qualify for a substantial municipal rebate.
I encourage you to support the suppliers who support your association by choosing their products and services for your next bid. Visit www.mcaa.org/virtual-tradeshow/ for a complete list of MCAA Supplier Partners or find them in person at MCAA 2014.
Mike Farrington, Chairman