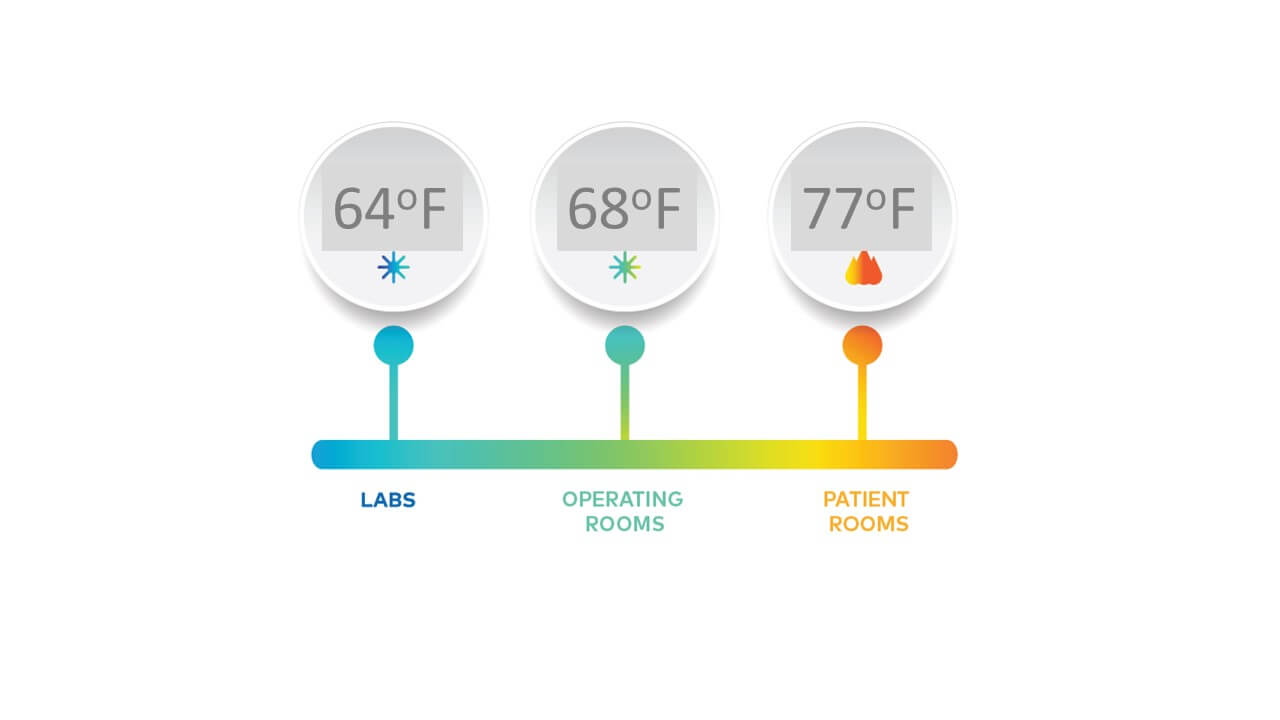 The performance of any health care building is linked to the HVAC ecosystem, as accurate indoor temperature and air quality are critical in health care settings. However, each project comes with its own set of challenges. IMI Hydronic Engineering has over 300 years of combined experience on hydronic systems. 
Renovation Projects
Renovating health care facilities requires finding solutions for individual system problems and also improving the system performance. Some of the most common HVAC problems involve system noise, temperature fluctuations, and power disruptions. 
System Noise
Disruptive system noise is the result of vibrations across valves and pipework. Noise can come from air and dirt circulating in pipes, high flow speed, or a too-high pressure drop in valves. 
Air vents, dirt separation, and degassing solutions help keep the system "clean" and avoid air bubbles that lead to system noise. They also increase system efficiency. Oxygen in the system can significantly reduce the efficiency and durability of equipment. 
Installing differential pressure (DP) controllers on the floor circuit helps control the available pressure and, if needed, rectifies the pressure interval entering that specific zone. Controlling the pressure helps avoid overflows that lead to large pressure drops, vibration, and noise. Proper balancing is also critical to prevent overflows. Installing a pressure independent balancing and control valve (PIBCV) can perform both balancing and DP control. 
Air Temperature
Different areas of a health care facility have different temperature requirements. A difference of 2° F too hot or too cold can increase energy consumption by 6 to 11 percent. Hospitals have five to seven times high¬er annual consumption than conventional office buildings. Ensuring the right temperature can have a significant impact on energy bills. 
Most buildings operate under 20 percent of flow during 80 percent of the heating or cooling season. Switching from constant to variable flow allows delivery of just the right amount of flow required at a given time. Valves with the equal percentage characteristic (known as EQM) ensure precise control even in low-flow conditions. A PIBCV adjusts the design flow independently of the DP variation, so complex calculations and commissioning are no longer necessary.
Power Disruptions
Power disorders or outages can sometimes be inev¬itable. Installing actuators with a fail-safe function, like IMI's TA-Slider, a digitally configured actuator, mitigates the consequences. With the fail-safe feature, the actuator moves to a predefined position in case of a power failure, ensuring that a safe power flow is achieved. 
New Build Projects
Building a new health care facility requires meticulous system design. The correct selection and sizing of prod¬ucts ensures accurate performance, reliability, and durability. Also, diligent follow-up during the installation and commissioning ensures that the system startup matches design conditions. Following are some critical considerations for a good hydronic system design and smooth operation. 
Smart HVAC System
A smart HVAC system offers multiple benefits, including easy access to critical system parameters, remote troubleshooting, and automation. IMI's digital actuator connects the controls' system to any building management system, where operation can be monitored and analyzed and equipment can be controlled. 
The IMI connected valve (TA-Smart) takes smart systems to a whole new level with internal control feedback. It continuously measures the flow, delta temperature, and power, and logs this information in a smartphone app even without a building management system. In addition, it communicates those data to its own actuator to change its input signal, ensuring the desired conditions for smart autonomous control. TA-Smart can also be used for energy metering purposes by zone.
Good Design
Well-designed controls have fewer variants and more installation possibilities and can adapt to on-site conditions, saving time and mitigating risk. IMI's solutions are fully configurable via a smartphone app, HyTune, so you do not have to climb into dark ceilings with screwdrivers to set dual in-line package switches. 
Confidence in Commissioning
System start-up is a lot smoother if the system design and product sizing are properly done. IMI's software tools simplify this process. For example, system information can be uploaded to TA-Scope, a diagnostic measuring instrument, to validate system conditions. IMIs' centralized technical team, the Engineering Support Center, is available to review your HVAC drawings and support you with hydronic calculations, product selection, and sizing. 
For more information, visit www.imi-hydronic.com.