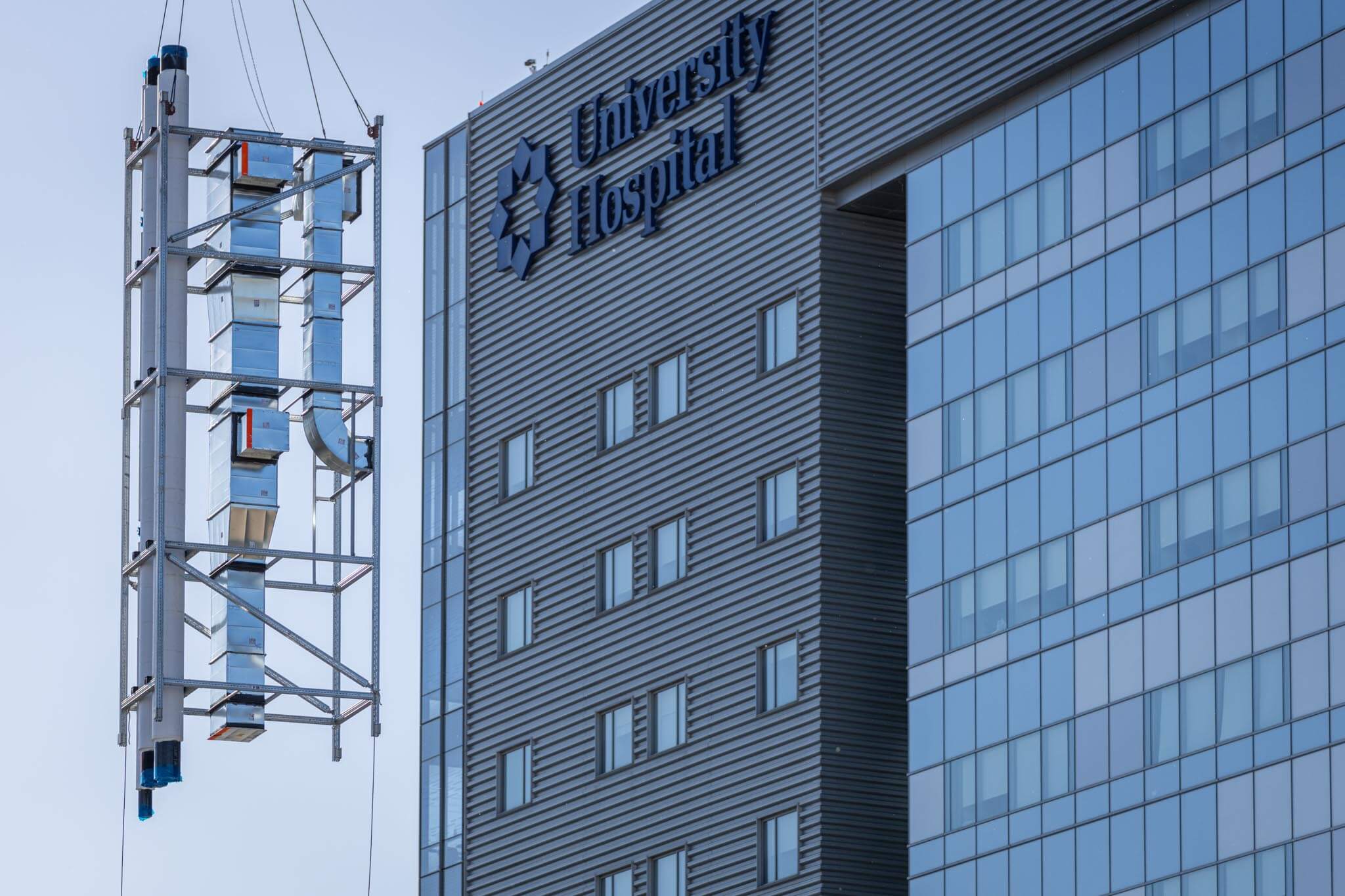 When University Health System in San Antonio, TX, invited Brandt to bid on the mechanical and plumbing contract for their new facility, they requested the same systems and products—including NIBCO valves—that Brandt had used on a smaller project with University Health a few years earlier. "The best sales tool is performance," said Kyle Holmes, senior vice president at Brandt. In addition, Brandt welcomed the opportunity to use NIBCO pressed fittings for the job, saving labor and avoiding the risks of welding. NIBCO is a major sponsor of MCAA22.
University Health's planned Women's & Children's Hospital is a 521,000-square-foot, 12-story, 300-bed hospital expansion for women, babies, and children. Construction began in September 2019 and is scheduled for completion in July 2023. The project includes the new structure and renovation to the hospital's central plant, as well as additional shell space for future growth. When completed, 4,000 fixtures will be installed. Headquartered in Dallas, Brandt has established itself as the largest MEP contractor in Texas. The firm's in-house capabilities range from build/design, construction, and commissioning to service.
Time-Saving Systems
At Brandt, Holmes is responsible for planning, purchasing, and maintaining relationships with manufacturers and vendors. He also has been instrumental in Brandt's business practices and has worked to establish standards, such as the installation matrix, which ensures that everyone on the Brandt team, from estimation to installation, knows what products are used for different systems, whether domestic water, heating, or chilled water. These time-saving standards are particularly critical for health care projects, which typically have more MEP systems per cubic foot than other types of projects.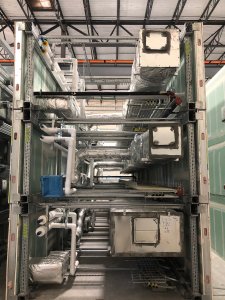 The installation matrix details the specific items required for each system. For example, instead of saying a ball valve will be installed, the matrix specifies a NIBCO PC-585-NS valve. Everything is documented, not only so the building owner can feel comfortable with what is being purchased, but also to ensure that the Brandt team is installing the right items in the right places.
For the Women's & Children's Hospital, NIBCO valves were specified for a majority of valves, ranging in size from of 1/4" to 20", from very large butterfly valves to smaller valves spread throughout the building in the various MEP systems, including hydronic systems, domestic water systems, steam systems for sterilization, and chilled process water systems. A valve matrix was created to designate every valve to be used in every size, in every system.
"Valves are really important, but especially in health care," explained Holmes. "Valves are actually very complex and have an important job to perform in the MEP system. Often, if you have problems in a system, the valve is likely the issue, whether it is leaking or a function of users not understanding proper use.
"NIBCO does a great job of ensuring that they provide a product that is safe (NIBCO valves are lead-free), high quality, and to spec. They are valve experts!" said Holmes, who has been with Brandt for 22 years and has used NIBCO valves the entire time. "What matters to me the most, is that I know if I have a problem and I call someone at NIBCO, they are going to take my phone call. The relationship is important, so if we need training, I know that NIBCO's got my back."
A Pressing Approach
Holmes' trust in NIBCO led him to choose NIBCO pressed fittings for the Women's & Children's Hospital project. Brandt recognized that pressing would help the company save on labor. Also, pressing technology is especially useful for working in existing hospital buildings, where fire watches are required when flames or soldering are involved.
"I was already very interested in NIBCO's pressing products for the labor savings, but then to not have to deal with flames was a bonus," explained Holmes. "I knew the buy-in from our organization would be easy if we were working with the same company that provided us with high-quality valves. It also reduced paperwork and increased efficiencies by not having two different suppliers."
For the Women's & Children's project, the general contractor, J.E. Dunn Construction, requested that Brandt prefab the MEP system in large racks. The two companies had successfully developed the racking system for a smaller, previous project.
"In essence, we were building the 'spine' of the hospital before the concrete was even poured," said Holmes. "The racking system is the magical unicorn for us."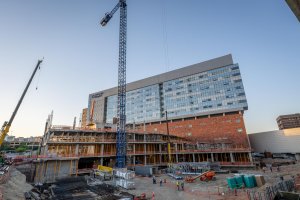 Using the racking system enabled  Brandt to prefab the MEP systems in the Brandt Fab Shop, located less than 20 miles from the project site. In coordination with the general contractor and other trades, thousands of hours were invested to build the racking systems efficiently, test them, and tag them in a controlled environment that is not affected by weather or inhibited by working off of a ladder. 
Using pressing tools and NIBCO fittings, Brandt made most of the joints inside the racks, which range in size from 20' to 30' long so they could be transported. Once the racks were moved to the project site by flatbed trucks, each rack had to be connected, which was done via pressing. More than half of the NIBCO fittings are pressed fittings used on the prefab systems. 
"Every time we can, we want to press a fitting," said Holmes. "Especially in the rack system, where insulation can easily catch on fire."

Having a high-quality supplier that provides Brandt with efficiency and confidence has been instrumental on this high-profile project—particularly because Brandt's service division will eventually service the building. "We're going to get the call when something goes wrong, so for Brandt, using very high-quality products that the manufacturer stands behind is really important to us," said Holmes.

For more information, visit  www.nibco.com. MCAA thanks NIBCO for being a major sponsor of MCAA22.