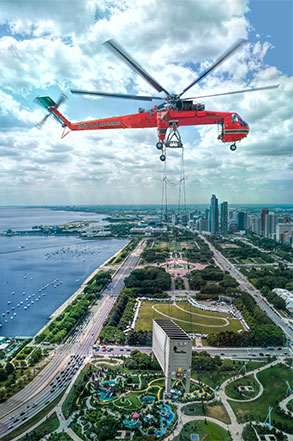 In the summer of 2016, The Hill Group called on Erickson Inc. to lift and place cooling towers and chillers by air into a building in crowded downtown Chicago, accomplishing the goal in hours compared with weeks needed for other methods. The project was located at East Randolph Street in a crowded landscape with multilevel streets and nearby residential buildings, so land crane equipment was not an option. Using Erickson's precision capabilities, aerial crane operators placed chiller equipment through a hole in the roof, with inches to spare, and then set it 15' below the roof level.
Erickson's signature Aircrane is a giant in the world of helicopters, with a rated lift capacity of up to 25,000 lb. It features a unique glass-enclosed aft-facing pilot station that allows the crew member to precisely lift and place large, oversized, or heavy objects. The heaviest section for this move weighed 19,000 lb. By taking advantage of the Aircrane's lift capacity, The Hill Group saved time because fewer pieces had to be assembled on the roof.
Five aerial lifts were completed in 1.3 hours of flight time, saving The Hill Group several weeks of time compared with other move methods. The Hill Group had previously worked with Erickson on other projects, and they knew airlifting was the only option for completing this project in a safe, efficient, and cost-effective manner.
For more information, visit ericksoninc.com.