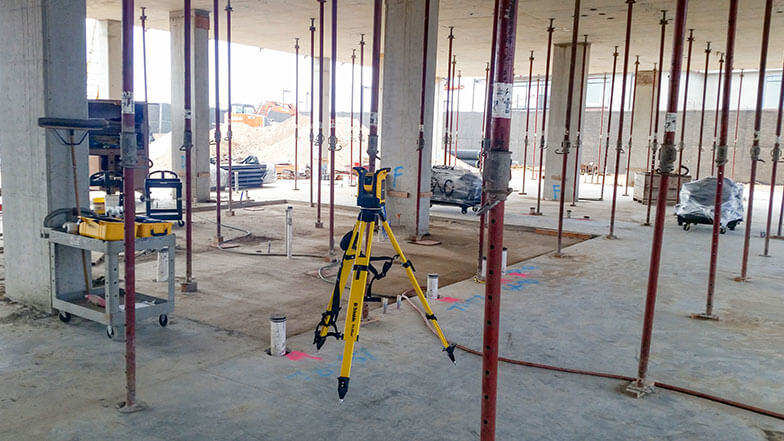 After winning a renovation project to transform the Waikiki Trade Center into a 230-room contemporary Hyatt Centric hotel, the Dorvin D. Leis Company, Inc. (DDL), Hawaii's largest mechanical contractor, decided to ditch the string and tape for the Trimble RPT600 paired with Trimble Field Link software. The cutting-edge technology helped DDL save time, increase productivity, and bring a constructible process from the office to the field and back again.
Transitioning from Tape to Tech
For over half a century, DDL has been Hawaii's go-to mechanical contractor for projects ranging from resorts and high-rise complexes to schools and hospitals. As the company transitioned from 2D plans to data-rich, truly constructible building information modeling (BIM), realizing the benefits meant finding a way to share information seamlessly between the office and the field. DDL had been relying on tape and string measure for layout, which was error-prone and, in many ways, hindered the adoption of a constructible process.
Brady Pennington, DDL's BIM manager, viewed the ability to extend data to the field as one of the biggest benefits of a constructible model. "We invest a lot of time and resources in creating pristine, data-rich models," he said. "A large part of the return on our investment is bringing that data to the field so our crews can use it to work faster and smarter."
Building a Better Model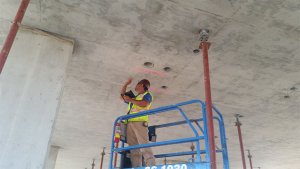 The renovation project had its share of challenges. Because the 22-story, 248,000-square-foot high-rise was originally built in the 1970s, the as-built model lacked exact dimensions. The building was twisted and 2" off-center from the ground to the top floor, which caused discrepancies in measurements that made it difficult to determine placement of walls and, as a result, ductwork, fire sprinklers, and plumbing hangers as well. In addition, the building was occupied during construction, which required the various teams working onsite to minimize disruption.
The first step was using the Trimble RPT600, a total station designed for construction layout, and Field Link to collect existing condition data points that were then imported into the design model. Collecting the as-built points with the RPT600 and merging them into the model allowed DDL to accurately modify the sleeve locations so fabrication would line up in areas where the building was twisted. With this new data, Pennington and his team could easily identify clashes and correct problems before work began.
The RPT600 comes with an automatic setup function, so it does not require leveling procedures that typically slow down field crews. According to Pennington, "The RPT600 won our crew over because they could literally take it out of the box, set it on the tripod, turn it on, and start working immediately."
Confident in the constructible model, the crew began layout. Using the Field Link software, they were able, for the first time, to view the model on a rugged Trimble Kenai tablet. With tablet in hand, the worker could see exactly what the instrument was seeing and could point, visualize, and position the instrument directly from the screen. The RPT600 has a laser beam that measures and identifies exact locations on the building that correspond to points in the constructible model, so the information conceived in the office is shared onsite seamlessly. The laser made it easy to layout and install the ductwork, fire sprinklers, and plumbing hangers faster and more accurately than ever before.
"Without the RPT600 and Field Link, we would have had to load the floors with raw materials, stick-build the entire project, and take down the resulting waste," said Pennington. "It provided massive savings. Not only could we get the job done faster, but one person could layout five times as many points as a two-person team using manual efforts. My crew spent more time with their skills and less time using tape and string."
Bridging the Communication Gap
Trimble's cloud-based collaboration platform, Trimble Connect, also played a large role in the project's success by ensuring that field layout points were seamlessly passed between the office and the field. The crew could easily download, upload, and share data with project teams and stakeholders through Trimble Connect. Openly sharing the design intent with the field crew allowed DDL to work in a truly collaborative way. By using technology to bridge communication and information gaps, all trades and project phases were more complete and better connected—ultimately driving smarter, constructible workflows.
With this combination of hardware and software, DDL was able to lay out approximately 22,000 points and install the ductwork, fire sprinklers, and plumbing hangers.
"The ability to communicate and share constructible data with the field has drastically reduced our layout time and manhours in general," said Pennington. "You can make a wonderful model all day long, but if your crew in the field can't use it, you've wasted money, because they will have to field-coordinate where hangers should go when we've already done that work in the model."
Improving Fabrication Productivity
Pennington also noted that the RPT600 increased fabrication productivity. "We can fabricate more because we know that our hanger layout is going to match our shop drawings. If your business is interested in fabrication and BIM, this is an essential tool. There's no reason to create a data-rich model and not use it to its fullest. You just can't communicate a thousand hanger locations efficiently in any other way."
DDL now uses the RPT600 for all of its renovation projects with consistent accuracy and efficiency gains. "The RPT600 has saved us a tremendous amount of time across projects," said Pennington. "We completed a project recently where a single journeyman was able to lay out over 300 hanger points in a mechanical room by himself, all in one day. We couldn't work this fast without the RPT600."
For more information, visit www.trimble.com.
MCAA thanks Trimble for being a benefactor of MCAA2020 and sponsoring Wednesday's featured speaker, Alden Mills.