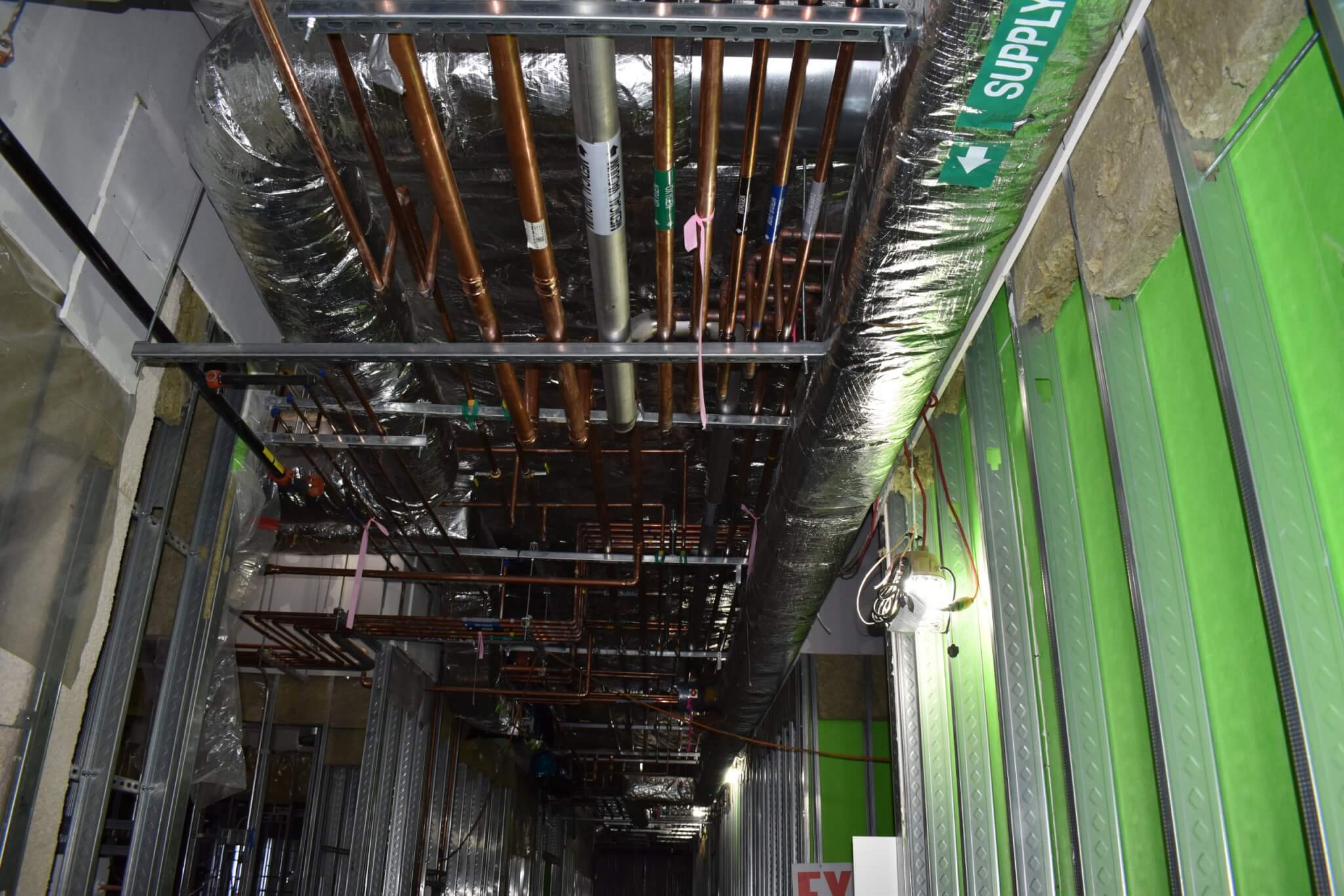 A new, state-of-the-art hospital in New York required that John W. Danforth Company use solder connections for mechanical piping and press fittings for the plumbing, so they looked to a trusted and reliable partner, Mueller Streamline Co., a primary subsidiary of Mueller Industries, that could provide both. That decision has paid off with a smooth construction process to date, supported by building information modeling (BIM) technology that ensured accuracy for prefabrication. Mueller Industries, Inc. is a major sponsor of MCAA23.
The Wynn Hospital—owned by Mohawk Valley Health System—in Utica, NY, is one of Danforth's most significant projects yet in New York. It is a 680,000-square-foot, 10-story facility that combines several different hospitals under one roof.
"It's a full-service, state-of-the-art hospital that combines just about any service that you would need, healthcare-wise, in one building," said Richard DeLotto, vice president of operations at Danforth. The Wynn Hospital includes an emergency department, imaging services, behavioral health, and 22 procedural and operating rooms. "It's a very big project within this area, and we knew it would be a challenge organizing the amount of manpower we needed onsite and getting all the materials we needed in a timely manner," said DeLotto.
Focusing on big-picture planning and attention to small details is critical for a project of this magnitude, especially amid the COVID-19 pandemic. Though the project faced many obstacles, such as supply shortages and the increased cost of materials, DeLotto's planning skills ensured his team succeeded on every job.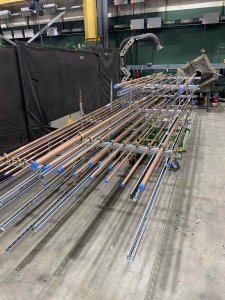 Danforth has purchased and installed plenty of Mueller materials in the past, but this was the first time it decided to use the company's Streamline® Press Fittings. "We know Mueller and their leadership position in the industry," said DeLotto, "and we wanted to standardize things and use a partner that could serve us on both systems, before and after, from both a quality and quantity standpoint."
Brian Caufield, vice president of Mueller Streamline Company, said, "We value our relationship with Danforth at the highest levels within our company, so when we discussed this project with them, we knew that we needed to perform with a quality product—copper tube, copper solder fittings, and copper press fittings, accessible BIM information, engineering submittals, and timely service. I believe Mueller Streamline's unique ability to provide a copper piping system—copper tube with various types of copper fitting connections—allowed us to deliver on the metrics required by Danforth for a successful installation on this project."
A significant key to the project's success was the continued access to high-quality goods in a tough market, a point that DeLotto stressed. "We've had some quality issues with other products in the past for one reason or another," he explained. "Quality here has been consistent and excellent, and as far as availability goes, it's been very good in a tough market where it's difficult to get certain elements of installation materials. Mueller Streamline Co. and its support team worked with our staff and our preferred wholesale distributor to make things as seamless as possible."
As a company driven by virtual design and construction, Danforth relies on manufacturer information when designing project plans. With full access to Mueller's CAD library, Danforth uploaded all of the necessary Streamline fittings information into their building database. When it came to drawing the job, all the right fittings and dimensions were already in place, making the transition from virtual design to procurement much more straightforward.
"Working with Mueller made creating bills of materials for procurement very accurate," said DeLotto. "Once we created those bills, it wasn't generic. We had all our specific part numbers. We know we're buying an ID, buying a T, buying the right female adapter."
As a prefabricator, Danforth depends on accurate dimensions. Sometimes, a team can build a catalog of generic fittings that are close to what is needed in the field. Danforth did not have that option. Having the exact specifications and information directly from the manufacturer reduces the time and labor required to build such a catalog and lessens the risk of parts not lining up correctly.
"We get to draw with precision accuracy, which gives us the confidence to precut all of the pipes and get into a dimensional tolerance that is going to end up being pretty much perfect in the field. And going with Mueller gave us complete consistency on how we drew the job. We count on that as a prefabricator and someone that puts in everything based on the model," said DeLotto.
The Wynn Hospital is projected to open to the public in mid-2023. Throughout the project, DeLotto has praised the quality, service, and savings that the relationship with Mueller brought. "You get wins on all counts, and we certainly like having an upstream relationship with a manufacturer," he said. "There's easy access because our distributors carry Mueller's Streamline products, and you get the wins on cost, quality, and viability. After how well this has gone, I think there's a lot of opportunities for us to work together in the future."
For more information, visit www.muellerindustries.com. MCAA thanks Mueller Industries, Inc. for being a major sponsor of MCAA23.