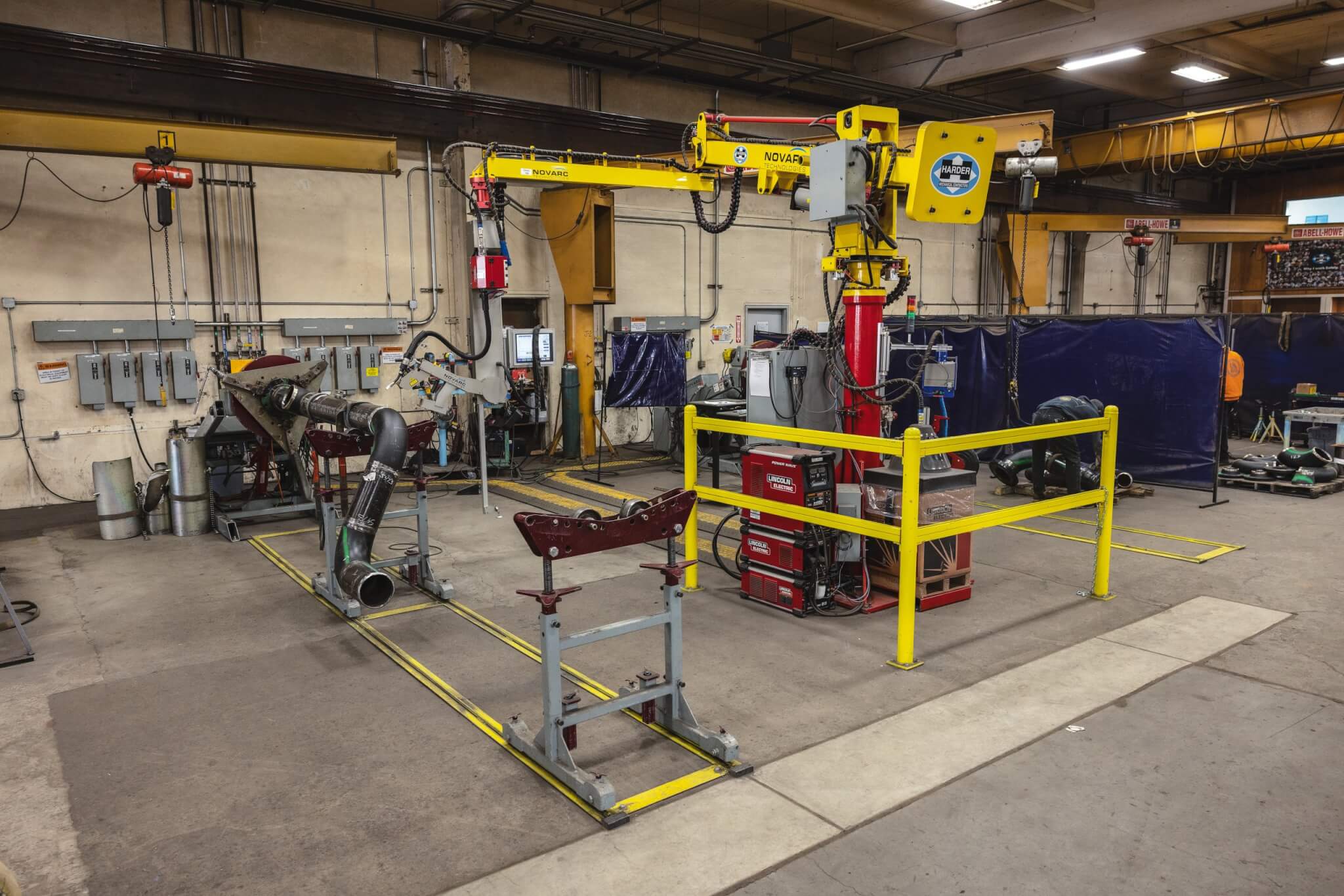 By implementing Novarc's Spool Welding Robot (SWR), Harder Mechanical Contractors has minimized their need for highly skilled welders and increased productivity from an average of 120 factored diameter inches (FDI) per shift to more than 200 FDI, while also achieving a repair rate of 0 percent and maximizing arc-on time. Moreover, because the SWR is a collaborative robot—or cobot—Harder Mechanical can assign less experienced welders to operate the machine, significantly improving shop productivity and resulting in high-quality welds every single time.
See the Novarc SWR cobot in action! https://www.novarctech.com/spool-welding-robot/
Weathering the Welder Shortage
The welder shortage, caused by the combination of an aging welder workforce and the lack of uptake of the welding trade, is affecting many industries, and it is one of the main reasons why Harder Mechanical decided to look into welding automation solutions. With over eight decades of experience, Harder Mechanical is a large, nationally recognized contractor with an outstanding reputation, based in Portland, OR.
"Our biggest priority was to get qualified welders," said Mark Nastari, corporate quality director at Harder Mechanical. "Like everybody else in construction, we're seeing a lot of skilled labor retiring and the new generation of workers not choosing blue-collar union jobs. So we were getting pretty nervous about finding specifically hard wire welders for our shop."
Nastari noted that the shortage of highly skilled welders is a particular concern. "To find guys who have the skill to weld hard wire with a gun and be able to pass X-ray was getting pretty flimsy," he said. "Our biggest concern was buying equipment that we can train people on easily and get them up and running and making X-ray quality welds."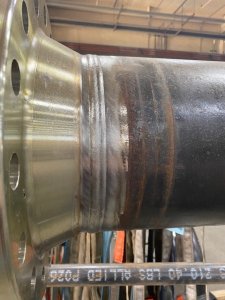 Harder Mechanical was looking at pipe welding automation solutions that would help them combat the shortage of skilled welders when they came across Novarc's SWR, a cobot designed specifically for pipes, small pressure vessels, and other types of roll welding.
"We're very tech savvy at Harder Mechanical, and we're always looking for better tools, better means and methods." said Nastari. "So we looked at a variety of mechanized and automatic weld equipment. It came down to a decision between Novarc and another pipe welding machine that we had seen at FABTECH. What made the Novarc machine stand out was the quality of the root pass, the laser, and the technology."
Dramatically Increasing Productivity
Nastari noted, "In our wheelhouse piping, which I call 2"–16" diameter pipe, a good welder would average about 120 diameter inches [per shift]. With the SWR, we have already exceeded 200 diameter inches, and we are not even at full throttle." In fact, he predicted substantial advances for the future. "It will be easy for us to get to 300 diameter inches on our wheelhouse piping with the SWR." The significant productivity improvements provided by the SWR can help contractors become more competitive when bidding on jobs and increase their profit margins on current jobs.
Robot Boosts Safety, Efficiency, Accuracy
Nastari pointed out other upsides of the new technology. "Another benefit of the Novarc machine is the safety factor. You don't have welders hunched over, breathing fumes; they are standing back behind a weld screen, looking at the HMI [human machine interface], recording it. They really don't need to get near the weld except for when they start it and when they stop it," said Nastari.
Nastari continued, "The robot really kicks butt because we do not need to stop and clean in between passes. We've had a lot of clients come to see our shop during the bid process, and they go crazy when they see the robot. They love it! They love the videotape capability. We play back the welds for them and they are absolutely gorgeous welds."
Prior to purchasing [Novarc's] SWR, we were experiencing failure rates of 2–3 percent, which is better than industry average. But on the current job with the robot, we are doing X-rays, and we haven't had any repairs,"

—Mark Nastari, Corporate Quality Director, Harder Mechanical
The ability to train junior welders to use the robot has also proved to be a substantial boon to Harder Mechanical. "Currently we have three people trained. We are a union contractor, and two of the people trained are apprentices. The third guy is a journeyman, and all three of them are about the same as far as competence. We've never had apprentices who could wire a weld and pass X-rays before. That's a huge benefit to us, and it's fantastic!" said Nastari.
The SWR minimizes human error and therefore reduces the failure rates from the North America industry average of 3–5 percent to less than 1 percent, resulting in massive cost savings for fabrication shops. "Prior to purchasing the SWR, we were experiencing failure rates of 2–3 percent, which is better than industry average. But on the current job with the robot, we are doing X-rays, and we haven't had any repairs," said Nastari.
Harder Mechanical has also been pleased with Novarc's support as they put the SWR into practice. "The support was fantastic; we were always able to get ahold of the Novarc support team. They were always able to work on the screen in real time, and they always showed up when they said they were going to show up," said Nastari.
For more information, visit www.novarctech.com.