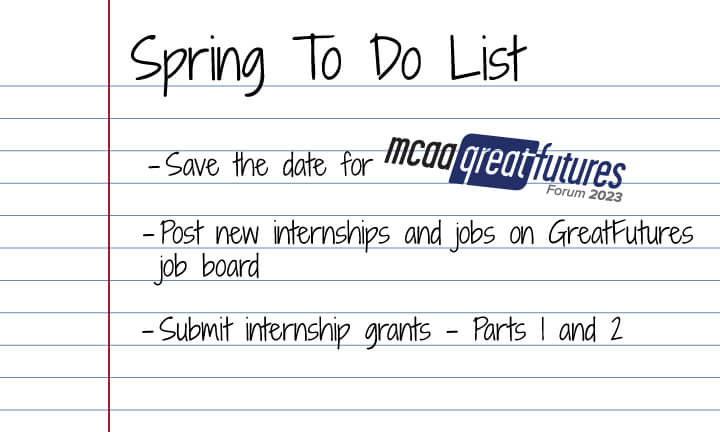 Save the Date for MCAA's GreatFutures Forum in Milwaukee, WI (Sept 28 – 30)
Don't miss out on the Job Fair on Sept 29th.
Complimentary registration for the entire conference is available for MCAA Members, Local Association Executives and Forum Sponsors.
Registration opens June 15th!
Post an Internship or Job NOW on the MCAA GreatFutures Job Board!
Don't wait until the Fall!  Students are already starting to consider their summer '24 employment options. 
How to Post an Entry-Level Job or Internship
Login with an MCAA username and password
Click on the job board within the Career Development page
Click Manage My Jobs and Add a Job to create your posting
Jobs remain active for 1 month to ensure postings stay fresh
When the job is set to expire, a reminder will be sent for you to either "mark as filled" or "duplicate" and repost for another month
Interested students can view postings and submit their contact information and resume
Your office will be notified via email when interested students submit their resume
From there, your office is encouraged to continue with your company's application and interview process
Submit an Internship Grant Application for new interns
Submit an application for each intern (even beyond 2)!
Applications are accepted on a rolling basis.
Companies with 1 intern are eligible for a $1,000 grant OR companies with two or more interns may receive a $2,000 grant.
Submit an Internship Grant Application for your intern to new hire conversion
For companies successfully converting an intern from their Part 1 list to a full-time new hire, a $500 gift card will be mailed to the company to present to their new hire.
New hire conversions are unlimited, but the name must be included on a Part 1 list from an MCAA member company.
Part 2 applications may not be submitted until after the full-time start date.
Related Articles