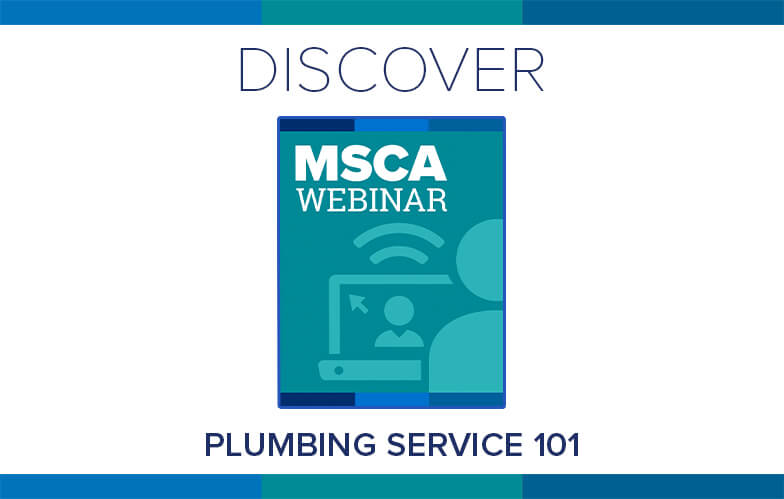 Each week, MCAA will highlight one or more of the educational resources that are free to MCAA members as a benefit of membership. This week, we focus on MSCA's Plumbing Service 101 webinars and workbooks. These resources cover fundamental plumbing concepts for mechanical service contractors thinking about entering the plumbing service business.
In this series of 60-minute webinars and corresponding workbooks, you will learn about:
Plumbing Service Business Basics including the pros and cons of plumbing service, how to make a sound decision about whether to enter the market, and types of services to offer based on commitment level.
Plumbing Service Markets and what type of research needs to be done before making a final decision to enter the market. Learn about 10 specific target markets that create opportunities for the HVACR contractor looking to add plumbing services.
Finding and Developing Great Plumbing Techs discusses the required skill sets, recruiting sources, and training needed to find and develop great service techs.
Cash is King will give service contractors an understanding of the key, important financial concepts and factors in planning a successful start-up and profitable operation of a plumbing service business.
Operations Part 1 explores the key personnel and organizational structure required to establish, sell, and grow a viable plumbing services division.
Operations Part 2 summarizes the most important advice from the experts. Topics include how to integrate plumbing into an existing corporate culture, strategies for externally communicating the new service, and key service differentiators for plumbing.
Have Questions or Need Personal Assistance?
Contact MCAA/MSCA's Teresa Pezzi.
Related Articles