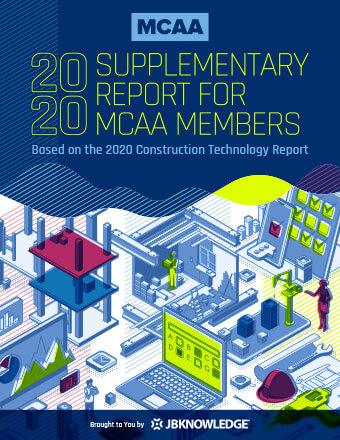 A new report provides MCAA members with a mechanical industry specific look at how MCAA members are using construction technology. The report, developed by JBKnowledge, is based on the 2020 Construction Technology Report released in March.
The 2020 Construction Technology Report provides an in-depth analysis of how the industry approaches technology based on thousands of responses from those in all areas of the construction industry, including MCAA members.
The new 2020 Supplementary Report for MCAA Members narrows the focus to MCAA members, comparing MCAA member responses with the rest of the construction industry.
In many ways, MCAA members are leading the rest of the industry in technology innovations. This can be seen in the use of fabrication and mobile devices, and the integration of construction apps and Virtual Design and Construction (VDC). Technology implementation and coordination have given many MCAA members a chance to take a leading role in the coordination and design of projects.
One area of that mechanical and plumbing contractors could use more help on is information technology (IT) budgeting. Compared to the rest of the industry, MCAA members tend to bill IT expenditures directly to jobs less often. They also require a greater budgetary commitment for their crucial IT workflows to positively impact productivity.
Both reports can be downloaded by MCAA members for free:
2020 JBKnowledge Construction Technology Report
Questions about either report, or anything else related to the Construction Technology Initiative, can be directed to Sean McGuire.
Related Articles