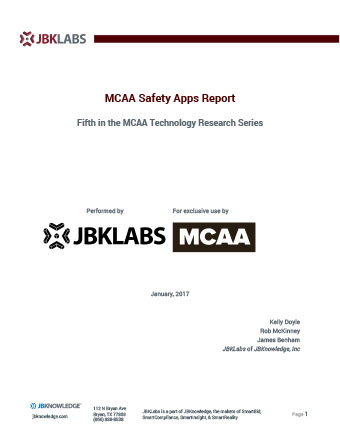 At the 2017 Safety Directors Conference, Sean McGuire, MCAA's Director of Construction Technology, presented the findings from the latest MCAA Technology Research Series on Safety Applications.  The new study, produced independently by JBK Labs, focuses in on apps that can be used by companies to document, report, organize and even predict future incidents.
[Download the MCAA Safety App Report]
The report compares 13 different applications available on the market today that can perform a variety of features.  These range from basic compliance apps that can import current safety forms and digitize them to more hi-performance apps geared specifically towards safety inspectors.
The report also identified an emerging technology within safety apps – predictive analytics.  While some apps focus on merely storing data for reporting and legal purposes, there are two apps on the market that are leveraging that data through machine learning using it to predict higher probability of safety occurrences.  As Rob McKinney of JBKnowledge, a former safety director and the principal researcher for the report put it, "Predictive analytics in safety apps is a game changer for the entire construction industry. When you consider how much effort is spent on avoiding accidents and zero injury worksites, having a predictive tool that can call out potential risks can only be seen as a positive benefit."
The MCAA Construction Technology Committee is working with the Safety Committee to put together a taskforce to further research predictive analytics in safety.  Volunteers from the taskforce are field testing the apps with the help of JBKnowledge in an effort to evaluate the benefits of the software and produce a supplemental report for the research.  The supplemental report is expected to be completed in the third quarter this year.
MCAA also provided a supplemental webinar, hosted by JBKnowledge's Rob McKinney, the report's principal author. To get additional detail, click on the webinar below.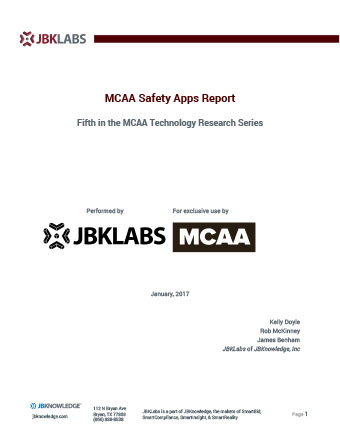 Related Articles