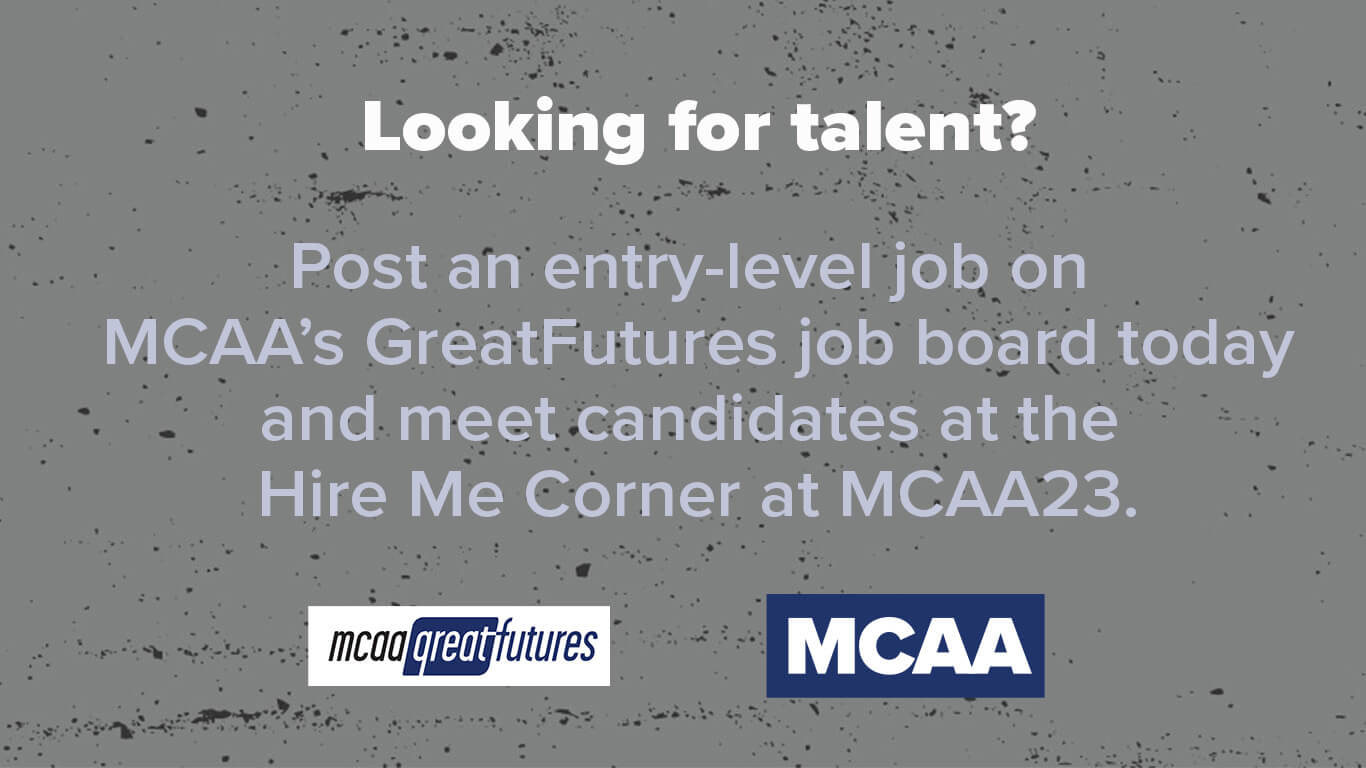 Over 125 Students from close to 30 chapters are registered for MCAA23. They will soon be scoping out MCAA's GreatFutures Job Board for companies they would like to meet with in Phoenix to discuss internships and entry-level full-time positions. Post your position(s) today and be sure to stop by the Hire Me Corner (inside the Manufacturer/Supplier Council Exhibit) on Tuesday, March 28th to meet students in person.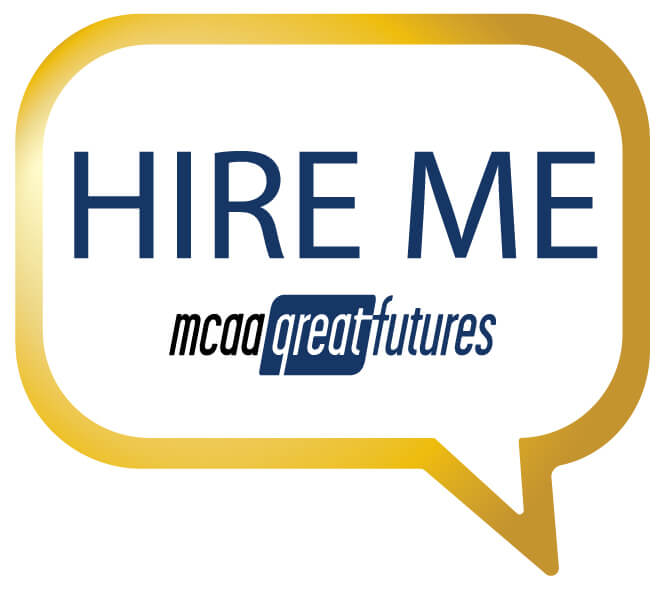 Students seeking employment opportunities will be stationed at tables based on where they would like to find work (not necessarily where they're located now). Tables will be separated geographically into West, Central and East. Stop by the table that best fits your company's location and find your next great hire.
MCAA23 Student Chapters
The following schools will be bringing students to MCAA23. Be sure to check out the We're Here Banner at MCAA23 for the most up to date listing of schools as they arrive on-site.
Alfred State University
Auburn University
Ball State University
Bradley University
California Polytechnic State University, San Luis Obispo
California State University, Chico
California State University, East Bay
California State University, Sacramento
Fairleigh Dickinson University
Ferris State University
Illinois State University
Iowa State University
Kansas State University
Kent State University
McMaster University
Milwaukee School of Engineering
Missouri State University
Oregon State University
Pittsburg State University
Purdue University
Southern Illinois University Edwardsville
SUNY at Binghamton University
University of Maryland, College Park
University of Nebraska
University of Washington
Utica University
Wentworth Institute of Technology
How to Post an Entry-Level Job or Internship
Login with an MCAA username and password
Click on the job board within the Career Development page
Click Manage My Jobs and Add a Job to create your posting
Jobs remain active for 1 month to ensure postings stay fresh
When the job is set to expire, a reminder will be sent for you to either "mark as filled" or "duplicate" and repost for another month
Interested students can view postings and submit their contact information and resume
Your office will be notified via email when interested students submit their resume
From there, your office is encouraged to continue with your company's application and interview process
Hired an Intern? Submit an Internship Grant Request
MCAA wants to hear about all of your mechanical contracting interns and has revised the internship grant application process to ensure program success is being rewarded and celebrated.
Part 1: MCAA members with one intern are eligible for a $1,000 grant. Companies with two or more interns may receive a $2,000 grant. One form should be filled out for each intern (even beyond two).
Part 1 applications will continue to be accepted on a rolling basis and may be submitted once per calendar year, per intern.
Part 2: For companies successfully converting an intern (from their part 1 list) to a full-time new hire, a $500 gift card will be mailed to the company to present to their new hire. These new hire conversions are now unlimited, but the name of the new hire must be included on a part 1 list from an MCAA member company to be eligible.
Part 2 applications may not be submitted until after their full-time start date.
Related Articles