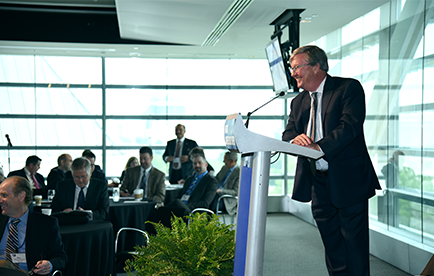 Close to 200 contractors and association executives attended the 2016 MCAA/QCA National Issues Conference in Washington, DC, last week to get the latest information on critical industry issues and to share their concerns about those issues with their Senate and House members.
During the three-day conference, over 120 visits took place between MCAA and Quality Construction Alliance (QCA) members and Congressional Representatives and Senators.
A long list of House and Senate representatives made this conference a success, briefing attendees on a wide range of issues affecting MCAA and allied association members' business concerns.
Issues included:
A new bill to stem payroll fraud stemming from misclassifying employees as independent contractors from lead Representative Tom MacArthur (R-NJ);
Federal Infrastructure funding measures by Senator John Barrasso (R-WY), Congressman Lou Barletta (R-PA) and Representative John Delaney (D-MD);
Congressman Peter Welch (D-VT) addressed energy policy legislation; and
Representative David McKinley (R-WV) described the formation of the new bipartisan Congressional Building Trades Caucus.
The Conference also focused on recent critical regulatory developments. This part of the program consisted of three expert panel discussions which detailed developments on the Administration's pending regulations to:
Require registered apprenticeship programs to file annual written affirmative action plans showing apprentice enrollment of women and minorities and the relation of that utilization rate to the availability of women and minorities in the apprenticeship recruitment area;
Executive Order 13673, requiring prime contractors and subcontractors competing for federal contracts and subcontracts of $500,000 or more to file legal compliance certifications for pre-award responsibility reviews; and
Executive Order 13706, requiring federal prime contractors and subcontractors to provide one hour of paid sick/family leave for every 30 hours their employees work directly on or related to (20% or more) a covered federal contract or subcontract.
All of the attendees enjoyed remarks from CNN news commentator and analyst Gloria Borger as she discussed the 2016 political scene.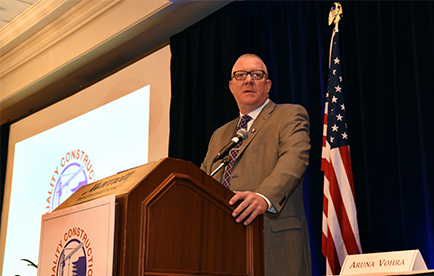 The program concluded with a strong address by Sean McGarvey, president of the North America Building Trades Unions, on:
The broad scope of NABTU (formerly BCTD) initiatives with owner/labor/management tripartite market councils;
Workforce development pre-apprentices outreach efforts to incorporate under-served potential workers into the construction industry;
Initiatives for economically targeted investments by pension plans to earn high return and support union construction; and
Ways to focus project owner/financing groups on collaborative efforts with the union-sector delivery system.
President McGarvey made very positive remarks on industry pension reform phase 2 efforts.
Pension and health plan benefits experts Cary Franklin and Aruna Vohra from Horizon Actuarial Services and Malcolm Slee and Josh Shapiro from Groom Law Group discussed a broad scope of tough challenges for attendees' health and pension plans from the perspectives of either contributing employers or plan trustees.
The 2017 MCAA/QCA National Issues Conference will take place May 2-4, 2017, at the Marriott Georgetown Hotel in Washington, DC. So save the date!
Related Articles