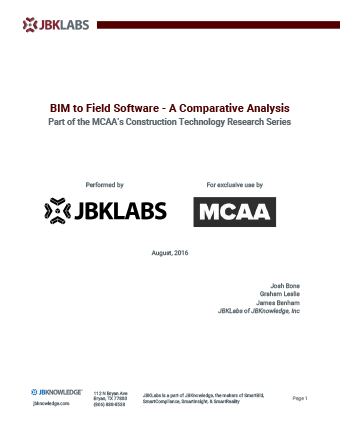 MCAA has now released its third installment of the Construction Technology Research Series with a report produced by JB Knowledge Labs on BIM to Field Software.  
This report analyzes and compares software that links information from the office to the field by utilizing tablets, smartphones and laptops.  Products like Autodesk's BIM 360 Glue, Bluebeam Revu, Trimble Field Link and Fuzor are just a few of the two dozen softwares that were comparatively analyzed for the study.
The report is a complimentary benefit of MCAA membership and can be downloaded here.
Josh Bone, the lead author of the report provided a companion webinar on August 23 to flesh out more detail from the research.  As with all MCAA webinars, participation is complimentary as part of your MCAA membership.
The companion webinar can be viewed or downloaded here.
Related Articles