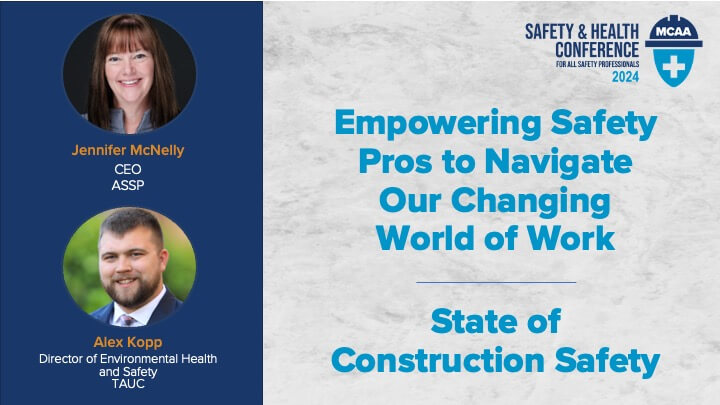 January 16-18, 2024 | Loews Ventana Canyon – Tuscon, AZ
The safety landscape is evolving. Is your company's safety and health program keeping pace? Jennifer McNelly, CEO of the American Society of Safety Professionals, and Alex Kopp, Director of Safety for The Association of Union Constructors, will help answer that question and inspire you to evolve your company's safety and health program during MCAA's 2024 Safety & Health Conference. Their sessions are just two reasons to attend MCAA's 2024 Safety & Health Conference (January 16-18, 2024, in Tucson, AZ). Register today!
Jennifer McNelly's session will:
Explore the evolving landscape of workplace safety and the challenges it brings.
Encourage safety professionals to excel in their roles and help shape the bright future of safety and health through data, stories and practical insights.
Provide data-driven insights highlighting current trends impacting workplace safety and the profession overall.
Empower attendees to evolve their practices and leadership qualities to increase their influence within their organizations.
Alex Kopp's session will:
Review the how our industry, as a whole, is doing
Explain what we can all do to continue to advance safety and health in each of our businesses
MCAA's 2024 Safety & Health Conference will offer more than 50 hours of training and education from subject matter experts on safety, health, risk management, and legal issues. Join us for three days of presentations, discussions, and demonstrations with 300+ occupational safety and health professionals, principals, owners, local affiliated executives, UA instructors, industry partners, NECA & SMACNA, and anyone who has safety and health responsibilities.
For the first-time in conference history we are being joined by TAUC's EHS Committee and welcome all TAUC members to participate in this event.
Registration Pricing
This conference is one of MCAA's most popular conferences and it sells out quickly. Register today to secure your spot! Member registration is $895 and guests are $295.
*Upon completing your registration, a link to book your hotel room will be emailed to you. If you encounter any issues while booking with the hotel please contact events@mcaa.org and we are happy to assist.
Extended Learning Courses
CHST $499
CPR Instructor: $299
CPR Provider: $49
CPR Instructor Renewal: $99
Have questions or interested in exhibiting? Contact us at events@mcaa.org or 301-869-5800.
Related Articles