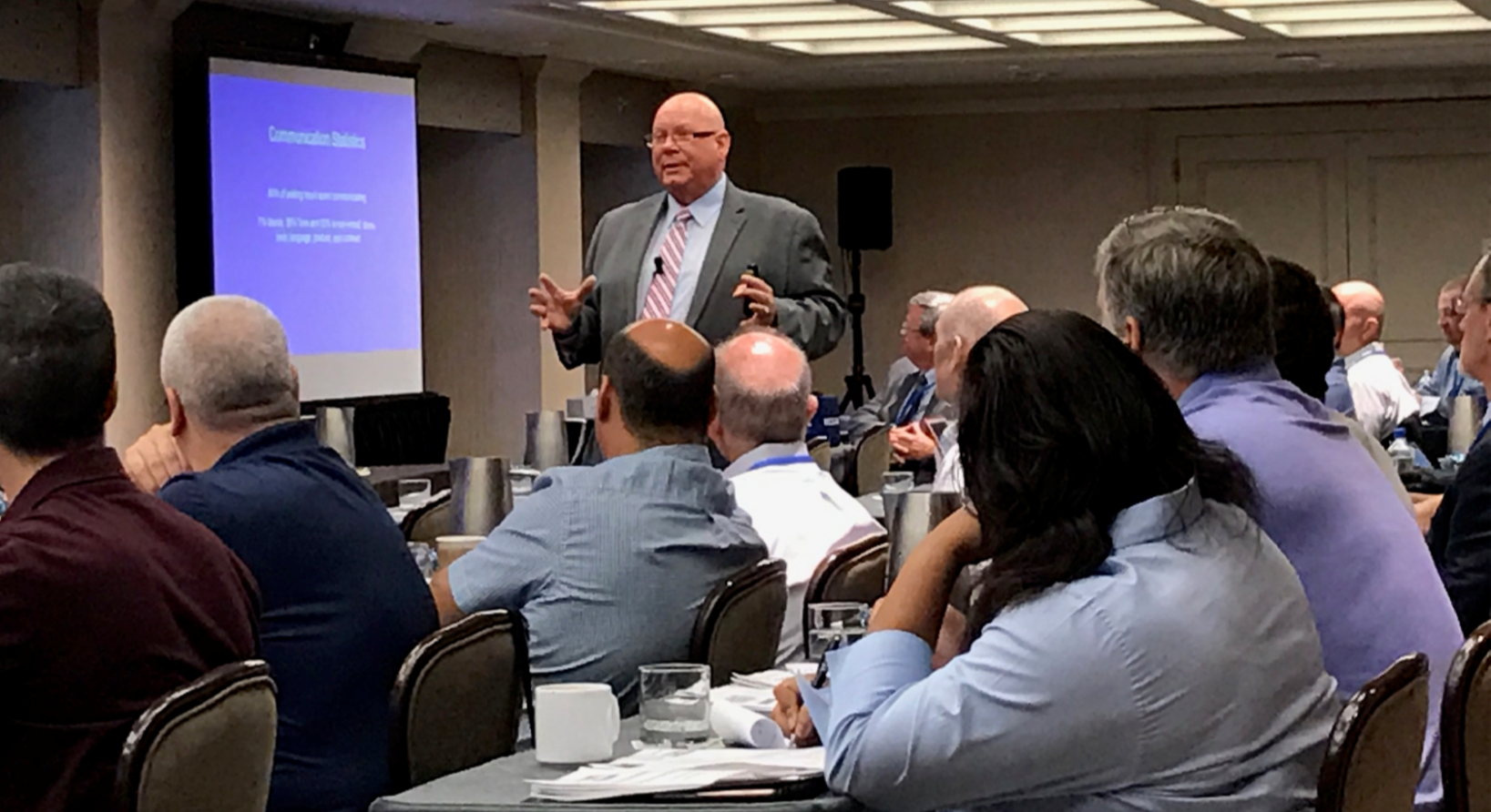 MCAA's 2016 Collective Bargaining Seminar aimed at improving bargaining relations, the effectiveness of terms and conditions to improve project performance, and achieving the ultimate goal of improving MCAA and UA market share.
Starting off the conference was Richard Barnes, former Director of the Federal Mediation and Conciliation Service (FMCS). He led a panel discussion with Dave Davia of the MCA of Colorado and Frank Wall of PMCA of Oregon concerning their efforts with their local UA partners to address bargaining issues, improve labor relations and affect project owner and public agency industry issues on behalf of their members who share a strong interest in gaining market share.
Carey Peters, Director of the Construction Labor Research Council (CLRC), detailed ways to track wage and benefits settlements and trends, assess competing open shop wage and benefit levels and trends, analyze the costs of terms and conditions of the collective bargaining agreement (CBA) and objectively assess market share in local areas. This information will be used as a strong factual predicate for sound mutual interest bargaining for labor and management to accurately assess and improve market performance and market share.
Comprehensive Legal Analysis in Three Parts
Relying on the in-depth legal analysis in the 2016 Edition of the MCAA/Ice Miller Collective Bargaining Guide and Legal Analysis that was provided to conference attendees in advance of the conference, Mike Boldt and Ryan Poor, partners of the Ice Miller law firm (Indianapolis, IN), divided their comprehensive legal presentation into three discrete parts:
The legal structure of the multiemployer bargaining unit and the legal structure of bargaining relationships;
The legal do's and don'ts of typical CBA terms and conditions; and,
Advanced topics in CBA and CBA employment administration, including OSHA rules and drug testing, wage-and-hour rules pertaining to workers' travel, negotiating project specific CBA's and a number of other topics.
New laws and Labor Department Regulations
Five new Labor Department initiatives that will impact collective bargaining, employment administration and trust fund implementation in the coming year were covered.
Proposed new written affirmative action regulations for registered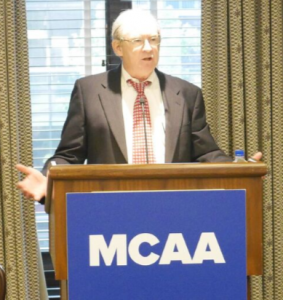 apprenticeship programs were detailed by UA and International Training Fund counsel Lou Malone and MCAA General Counsel John McNerney. Unless regulatory impediments surface after the election, employers and apprenticeship programs can expect to adapt to new written affirmative action plan requirements for registration of women, minorities and workers with disabilities into JATC programs during the coming year.
U.S. Department of Lab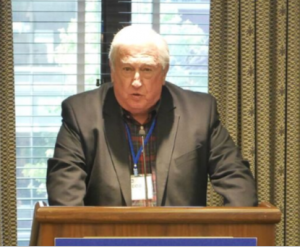 or (DoL) officials briefed the conference on a variety of new regulations set to come out next year and possibly in 2018. Bob Batista, former Chairman of the National Labor Relations Board, introduced a panel of officials from the Labor Department, including Sharon Block, Senior Counsel to the Secretary of Labor.  Ms. Block noted that the Administration's Fair Pay and Safe Workplaces Executive Order (EO13673) had recently been suspended by a federal court in Texas.  She also said that the EO was expected to be
pushed forward again in the future.  The DoL Principal Deputy Assistant Secretary for Policy addressed the group and noted MCAA's participation in several of the DoL procurement-related rulemakings over the past year and a half.
J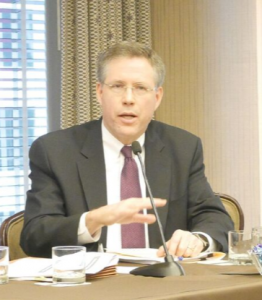 onathan Rees and Sarah Marcus from the DoL Solicitor's Office and Amy DeBisschop and Bill Isokait from the DoL Wage and Hour Division detailed the new EO13706 Paid Sick and Family Leave regulations affecting direct federal prime contractors and subcontractors. The new regulations will begin to take effect on new contract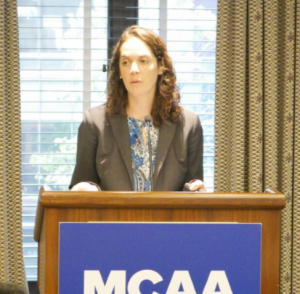 s entered into on and after January 1, 2017.  Vigorous discussion of ways to implement that new set of requirements centered on whether covered employers would want to implement the new paid time off rules as individual employers or under a Taft-Hartley benefit plan.
MCAA will be presenting a webinar with the Groom Law Group on the new rules in mid-November. Additional guidance on compliance options will be presented at that time.
The new L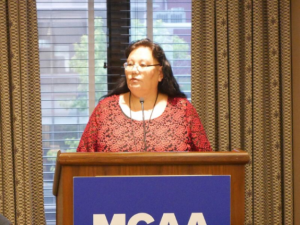 abor Department Mega Construction Project affirmative action program was described in detail by Theresa Lujan, Director of the Mega Project Initiative in the Office of Federal Contract Compliance programs (OFCCP). She noted that 11 of the 37 mega project programs currently in effect involve some aspects of project labor agreements and community workforce development programs.
Pension Reform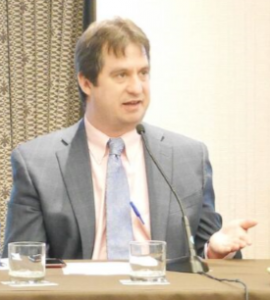 The conference ended with discussions about pension reform, alternate plan de signs and plan liability issues. Josh Shapiro, an actuary, and Malcolm Slee an attorney with the Groom Law group led a discussion session on multiemployer pension plan issues and what legislation and their prospects bargaining parties and contributing employers should anticipate for new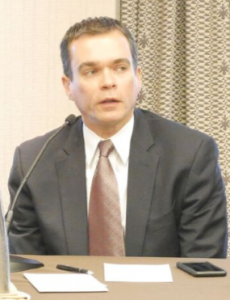 composite plan options, increased Pension Benefit Guaranty Corp premium increases and other specific plan liability developments.  Shapiro also discussed pension plan asset return assumptions, developments relating to the use of new mortality tables for actuarial assumptions and a variety of multiemployer plan withdrawal liability issues.  Slee discussed prospects for changes to the Affordable Care Act by the new Congress as well as benefit plan implementation of the new regulations requiring paid sick leave on direct federal construction prime contracts and subcontracts.
Related Articles