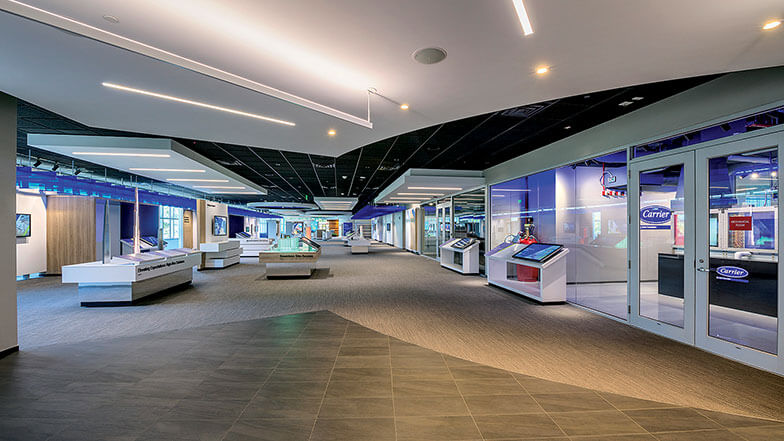 Carrier's New Global Headquarters Achieves LEED Platinum Status
Hill York Service Company worked closely with Carrier Corporation for nearly a year before construction began on Carrier's new headquarters, and Hill York's input saved Carrier $1 million. Moreover, Hill York introduced a novel approach to installing Carrier's chilled induction beams that allowed the contractor to save time on the project's tight schedule. Thanks in part to Hill York, Carrier's new headquarters also met stringent indoor air quality (IAQ) standards and received LEED® Platinum certification.
Building a Model Facility
When Carrier was building a world-class, first-of-its-kind facility, selecting the right HVAC contractor was key. As the new global headquarters for Carrier—the inventors of modern air conditioning—the Center for Intelligent Buildings in Palm Beach Gardens, FL, required a high-caliber contractor to install and configure the HVAC equipment that Carrier designs and manufactures. Carrier chose Hill York, an EMCOR Company based in Ft. Lauderdale.
Hill York, founded in 1936, designed and installed the first air conditioning systems in Miami Beach hotels after World War II. It has since played a key role in ensuring that premiere Florida facilities achieve indoor comfort and energy efficiency. "Historically, Hill York has worked closely with Carrier to deliver the best solutions and pricing," said Jeff Phillabaum, Hill York's president.
Products in Action and on Display
Completed in 2018, the 224,000-square-foot building was designed to showcase new technology for customers from around the world. The building reveals the unseen, putting the most advanced integrations of Carrier's solutions and services in action and on display.
Every product displayed is in use somewhere in the building, and visitors can see how they function in real time. The building was designed specifically to demonstrate what is possible in the building technology space. Critical building technologies—typically hidden in mechanical rooms, behind walls, or on rooftops—are openly displayed.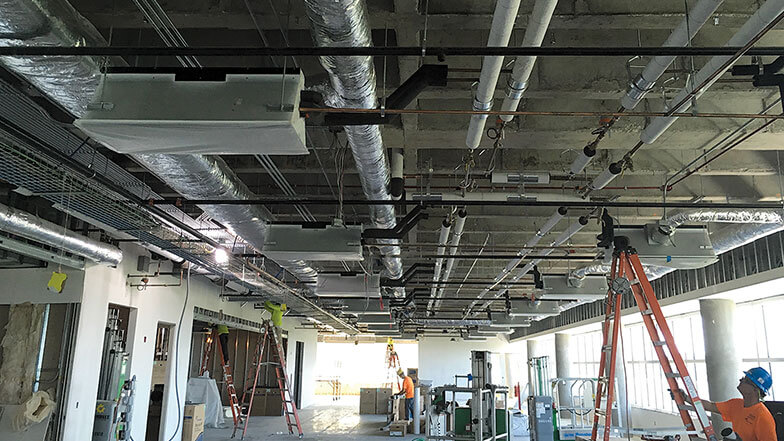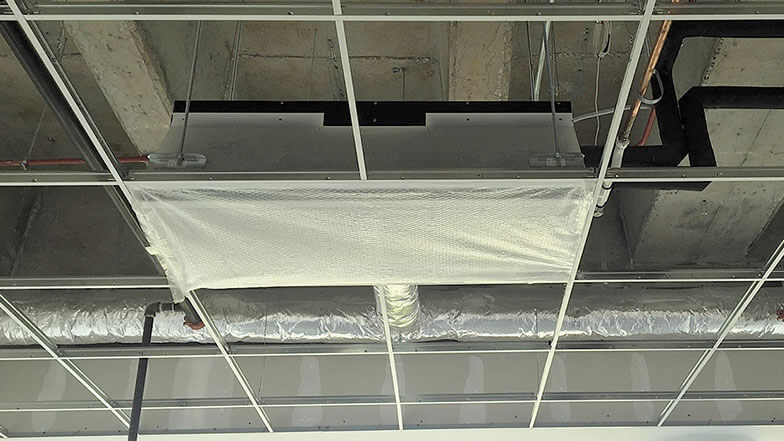 Hill York Showcases Innovative Solutions
"The Center for Intelligent Buildings is truly iconic," said Phillabaum. "It was one of those rare projects that, for HVAC professionals, comes along once or twice in a lifetime. It allowed us to showcase our full range of innovative solutions and craftsmanship on a world-class stage."
Hill York's solutions and uncompromising quality not only met the stringent technical and comfort specifications, but also substantially reduced costs. "Our recommendations helped contribute to a $1-million savings on the project and included a final design that used 350 chilled induction beams," said Phillabaum.
But Hill York would take the chilled induction beams installation one step further.
"All the Carrier ActivAir™ units were set in place prior to the ceiling contractor's actual installation," commented Anthony Scalone, Hill York's onsite project superintendent for the installation. "We worked very closely with the ceiling contractor to confirm each unit's precise measurements and position. This proved to be a critical and successful part of the puzzle," he noted.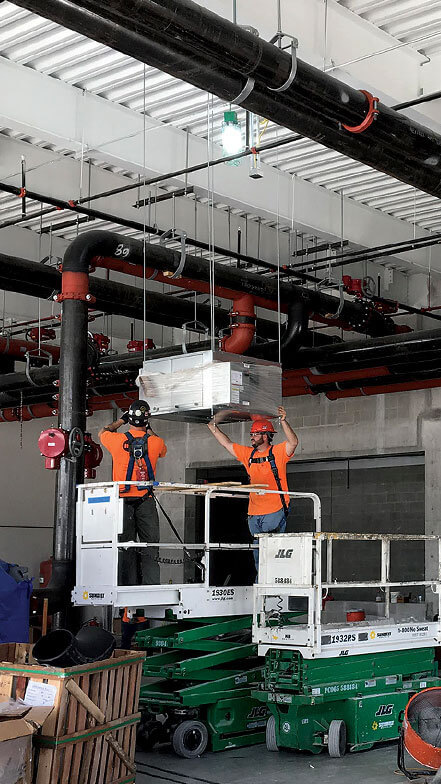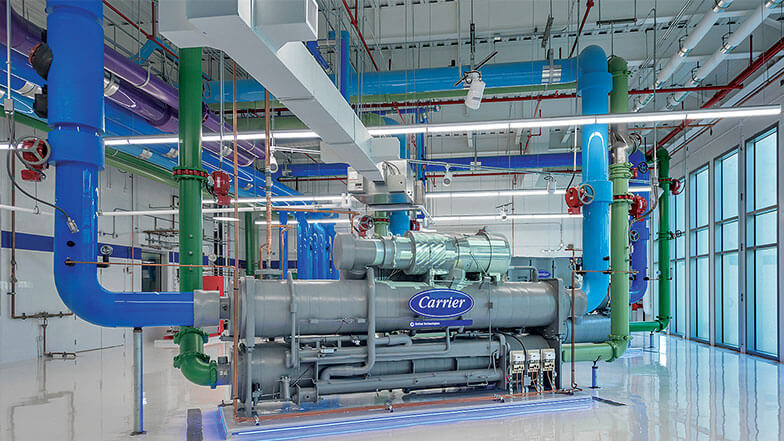 Scalone continued, "One of the most significant challenges was the tight schedule of this project, but we knew that getting the chilled beams in position first would be a dramatic timesaver."
To further shave time off the installation timetable and help their overall cost-reduction strategy for the building owner, Hill York prefabricated offsite many of the piping components that
typically would have been done onsite. During the construction phase, Carrier Rentals supplied five portable packaged units ducted directly into the site throughout construction.
The Center for Intelligent Buildings illustrates the value of collaboration and communication between Hill York and the in-house engineering staff. "We worked very closely with engineering, both during the construction phase and through the commissioning of the project," said Scalone. "Furthermore, we enjoy an ongoing relationship with them."
Taking Technology to the Next Level
Visitors to the building can use augmented reality—a technology that superimposes a computer-generated image on a user's view of the real world—to see the airflow in the four-story entryway. Building tours are customized to the visitor, so an HVAC consulting engineer and a security professional would receive different content relevant to their areas of expertise.
In the Customer Experience Center, solutions are highlighted across all product segments so that customers see products at work in the building. A prominent residential space built to look like an actual home shows how HVAC, fire, and security products all connect. Here too, Hill York installed all of the HVAC components.
Efficiency and Productivity
The Center is designed to meet IAQ conditions found by Harvard University researchers to double occupants' cognitive function test scores, compared with a conventional building environment. "The building owners were adamant about meeting the stringent IAQ standards, and we executed the testing to ensure that they were, indeed, met," said Scalone.
From its inception, every component of the Center for Intelligent Buildings was developed with sustainability in mind. As a result, it is the first commercial building in Florida to earn the coveted LEED Platinum version 4 certification. The Platinum rating—the highest designation—was awarded under the stringent LEED green building program for building design and construction from the U.S. Green Building Council.
"We take great pride in knowing that Hill York's HVAC installation in the Center for Intelligent Buildings project helped the building achieve efficiency ratings that contributed to obtaining the LEED Platinum v4 certification," Phillabaum said. "As a testament to this, we have used the facility to host events for various professional organizations that we support, and we held our annual sales meeting there."
Phillabaum has also used the Center as a selling tool, taking prospective clients on tours of the facility to illustrate the level of craftsmanship, skill, and expertise involved. "It's a project that distinguishes Hill York and clearly defines who we are," he concluded.
For more information, visit www.carrier.com/commercial.