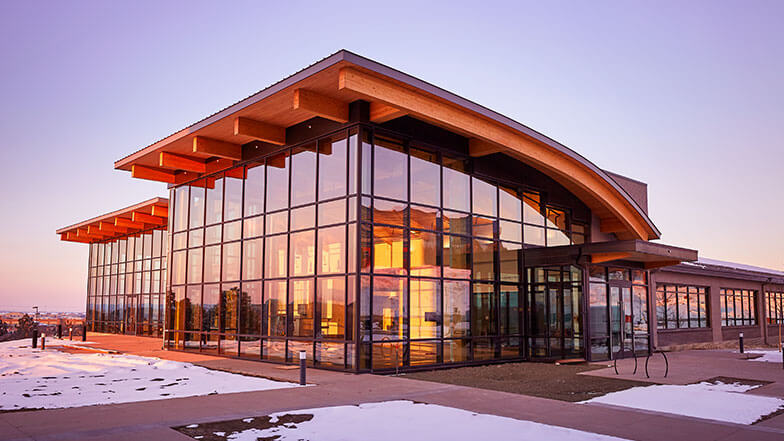 Viega MegaPress, ProPress Cut Installation Time, Minimize Fire Risk
While it is no surprise that Viega chose to put its own products into its newly constructed building, Braconier Mechanical and Plumbing Services said using Viega products was a good option for them, too. "We reduced the manpower needs on this project by using Viega. That's a big advantage of MegaPress—we can have a smaller crew and still stay on schedule," said Tom Stone, president of Braconier.
Viega's new North American headquarters building takes full advantage of its own state-of-the-art products, including radiant heating, snowmelt for outdoor walkways, and touchless bathroom fittings. The ease of use of MegaPress and ProPress helped streamline installation. Efficient products like Viega's Flushing Technology Systems will save the company money moving forward. The headquarters building, and the Colorado Seminar Center located next door, opened earlier this year in Broomfield, Colorado.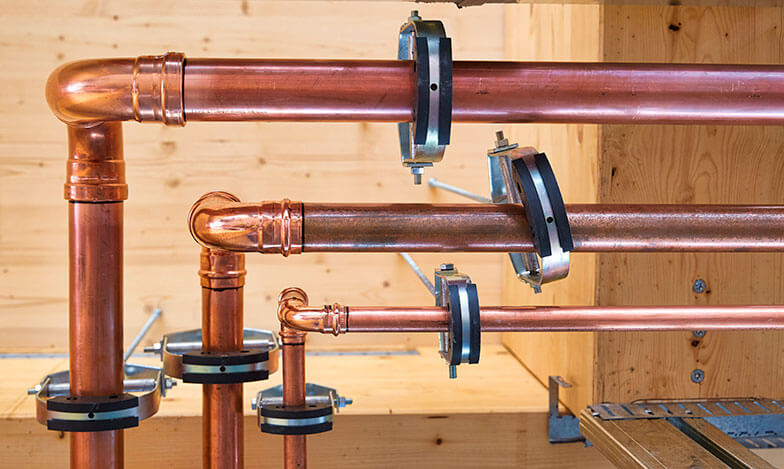 In the two new Viega buildings, ProPress fittings behind the walls provide potable water. "With ProPress, the biggest advantage for us is there are no callbacks and no leaks," said Stone. "With solder joints, you're likely to get some leaks and warranty callbacks. That doesn't happen with Viega fittings."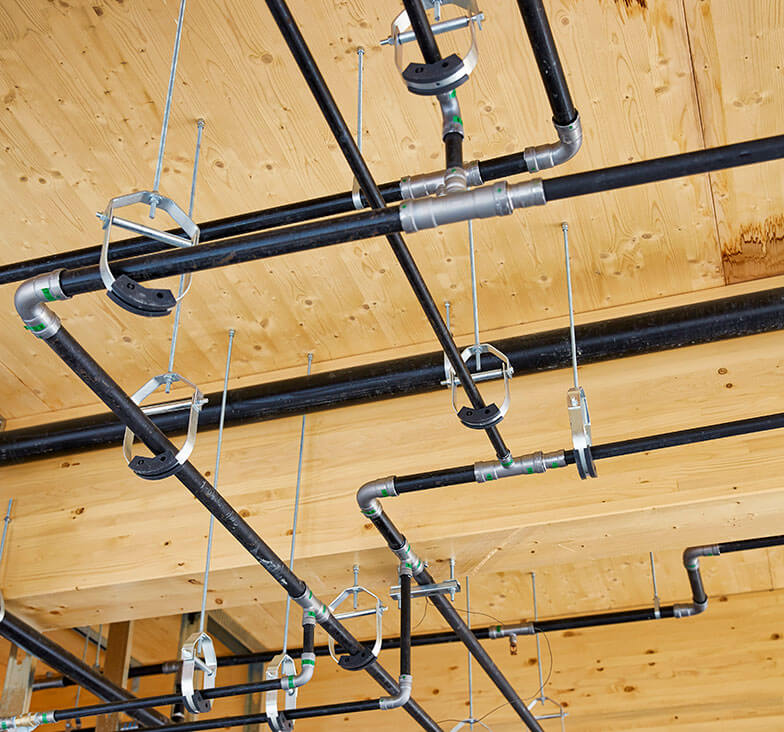 MegaPress connects the fire sprinkler system, and MegaPressG fittings were used on the natural gas lines. "Especially with this being a big wooden structure (the buildings are filled with cross-laminated timber), not having open flames involved in the process of putting the pipe together is a big bonus," Stone added. "Plus we don't have areas to protect from the mess of welding and soldering."
Radiant heating and cooling systems are installed in both buildings. Stone said the biggest benefits of using radiant versus traditional forced air come after installation. Radiant provides a truly even temperature no matter the location, and the efficiency leads to lower operating costs and a more comfortable setting.
Stone said the radiant system in the seminar center—which contains more than 36,000 linear feet of tubing—was the largest radiant job Braconier had ever installed. The bare concrete floors of the seminar center, as well as both the carpeted and concrete areas of the headquarters building, stay comfortable year-round with the radiant products.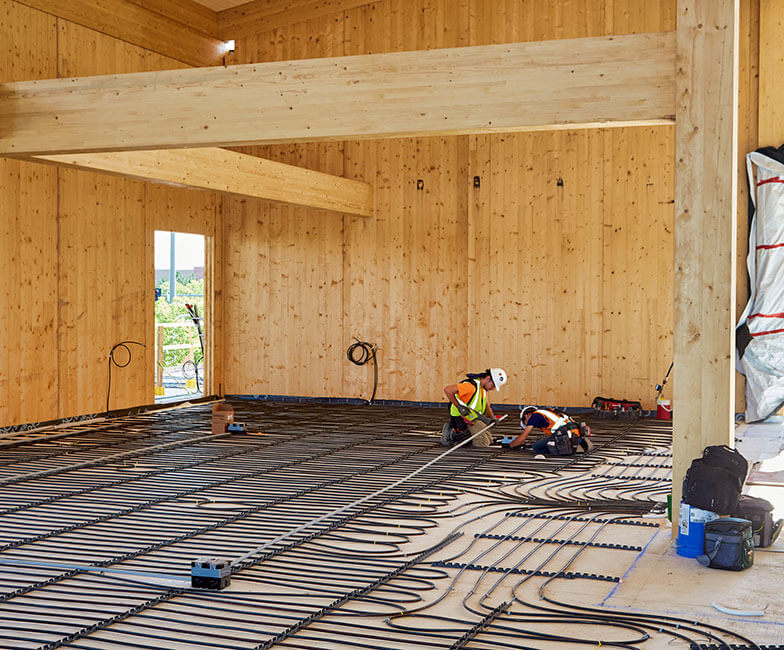 Snowmelt systems were installed in front of both buildings, so walkways will remain clear regardless of the Colorado weather. This equates to less maintenance and no chance of icy slips or falls by employees or visitors.
The bathrooms feature Viega in-wall carriers and touchless flush plates. The Viega Flushing Technology Systems products provide a sleek, modern look and make maintenance easy. With the tank inside the wall and bowls off the floor, cleaning is simplified. Touchless flush plates help improve hygiene for users, and the choice of a small or larger-volume flush means less water is used.
"For us, the number-one reason we use Viega is because when you install, you're done. There are no warranty callbacks, no leaks," Stone said. "Compared to other systems, Viega seems to have the largest product line. You're not going to be missing a type of fitting or anything like that. Definitely the performance of the system is key. You just don't have any leaks."
For more information, visit www.viega.us.