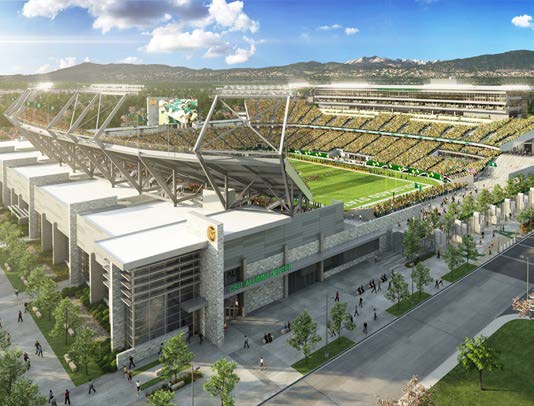 Zurn Industries, LLC enabled U.S. Engineering Company to "move the chains" faster than usual during the rough-in phase of building a new stadium for Colorado State University in Fort Collins, CO. Patrick Barnett, project manager for U.S. Engineering, said Zurn's lean construction practices provided "at least a 10-percent" labor savings for the company.
The new 41,000-seat stadium, targeted to open for the 2017 football season, features Zurn carrier banks and stabilizer plates prefabricated to specification—as well as Zurn's acclaimed new EZCarry™ High Performance Carrier System. The Zurn products and processes helped U.S. Engineering save time and money in several ways:
The Zurn Z1201 EZCarry® High Performance Water Closet Carrier System is 30-percent lighter than conventional carriers, making it ideal for prefab projects where fast installation is a priority. The Zurn EZCarry carrier delivers industry-leading line carry, ensuring waste evacuation for standard and low-flow installations, a significant lifecycle benefit for building owners.
Custom built lavatory and urinal carrier banks (Z1231-CB and Z1222-CB) designed to fit predetermined spaces meant that U.S. Engineering only had to do "quick adjustments" rather than building and setting each carrier.
Zurn custom-packaged all components together for each work area, eliminating the time-consuming (and sometimes confusing) steps of organizing and assembling the parts from different boxes.
The Z1035-Q stabilizer held floor drains in place during construction and concrete installment, keeping the drain placement and orientation correct to the desired height and pitch to the finished floor. This solution removed the need to "box out" to prevent the drain from moving.
By consulting with U.S. Engineering during the design phase, Zurn had exact dimensions, allowing them to devise customized, engineered solutions where the carrier banks and stabilizer plates were going to be installed. In addition, prefabrication reduced installation time and made installation easier. With prefabrication, systems can be tested before shipping, so the contractor is less likely to spend time fixing problems onsite. "It was very helpful to have Zurn as a partner for a project of this scale," said Barnett, whose firm has worked with Zurn many times in the past. "They are the front-runner for many reasons, and it's always really good to work with them."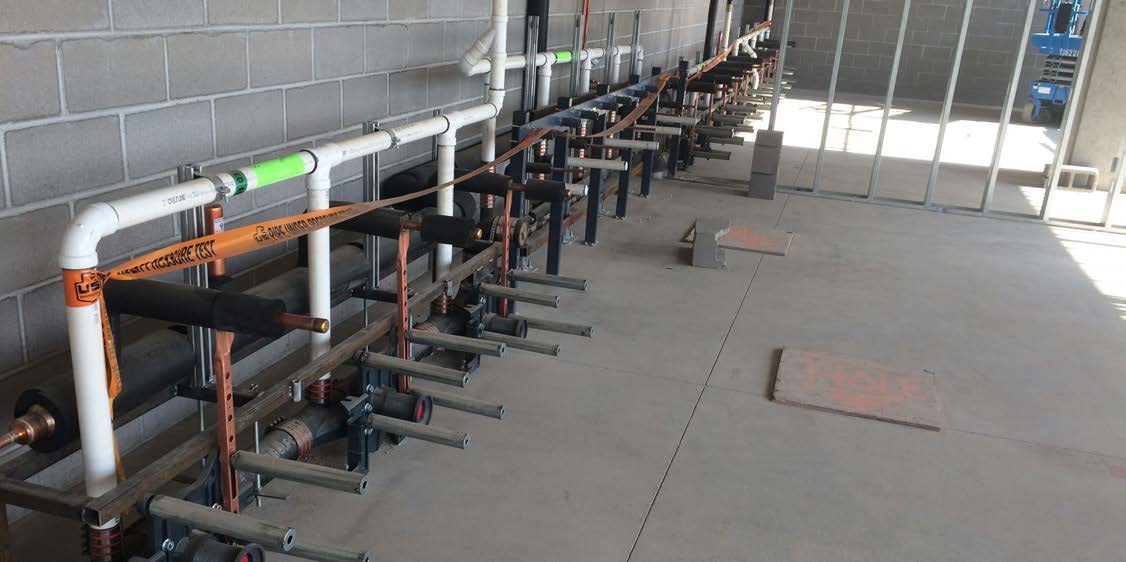 Colorado State University's new stadium will be an on-campus, multipurpose facility. It replaces the current 32,500-seat Sonny Lubick Field at Hughes Stadium, located about four miles off campus. The new stadium will also be named after Sonny Lubick, the university's famed football coach who led the Rams to six Mountain West Conference titles and nine bowl games from 1993 to 2007. In addition to football games, the new stadium also will host other sports, entertainment, civic, cultural, and commercial events. It will also serve as the home of additional athletic offices and training spaces.
For more information, visit www.zurn.com.