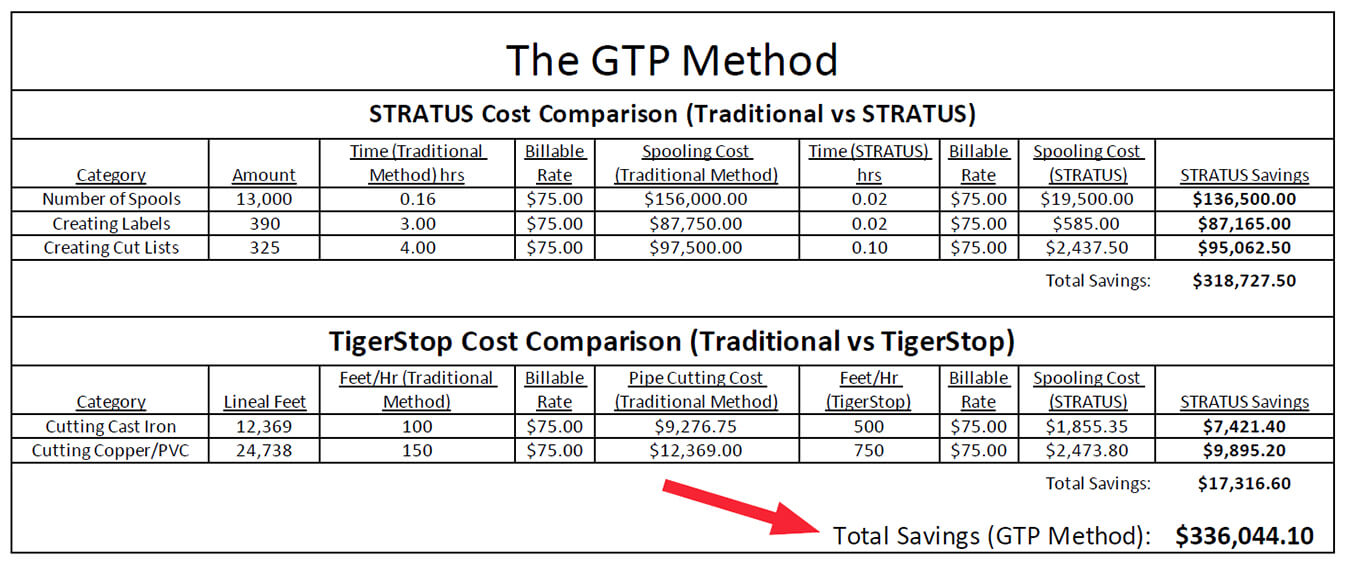 Just two years after implementing STRATUS software from GTP Services, University Mechanical Contractors, Inc. (UMC) saved hundreds of thousands of dollars in packaging, spooling, and cutting costs and eliminated its cumbersome paper processes. UMC credits STRATUS with increasing efficiency, multiplying output volume, and enhancing its modeling capabilities.
First Step: Paper to PDFs
Roughly two years ago, UMC set out to transform the way it issued deliverables to the fabrication team, moving from paper to a digital platform. Each fabrication package contained a set of drawings, bill of materials (BOM), material request, purchase order, cut list, packing slip, and identification stickers for each spool or assembly. Creating these items was labor-intensive and manually driven; printing multiple copies was burdensome.
UMC initially tackled the printing and copying issue by switching to PDF documents viewed on mobile tablets. Moving to a PDF workflow helped with document control and reduced paper, but UMC still had separate systems to manage production and draw deliverables with Smartsheet and Bluebeam, along with a separate workflow inside of FABMEP, where UMC created the cut lists, BOMs, and packing slips. To support this work, UMC either had to train its fabrication team and purchase separate software licenses or rely on its virtual construction (VC) teams, which were already laden with deliverables.
Transitioning from paper to PDFs was a radical step for UMC, but PDFs did not take advantage of the integrated 3D models created by the VC teams. The VC staff spend countless hours poring over design documents to develop a constructible product in a 3D environment that is embedded with powerful information, such as cost and labor.
Next Step: PDFs to an Integrated Platform
In November 2017, Doug Smith of Dynamic Systems, Inc., introduced UMC to GTP Services' STRATUS software, a construction manufacturing and logistics solution that uses Autodesk's Forge Platform. The product was in its infancy at the time, but UMC appreciated the vision and potential and so became an early adopter.
At its core, STRATUS is a data aggregator that allows UMC to access and manipulate all the information contained in its models in any number of ways—solving the problem of maintaining PDF drawings separately from cut lists, BOMs, hanger reports, and other data. It can also connect to tooling, such as Watts Plasma, TigerStop, and Greenlee Tubing Benders, eliminating the manual effort of creating the lists or typing them into machine interfaces. UMC found that the STRATUS integration with tooling resulted in a large savings in material costs through its nesting routines. Because STRATUS connects to its printers, UMC eliminated another manual process.
The ability to create spools and assemblies inside of STRATUS was a major improvement for UMC. STRATUS gives UMC the opportunity to work directly within the model, eliminating the need for text and annotation. With the ability to rotate a model virtually, the user no longer needs multiple views on spool sheets, and UMC can put the power of the model in the shop personnel's hands. In addition, STRATUS pairs the visual aspects of a tool like Navisworks with the manufacturing tool. It allows UMC to take full advantage of the VC teams' work by building digitally. The modeling team now does less reporting and more modeling, and workers in the field can generate reports themselves through STRATUS if needed.
Early Adoption Pays Off
A six-month snapshot of UMC's return on investment while running STRATUS integrated with TigerStop showed a total savings of more than $330,000. UMC also runs its shops using three TigerStops purchased from GTP Services. UMC appreciated how GTP Services listens to the needs of the end users. GTP Services' continued dedication to improvement and contractor involvement in development has transformed STRATUS into a powerful tool that met UMC's initial challenge to change its shop from a paperless workflow to a digital workflow with mechanized integration.
For more information, visit www.gogtp.com.