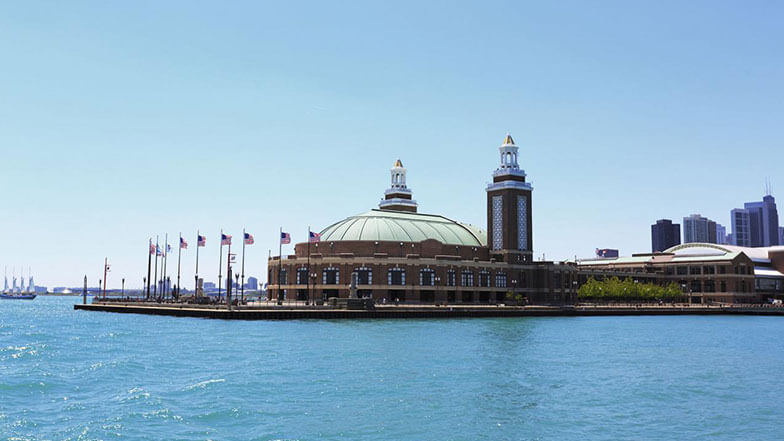 Chicago's Lakefront Treasure Specifies Sloan
AMS Mechanical Contractors relied on Sloan products for a new Welcome Pavilion on Chicago's Navy Pier because "Sloan's products definitely saved us time on installation," said John Brassfield of AMS, the project's site foreman. "A lot of them come assembled, and it's very cut and dry as far as the installation. We definitely save on labor costs," said Brassfield.
Welcome to Navy Pier
Navy Pier is one of the most visited leisure and cultural destinations in the world and is Chicago's lakefront treasure. With parks, restaurants, exhibits, and more—all situated on the shore of Lake Michigan—it is a very popular tourist attraction.
Navy Pier opened its People's Energy Welcome Pavilion in 2017, designed to greet people coming to enjoy the Pier's numerous amenities. For the more than nine million guests that visit the Pier annually, the Welcome Pavilion must make a good first impression on visitors and set the tone for the rest of their experience. For the Welcome Center, AMS installed Sloan products that deliver an elegant aesthetic along with the durability to stand up to millions of users each year. "There really isn't any failure rate, either, so that's why we continue to use Sloan products," said Brassfield.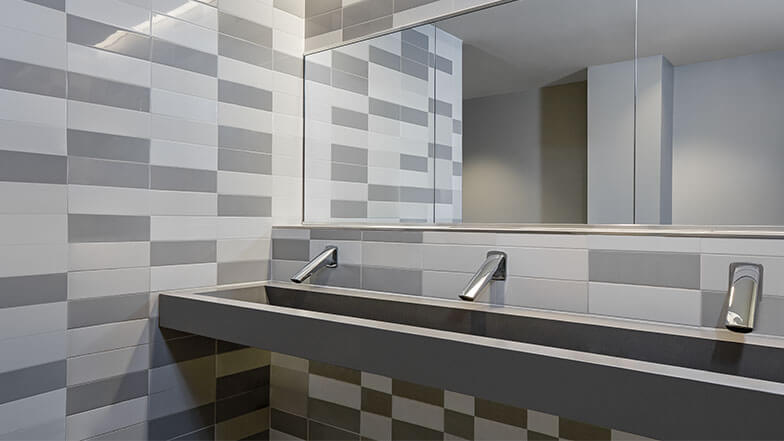 Windy City Water Savings
The Pier also needed products that would match its commitment to sustainability. Along with the facility's energy-saving green roof and LED lighting, Sloan's products help make the building over 20 percent more efficient than traditional structures. With Lake Michigan in its backyard, the Pier strives to protect and conserve water and the life around it. The Navy Pier wanted water-saving flushometers that would contribute to its sustainability efforts in maximizing the guest experience while minimizing the environmental impact. Sloan SU-7009 Small Washdown Urinals were paired with Sloan Royal® Sensor Flushometers (Royal 186 SFSM) to deliver an efficient 0.125 gallons per flush (gpf). For AMS, Sloan was the preferred solution because of their touchless, sustainable products, as well as the products' versatility.
Additionally, Sloan ST-2459 Elongated Wall-Mounted Water Closets were installed with Sloan Royal 111 SFSM Sensor Flushometers. With a static load rating of 750 pounds, the water closets can withstand the Welcome Center's high traffic, while the flushometers' 1.28 gpf contributes to water savings across the facility.
Lakefront Lavatories
The Pier paired Sloan DSG Designer Series™ sinks with its BASYS® EFX800 wall-mounted faucets for an aesthetically pleasing, sustainable handwashing experience. Featuring a Silestone Spa Suede finish, the ADA-compliant sinks complement the faucets' sleek polished chrome. The faucets' infrared sensors allow for hygienic, touch-free handwashing, with a flow rate of just 1.5 gallons per minute and a line purge feature to eliminate stagnant water.
"Sloan's products do an excellent job of inviting guests to the Welcome Pavilion with an elegant aesthetic that they can expect throughout Navy Pier," said Harry Smyrniotes, Navy Pier brand activations and marketing associate. "Not only that, but they match our unwavering commitment to sustainability," he noted.
For more information, visit www.sloan.com.