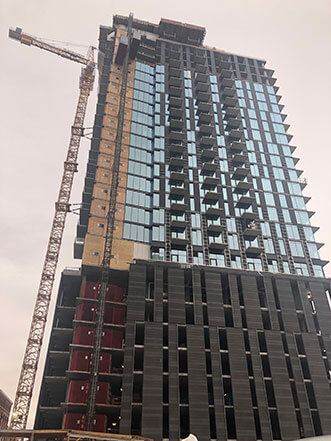 Using a range of Sioux Chief Manufacturing Company products, Murphy Company dramatically cut down its installation time of plumbing products for a new high-rise in St. Louis. Murphy also turned to Sioux Chief for custom products, which were rapidly produced in nearby Kansas City, MO, ensuring the project stayed on schedule.
Ballpark Village is a dining and entertainment district across from the St. Louis Cardinals' Busch Stadium. It played a major role in the revitalization of downtown St. Louis, MO. When Murphy was awarded the plumbing work for the high-rise portion of the project, they knew that keeping such a large job on schedule would be a challenge. Recognizing the time constraints, they called on Sioux Chief to offer solutions in several areas of the plumbing installation.
The FinishLine drain and cleanout system was a key factor for ensuring a quick, clean installation without having to worry about whether the floor height would be correct or level, because the system is designed to account for variations in jobsite conditions. Using the FinishLine system, Murphy Company saved many hours, because they could quickly install the parts during the rough-in as well as the top-out and finish stages of setting the drains and cleanouts. Murphy Company found that the FinishLine products allowed for a perfect finish every time.
The Ballpark Village high-rise also had fire-rating requirements at all floor penetrations that needed to be addressed. The method that had been used on the first few floors was time-consuming and expensive, so Murphy looked for an alternative. Sioux Chief designed a custom drain anchoring and penetration system that filled the bill. Because its FinishLine components are interchangeable and manufactured in Kansas City, Sioux Chief was able to provide the customized products and get them to Murphy quickly.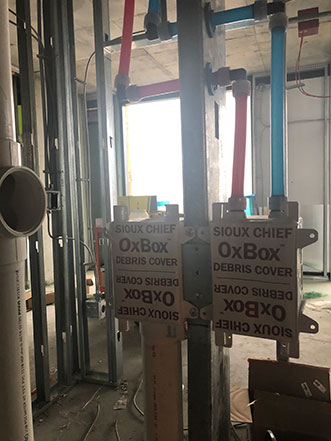 For the rough-in of the pressure piping, Sioux Chief offered solutions in several areas. Its Ox Box for washing machine and icemaker installations was the clear choice, and Murphy also decided to use the Ox Box for the lavatory and kitchen supply. Their decision was based on the fact that installers only had to touch the terminations twice, reducing the risk of leaks. Murphy also took into account the amount of time to fill the system for testing, drain the system to install supply stops, turn the water back on, and run water to each unit to check for leaks. They estimated saving 20–30 minutes per installation. All of Sioux Chief's Ox Box products offer heavy duty, dezincification, and stress corrosion cracking-resistant brass ball valves.
Dave Book, Murphy's vice president of Purchasing and Facilities, said "We have used Sioux Chief products on many of our projects. Besides using all of their access boxes on the Ballpark Village project, Sioux Chief gave us even more insight to their capabilities with their ability to custom-build accessories for a quick and inexpensive FinishLine floor drain installation."
Sioux Chief also supplied a number of brackets, shower drains, and closet flanges for the Ballpark Village project, which was completed in 2019. Murphy has been using many of these Sioux Chief products for years and continues to see the value of installing products that are not only innovative but also made in Kansas City.
For more information, visit http://www.siouxchief.com.
MCAA welcomes Sioux Chief as a new member.