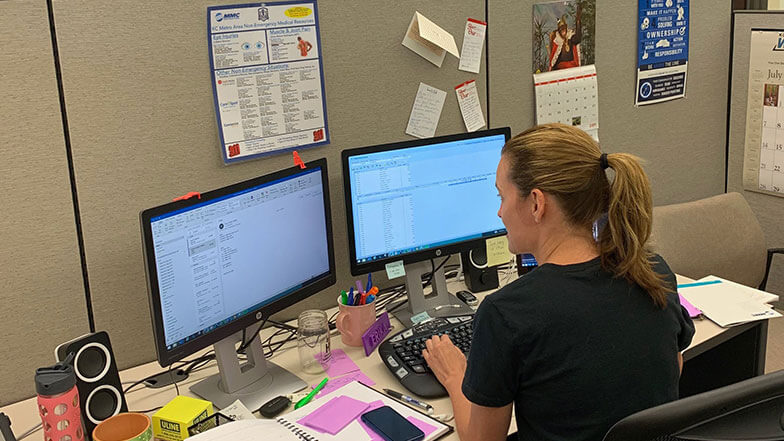 MMC Contractors simplified its day-to-day labor management tasks with LaborChart, freeing up time so workers could focus on higher impact tasks and activities. With labor being the most expensive and valued asset, a good workforce management solution is vital. The company's executive team has seen how LaborChart increased efficiency and alignment across multiple departments.
Making the Case for New Technology
Founded in 1932, MMC Contractors of Kansas City, MO, has offices throughout the country. For decades, they managed their workforce on a whiteboard. Years ago, they transitioned from a whiteboard to a spreadsheet—a big step up that brought new challenges. The most noticeable frustration was the time it took their team to update and maintain the spreadsheet.
"The ability to keep everyone aligned … not to mention the ROI from reduced labor waste—it's a no brainer."

—Jim Price, Labor/Operations Superintendent, MMC Contractors
Eventually, MMC Contractors realized it was time to find a more efficient way to manage their workforce. But to change methods for the second time in four years—while simultaneously implementing new accounting software—the company needed to ensure they could make a seamless transition.
MMC Contractors needed a platform that:
would be easy to use;
could be scaled up, so they would not have to change again in the near future;
would provide the correct information to the people who needed it;
would demonstrate a clear return on investment (ROI); and
could integrate with current software.
To make the case for investing in LaborChart, the labor operations team needed to show (not tell) their executive team the problems with the existing method and process. Once leadership knew how big the problem was, they agreed it was time for a significant change.
At the time MMC Contractors was evaluating LaborChart, they were implementing a new accounting software—and it was a complex upgrade. They did not want to further frustrate employees by adding another system to learn. In addition, MMC Contractors wanted management software that would house operation-focused documents—including safety certifications—in one place, so employees would not have to hunt down and piece information together.
Meeting the Company's Needs
The labor operations team demonstrated to their company leadership how LaborChart could operate in real time. For example, if you are out in the field, you can make a schedule change from your mobile device, without worrying about emailing someone back at the office to make the change for you.
To simplify the transition to LaborChart, Erika Laney, labor coordinator at MMC Contractors, set up small user groups to help her coworkers get familiar with the software. They caught on quickly, and MMC Contractors slowly began to roll LaborChart out to the whole company. Because of Laney's methodical implementation process and LaborChart's ongoing implementation support, the transition was easy to manage.
Recognizing that managers need to interact with LaborChart in different ways than their subordinates, MMC Contractors used LaborChart's customizable permissions to assign permissions to users that matched their role and level of responsibility. Most importantly, this approach allows for control, so that no one can make significant changes without the appropriate permission.
To show the ROI for LaborChart, Jim Price, MMC Contractors' labor/operations superintendent, said, "It's simple. I break down the annual subscription to a 'cost-per-day' to use LaborChart. The ability to keep everyone aligned at that calculated daily cost—not to mention the ROI from reduced labor waste—it's a no brainer."
Added Benefits Realized
MMC Contractors has been using LaborChart for almost two years, and Laney and Price said they could not imagine going back to the old spreadsheet process. In addition to the expected benefits, LaborChart helped MMC Contractors' safety department by bringing together all the safety and trade certifications in one place. As a result, the department can see quickly what needs to be updated and who is fit for which job.
With LaborChart, MMC Contractors saved time in its labor department and company operations.
For more information, visit www.laborchart.com.