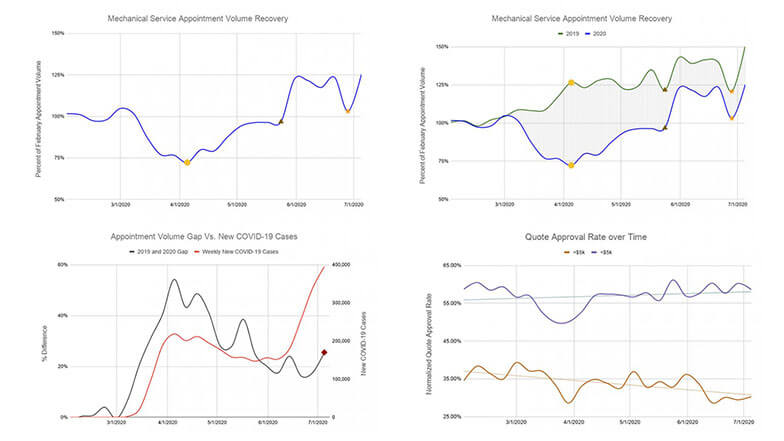 ServiceTrade Gives an Example Using Nationwide Data
Since March 2020, the commercial and industrial mechanical service contracting industry has been reeling from the impacts of COVID-19. In the early days of the pandemic, when cities and states started shutting down, the uncertainty made everyone question the future of our business—for our employees and for our livelihood. At ServiceTrade, we looked at usage data from over 550 facility service companies using our software application, which is designed to help service contractors manage their operations and deliver better customer service, to measure the effects of COVID-19 on business.
Appointment Volume Drop, Recovery, and Stall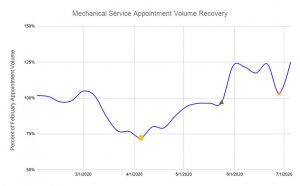 In the second half of March and into the first week of April, mechanical service, repair, and maintenance appointment volume dropped by 28 percent from February levels. This low point is marked with a yellow circle in Figure 1. From the first week of April until the end of May, the appointment volume recovered to about 120–125 percent of February levels with a jump after the Memorial Day holiday week (marked by a brown triangle in Figure 1). Appointment volume has held steady since then, with the exception of a small dip during the July Fourth holiday week (marked with a gold star in Figure 1).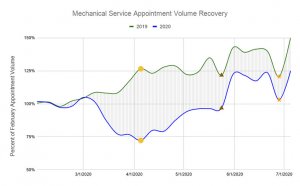 Although 20–25-percent growth in service appointment volume during a global pandemic might seem like fantastic news, 2019 data show us that the mechanical industry typically sees a significant seasonal increase in appointment volume from February to July, because warming weather causes system failures. In fact, data from the first week of April 2019 (the green line in Figure 2) suggest that appointment volume in April 2020 should have been 27 percent more than February 2020 levels. That means that during the first week of April, with the gap between the expected appointment volume (27 percent higher than February) and the actual appointment volume (28 percent lower than February), the industry was actually 54 percent behind where it should have been.
The Gap Between 2019 and 2020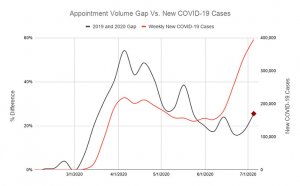 When we graph the gap between expected and actual appointment volume as a line in Figure 3 (instead of an area, as in Figure 2), it is easy to see some recovery, as the gap narrowed through April and May. However, as the number count of newly reported COVID-19 cases started to increase again in June (red line in Figure 3), the recovery stalled, and the gap between the expected and actual appointment volume grew after the July Fourth holiday to 26 percent.
This view of the data helps us better understand the timing of the appointment volume drop compared with the onset of new cases. In March, the sudden drop in appointment volume preceded the spike in new COVID-19 cases, as governments proactively put in place stay-at-home and shelter-in-place orders. Initially, like the rest of the country, the mechanical service contracting industry was hit very hard by these orders.
Not only were contractors losing work and considering how to keep their businesses afloat, but many who had not adopted technology had to scramble to put systems in place so they could go paperless, enable office employees to work from home, and help technicians limit face-to-face interactions with other employees and customers. It was a big distraction during a stressful time.
As contractors adapted to the new work environment and states began reopening, the gap between expected and actual appointment volume decreased. The general recovery trend from the beginning of April until the end of June was heading in the right direction, but it appears that, as of the end of June, the recovery had stalled or even reversed. These data suggest that the industry could be negatively impacted by spiking COVID-19 cases.
Approved Quotes for New Work
So, what do the data suggest you can do to speed up your company's recovery? For that, we looked at quote approval rates for over 120,000 service, maintenance, and repair quotes processed through ServiceTrade for February through June of 2020. When we measure the number of ServiceTrade quotes approved in a week and divided by the number of quotes submitted to customers in that same week, we can chart a normalized quote approval rate over time.
For all quotes, there was a dip in the normalized quote approval rate in March during the initial response to the pandemic. The normalized quote approval rate mostly returned to prepandemic levels in April and May. However, there is a noticeable difference between quotes above and below $5,000. Historically, quotes over $5,000 (gold line in Figure 4) are approved at a lower rate, but they are not recovering to prepandemic approval rates as quotes under $5,000 are (purple line in Figure 4). Just like you, your customers are still recovering and are likely sensitive to price. These data suggests that you should keep sending repair quotes and focus on the smaller repairs that could prevent more costly breakdowns in the future to help replace your lost workload with planned repairs.
At ServiceTrade, we have a saying: "Feelings fool, and data rules." If the recovery stalls and the appointment volume slows again, mechanical service contractors must be prepared to respond. The companies that respond based on data about what is happening in their business and with their customers will make better decisions than those who have to rely on their gut feelings. We have focused here on appointment volume and quote approvals. If you are not plotting those data points every week, you should start now.
For more information, call 919-246-9900 or visit servicetrade.com.