Whether it's labor shortages, supply chain challenges, tight deadlines, or other hurdles, MCAA members and manufacturer/supplier partners are finding smart solutions to stay ahead of the game. Harder Mechanical Contractors minimized their need for highly skilled welders and increased productivity with Novarc's Spool Welding Robot. A&R Mechanical overcame COVID-19 and supply chain challenges by using NIBCO's domestically manufactured products. Maxair Mechanical relied on Victaulic's 3D models to anticipate potential pitfalls and avoid costly delays for a new medical school campus.
Some MCAA members are providing exceptional value to their clients with creative approaches. Bluegrass Hydronics and Pump helped a rural school district qualify for a federal grant to install two new antimicrobial Delta cooling towers at no cost to the school district. JPG Plumbing & Mechanical Services is using Zurn's new oil and grease interceptor monitoring technology to minimize costs, risk, and burden for their customers, building business along the way.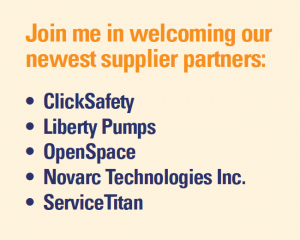 The right products can be crucial to increasing efficiency and improving productivity. F+F Mechanical Company invested in a Watts-Mueller pipe cutter that dramatically improved speed and quality while decreasing labor costs. Egan Company found that Josam's trench drain system saved time and streamlined installation. Danforth turned to Mueller Industries for products that met a new hospital's narrow specifications. Thanks to SPX Cooling Technologies, Graco Mechanical replaced an aging cooling tower in a tight space with an even tighter timeline. A.O. Smith was the ideal choice to provide a dependable water heating solution for a new four-story hotel outside Nashville, TN.
As digital technology advances, more and more MCAA members are reaping the benefits of software solutions. Silicon Valley Mechanical saw rapid productivity and efficiency improvements on the shop floor with PypeServer software. Postler & Jaeckle has seen a continuous return on investment with STRATUS from GTP Services, most recently by using labels to increase efficiency with hangers. To improve communication, collaboration, and customer service, McKinstry is using MSUITE, Therma has adopted Procore, and B&W Mechanical works with ServiceTrade.
This issue is loaded with advice from industry experts. Tyfoom and Raken have valuable tips on workforce learning and communication, while Ridge Tool Company describes what to look for in ergonomic tools. Also look for insights from CNA, FARO, IMI Hydronic Engineering, Miller Electric, the Pipe Fabrication Institute, Reliance Worldwide Corporation, and Sloan. For even more inside knowledge, visit our manufacturer/supplier partners in person at MCAA23.