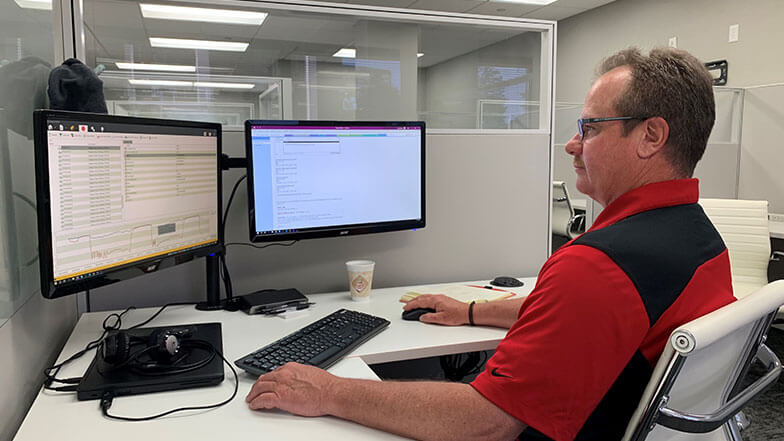 Data and Mapping Allow Contractor to Find, Fix Issues Fast
Using Key2Act's Connect, Harris Company of St. Paul, MN, gathers data from building controls and sensors, then uses that information to identify problems much faster than traditional troubleshooting methods, which can take hours or even days. With Connect, a cloud-based solution, Harris technicians have eyes into their buildings that they have never had before—so they can find and fix issues quickly. Connect data can also reveal trends that allow techs to anticipate problems before they happen.
Seeking Connected Building Solutions
In 2018, Harris was looking to differentiate itself from the competition. Connect's affordable pricing, along with its ease of deployment and use, helped the solution rise to the top of Harris's list, said Harris Vice President of Service Bob Swanger. "The ability of Connect and its MiniAgent devices to connect into buildings easily and begin streaming data, and sort of configuring and mapping those points through, made a huge difference for us," Swanger said. "We wanted something that would be easy to deploy. We don't want to have to have a technical expert, necessarily, in every location. We were convinced that Key2Act would support us in the adventure. And they have so far."
"[Connect from Key2Act is] going to allow the technicians to be more efficient and identify more issues."

—Brent Robertson, Data-Driven Solutions Manager, Harris
According to Swanger, Harris's customers are looking to accomplish four things:
Extend the life of the physical assets in their buildings
Keep buildings comfortable
Prevent downtime and failures
Operate efficiently when it comes to energy use
"We were looking at connected building solutions in that spectrum of 'How do we help the customers accomplish those four things?'" Swanger said. "Anything that helps us deliver on that better is going to position us to be a better solution for them."
Pinpoint Problems Early
The first property Harris hooked up to Connect was the company's own headquarters building in St. Paul. The two-story structure, constructed in 1997, includes about 34,000 square feet of office space and another 36,000 square feet of warehouse and shop space.
Once the building was connected and began trending data, the Key2Act Client Services team reviewed the findings with Harris. Key2Act Optimization Engineer Scott Whyte found several opportunities for improvement within the building, starting with some demand-side energy savings opportunities involving fan scheduling. Connect also exposed the fact that the main boiler plant was not operating as originally designed, but with a few tweaks to the system, Harris could optimize the plant's operation, leading to better control and a more energy-efficient system overall.
Whyte also found multiple issues related to sensors. Some sensors were not reporting data, some were locked in a certain state, and others were not resetting properly. Specifically, several outside air sensors were not reporting properly, which meant that the building's freeze protection could have been compromised. In Minnesota, that is never a good thing.
The clear, concise information delivered by Connect gave Harris the ability to identify issues that the company would otherwise never have known about until a failure occurred. The Connect Dashboard allowed Harris to prioritize which issues and related pieces of equipment the company should tackle first, before even getting to the job, saving time and money.
Tech Benefits Customers and Contractors
Harris has since implemented Connect at several customer-owned facilities. Based on early experiences, Harris has identified a number of benefits the company expects will continue. For example, "It's going to allow the technicians to be more efficient and identify more issues," said Harris's Data-Driven Solutions Manager Brent Robertson.
Adopting a cutting-edge technology like Connect can also help mechanical service providers attract and retain technicians. "I think companies that don't embrace technology are just going to get left behind," Robertson said. "Because the younger generation, they embrace technology. They're going to want to work for a company that is using technology. Those that do things the old standard way, they're eventually not going to have talent." Swanger is looking forward to leveraging Connect's capabilities to create a superior experience for Harris's customers. Most other mechanical service providers seem to be using connected services mainly to benefit themselves. "It's largely being used to the advantage of the contractor or the service provider, and not so much to the advantage of the customer. I think that's a missed opportunity," Swanger said.
"We're very early, but I think it will have a profound impact."
For more information, visit www.key2act.com.