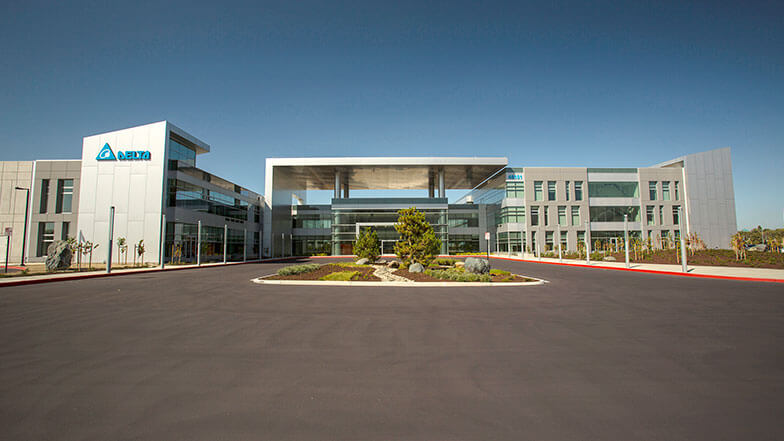 Rollout Mats Speed Up Installation Time
Delta Electronics (Americas) originally specified a conventional radiant tubing heating and cooling system for its headquarters expansion in Fremont, CA, to help meet LEED® Platinum and net-zero energy building standards, but ACCO Engineered Systems suggested Uponor's Radiant Rollout™ Mats for a faster, more efficient, consistent installation. ACCO crews installed 138,000′ of tubing with the Radiant Rollout Mats in five months—much faster than the time required for conventional PEX rails or tie-down methods.
Committed to Green Building
Founded in 1971, Delta's mission is "To provide innovative, clean and energy-efficient solutions for a better tomorrow," and its headquarters is a shining example of creative thinking paired with a desire to protect the environment. The company takes advantage of the latest in advanced energy-efficient research and product development, and the American headquarters is their 13th green building worldwide.
ACCO designed the radiant heating and cooling system using the mats for the 178,000-square-foot campus, which includes a 38,000-square-foot warehouse. The radiant slabs are the primary cooling and heating systems in the campus buildings, so it was crucial for the design to ensure comfort as well as the desired energy efficiencies.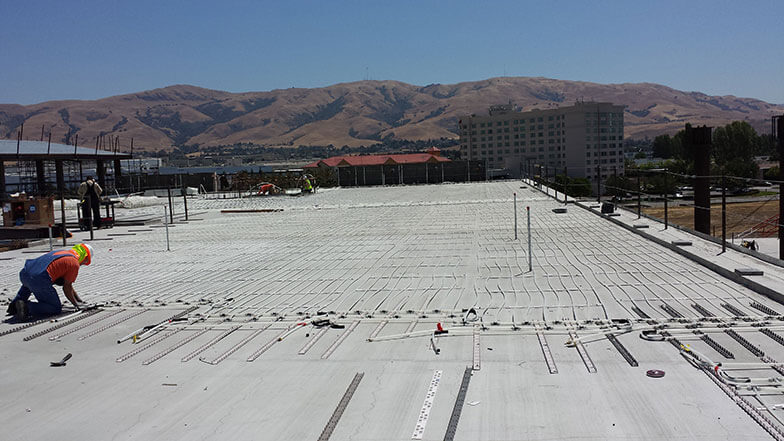 Planning Pays Off
ACCO had recently completed several large commercial projects using the mats, including the Pier 15 Exploratorium in San Francisco and the Sacramento Municipal Utility District building. For the Delta project, ACCO spent a considerable amount of time up front designing the slab construction, the sequence of the slab construction, and how the mats would be fabricated to align with the installation process. "We eliminated a lot of potential problems up front—lessons that we learned on other projects," said Jonathan Bell, ACCO project manager.
Three dedicated crew members plus one runner installed 138,000′ of tubing with the Radiant Rollout Mats in five months—much less time and labor than using conventional PEX rails or tie-down methods would have required. The installers needed a bit of onsite training to get up to speed, and the first couple of circuits went in a little slower while workers learned efficient, effective ways to speed up the installation. "But it didn't take long for the crew to have a full understanding of the processes, and they quickly picked up the pace for the rest of the installation," Bell said.
"For large, open circuits, the installation of the Radiant Rollout Mats is much quicker than laying down regular tubing," said Bell. "And the prefabricated and labelled mats allow for more efficient material handling onsite, which is very important in these large installations."
Uponor's Radiant Rollout Mats were just one of the energy-efficient technologies that Delta used to achieve LEED Platinum status. The company also earned a First Place Honor Award in the National Institute of Building Sciences' 2018 Beyond Green™ High Performance Building and Community Awards.
For more information, visit www.uponorengineering.com.