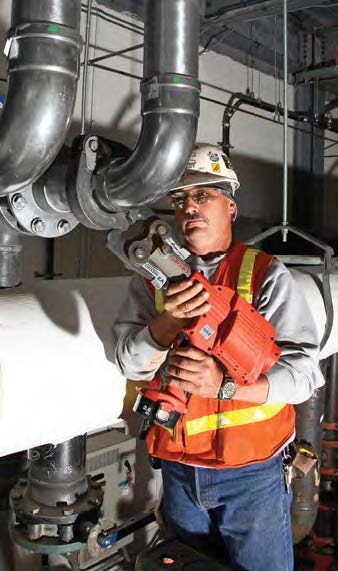 Faced with the challenge of replacing all of a biotechnology company's existing piping with stainless steel in just 14 weeks, Hart Engineering found that Viega ProPress® systems provide clean, consistent connections quickly. Viega ProPress for stainless steel offered a complete solution, including pipe, valves, and fittings in two high-quality grades of stainless steel, 304 and NSF-approved 316.
Hart Engineering, the mechanical contracting arm of The Hart Companies of New England, undertook the installation for one of the world's leading biotechnology companies, a manufacturer of pharmaceutical products designed to treat serious diseases. The company's plant was shut down for 14 weeks so that all of the existing piping could be replaced with stainless steel.
"The project involved us going through all of the suites in the plant and repiping them," said Mike Feldman, Hart Engineering's vice president. "We had to take the rooms apart and redo the piping and insulation through the ceilings and ceiling grid. It was a major effort, and it was all done on very short notice. We worked seven days a week, around the clock, for those 14 weeks."
According to Feldman, the customer had more than 20 pharmaceutical manufacturing suites in its facility. The high-purity suites contain equipment such as bioreactors, which grow bacteria and other organisms used in the production of pharmaceuticals.
"In biotech applications, we use Viega ProPress for stainless primarily for drains and vents," said Feldman. "Because it's stainless steel, we are able to install it in the high-purity manufacturing suites. We installed Viega ProPress for stainless in the large suites, one of which had four bioreactors with multiple reactor vessels."
Founded in 1941, The Hart Companies has specialized in biotechnical applications since 1989, when the industry began to grow throughout New England. The Hart Companies encompasses a group of design, engineering, and construction companies headquartered in Cumberland, RI. Hart Engineering had previous experience with Viega ProPress systems.
Viega ProPress systems allow installers to make secure, dependable connections for copper or stainless steel in less than seven seconds on sizes up to 4". Because Viega ProPress fittings are available in more than 600 different configurations, a complete system can be installed with the same press tool.
Built for Speed
Before starting the project, Hart Engineering first had to convince the plant's owners and engineers that the work could be completed much faster by using the Viega ProPress for stainless system. "Viega ProPress for stainless wasn't in the original specifications because the company's engineers didn't know about the system at the time," said Feldman. "We showed them what we wanted to do. Once they understood the benefits, they wrote a special clause in the specs allowing us to use the Viega system."
Feldman explained that it was critical to get the biotechnical plant up and running again as soon as possible because as long as they were working, the plant wasn't manufacturing. The longer the installation took, the longer the plant would have to go without producing product.
"We did everything we could to minimize the downtime," Feldman said. "They really couldn't afford to waste any time. Every day of the shutdown was costing a lot of money. The customer agreed to use Viega ProPress for stainless because it was a very large building and we had a lot of piping to install. It was to their advantage to approve the use of the pressing system. Time was of the essence, and pressing was the fastest way to do the job."
"We saved about one third of the time compared to welding. That time savings is huge, considering that the labor rates for my guys are almost a hundred dollars an hour."

— Mike Feldman, Vice President, Hart Engineering
The installation work was handled primarily by Hart's own crew of pipe fitters and tradesmen. Feldman estimated that his team used between 4,000' and 6,000' of stainless steel on the project.
"We used mostly 1" and 1-1/2" pipe all the way up to 2"," said Feldman. "Most of the fittings were standard fittings, such as couplings, elbows, and tees."
Saving Time and Labor
Feldman thinks that the best benefit of Viega ProPress for stainless is the time it saves. "It's much faster to install with pressing," he said. "We saved about one third of the time compared to welding. That time savings is huge, considering that the labor rates for my guys are almost a hundred dollars an hour."
Feldman's second most important benefit of the Viega ProPress for stainless system is that there is no flame, which negates the need for a hot work permit. "That's a huge advantage," Feldman said. "With Viega ProPress for stainless, you can go into areas that don't allow hot work, even if it's a hostile environment. That's very important, especially in existing biotech suites."
Before adopting Viega ProPress, Hart Engineering joined pipe by soldering and welding, depending on the piping that was being replaced. Feldman believes that other mechanical contractors are now using Viega ProPress for copper installations and that more will use stainless as they become more familiar with it.
Two years have passed since the biotech project, and Feldman and Hart Engineering were so pleased with Viega ProPress systems that they recently quoted another drainage and venting job for the same customer. "If we get approval, we'll be using Viega ProPress for stainless again for some of the installations," Feldman said. "We are always trying to get our customers to allow pressing for certain applications because of the time savings and safety benefits."
For more information, visit www.viega.net.
MCAA thanks Viega for being a major sponsor of MCAA 2013.