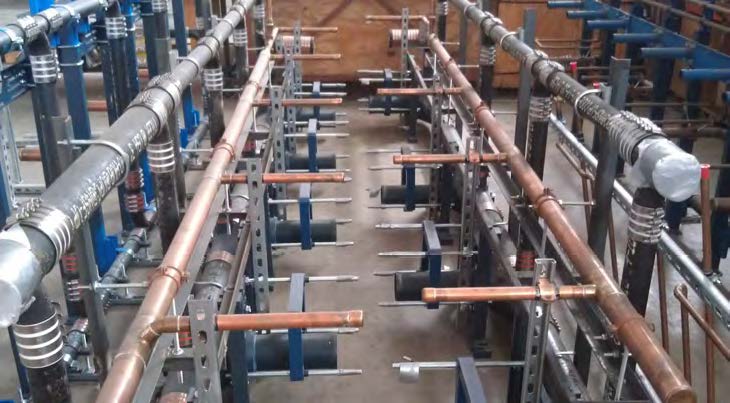 When CFI Mechanical in Houston, TX, took on an $8.5-million mechanical job with an aggressive schedule requiring massive coordination before the structure was built, they knew they could count on building information modeling (BIM) software tools from Technical Sales International (TSI) to get the job done. Led by President Chuck Fell (who is also MCAA's senior vice president and treasurer), CFI Mechanical has been using BIM tools for over a decade to improve efficiency and mitigate risk in fabrication and construction.
Because of their experience and reputation, CFI Mechanical was called upon to provide the full plumbing and HVAC mechanical systems and equipment for the new Harris Health System Smith Clinic. In fact, CFI Mechanical finished work on the Smith Clinic two months ahead of schedule.
Coordinating Multiple Systems
Opened in September 2012, Houston's Smith Clinic is a five-story, 168,000-square-foot facility with a central plant. It features more than 100 exam rooms and the latest medical technology, including three linear accelerators, three CT scanners, two MRIs, five ultrasound units, a PET scanner, six digital mammography units, three digital radiography units, a bone density unit, and 26 infusion therapy stations. The clinic is expected to serve an estimated 160,000 patients annually, primarily low-income and uninsured.
For medical institutions such as Smith Clinic, specialty plumbing and mechanical systems—including compressed air, vacuum, nitrogen, oxygen, reverse osmosis, deionized water, high pressure steam, condensate return, and acid waste—are typical, and CFI Mechanical was in charge of it all. They knew that using BIM would help them coordinate and keep track of the many competing demands. "Early on we recognized that the BIM approach could benefit our company, our clients, and our industry," said Fell. "Our strategic commitment to BIM and prefabrication using the software from TSI helps give us a more lasting competitive advantage."
However, CFI Mechanical's lengthy experience with complex healthcare projects has taught them that design drawings often lack detail and are not fully coordinated, especially mechanical, electrical, and plumbing (MEP) systems drawings, which can cause significant problems during construction. By contrast, the shop drawings produced by CFI Mechanical, using TSI Managed Content in conjunction with Autodesk Fabrication 2013 CADmep and FABmep software, contain the needed detail and dimensional accuracy to properly fabricate and install the MEP system components. TSI Managed Content is a comprehensive database (www.Building-Data.net) of real-world pipe fittings and valves and HVAC standard fittings and accessories that no other software can match.
With the fabrication-level detail of TSI's Managed Content libraries, CFI Mechanical can prefabricate HVAC piping and plumbing systems from spool sheets automatically produced from the Autodesk Fabrication 2013 CADmep product. Each manufacturer component is meticulously modeled in 3D for dimensions and likeness, and all of the required information—labor hours, material prices, submittals, and specification documents—are built into the job, ready for extraction. Each individual line item in TSI's Managed Content database has an extensive set of attributes already attached to it, meaning that the intelligent data about the designs could be forwarded to anyone in the project.
Using TSI Managed Content in Building-Data.net provides CFI Mechanical with sustainable content to support estimates, procurement, submittal documents, piping pre-fabrication, CAD/CAM fabrication, modular pre-fabrication, field layout documentation, staging, and as-built documentation.
Prefabrication Paves the Way
The Smith Clinic building is a four-pipe system with 7,500 linear feet (lf) of chilled water piping and 7,000 lf of hot water piping for the HVAC system. The building also has two process chillers with 1,800 lf of refrigerant tubing. Additionally, the job included 7,200 linear feet of storm piping, 13,450 lf of waste and vent piping, 5,060 lf of domestic water piping, and 4,140 feet of underground sanitary waste piping—all of which was designed and detailed at the CFI Mechanical shop using the Autodesk Fabrication 2013 CADmep software from TSI. CFI Mechanical was able to pre-cut over 65 percent of the piping for prefabrication, almost every hanger, and all the plumbing piping for the toilet batteries in their fabrication shop. Even the storm drains, including the multi-length hangers to account for the slope, were prefabricated in the shop ahead of time because of the capabilities of the fabrication software.
The entire building structure was concrete, and over 3,000 inserts for pipe hangers and more than 600 pipe sleeves were set through the floor prior to the concrete pour. "The Smith Clinic building was a 100-percent concrete structure with an aggressive pour schedule, and we got out ahead of it because of the CADmep from TSI," said Fell. "Additionally, while laying the sleeves, we found wall layout issues before the walls were built and sleeves put in, avoiding much bigger problems."
Accommodating a Compressed Schedule
The entire facility was completed in less than two years. However, because Smith Clinic is a hospital/research facility, the HVAC systems needed to be fully functional a year early so the building air would be tempered, sheet rock could be hung, and expensive and sensitive equipment could be installed. CFI Mechanical started their groundwork in December 2010 and had the air conditioning fully functional a scant 10 months later—quite an achievement considering the volume of piping necessary to complete the job.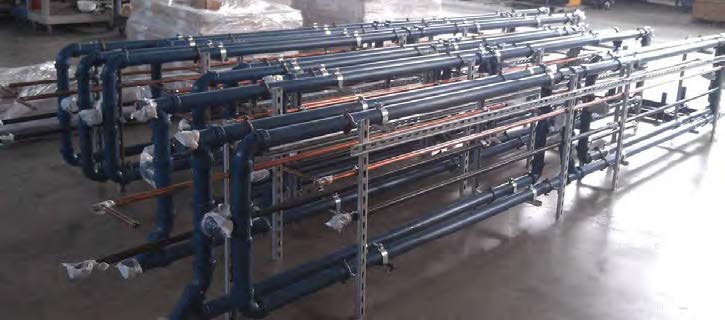 Maintaining a Competitive Advantage
Using TSI's software, CFI Mechanical can take design-intent models from designers and engineers and create models that can be built efficiently from real-world, manufacturer-specific content. With BIM software from TSI, CFI can proceed to estimate, cost-analyze, prefabricate, procure, manufacture, and install their building systems with greater levels of productivity.
Fell's team at CFI Mechanical feels strongly that without their collaboration with TSI, meeting these tight project deadlines would not be possible. "The software is very fast, efficient, and user-friendly. And most importantly, TSI's professional services—from configuration and implementation to training, phone, and online support—are great. TSI provides the kind of service and expertise (most of their team have real-world, on-the-job MEP experience) that you just don't get when dealing with big conglomerates," said Fell.
Fell continued, "TSI's MEP managed content library is far superior to what's otherwise available, because TSI really listens to the end-users, takes that input, and improves their product offerings on an annual basis."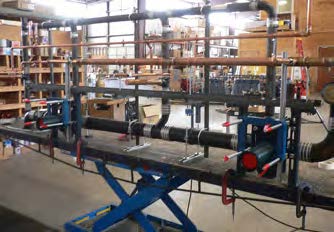 CFI Mechanical's prefabrication and modularization help speed up their projects. They also reduce the project budget and required onsite resources and cut purchase and installation costs. Their software features spooling tools that enable them to slice their models into manageable, modularized sections that contain all of the information required for fabrication so that most, if not all, of the skill and labor required for fabrication can be done in the shop, which increases efficiency, productivity, and safety in the field. "And improving field productivity," said Fell, "is key to how a mechanical contractor earns a profit."
For more information, visit www.technicalsalesinternational.com.