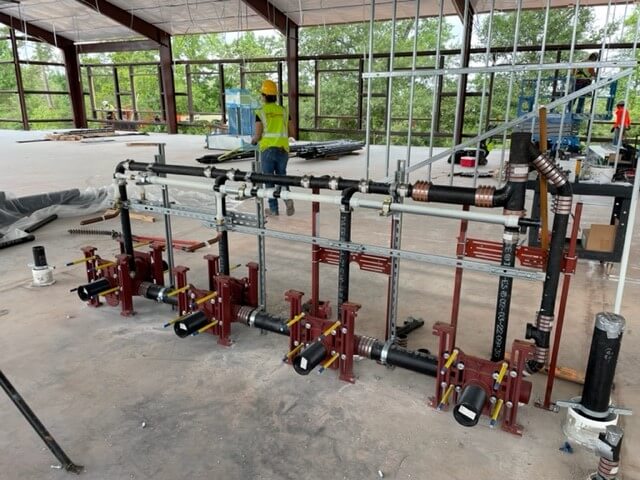 Since the beginning of 2022, Har-Con has played a crucial part in a school expansion project, using MIFAB's Quick Hub couplings and fixture carriers to stay on track. "The quick coupling is a great product that has saved Har-Con time and money through material cost and labor savings," said Travis Welch, Har-Con project estimator.
"The [MIFAB] quick coupling is a great product that has saved Har-Con time and money through material cost and labor savings."

—Travis Welch, Project Estimator, Har-Con
The 30,000-square-foot expansion at Legacy Preparatory Christian Academy will house 21 new classrooms to accommodate the recent growth of the school in The Woodlands, just outside of Houston, TX. The project will continue through the rest of 2022. The expansion will allow the Academy to lift restrictions on enrollment and will provide ample space for learning and classroom activities.
While contractors have struggled with supply chain issues across the nation, MIFAB has over a million couplings stocked in their Chicago warehouse, ready for deployment. In contrast to traditional couplings, MIFAB's Quick Hub couplings do not require the separation of the gasket and seal, so they can simply be placed on the pipe for installation.
Some contractors are skeptical that Quick Hub couplings will not work the same as traditional couplings, but Har-Con did not find that to be the case. "This is a highly recommended product, and it was much quicker than the traditional method," said Welch.
The couplings come in both regular and heavy duty and in diameters up to 15" for the heavy duty version. Har-Con used both on the school expansion progress. They found that MIFAB's heavy duty couplings were less expensive than competitors' versions and could be installed in half the time as traditional couplings. Har-Con appreciated that Quick Hub couplings are industry-certified by the IAPMO, UPC, and the National Sanitation Foundation.
To complement the Quick Hub couplings, Har-Con used MIFAB's fixture carriers. MIFAB makes installation easier by shipping the hardware in two separate packs—one for the rough-in and one for the finished trim—to prevent the potential for misplacing hardware over the course of an installation. In addition, the bolts of legs on the carriers connect directly to the faceplate from the front and come with built-in washer designs, which also saved Har-Con installation time.
For more information, visit www.mifab.com.