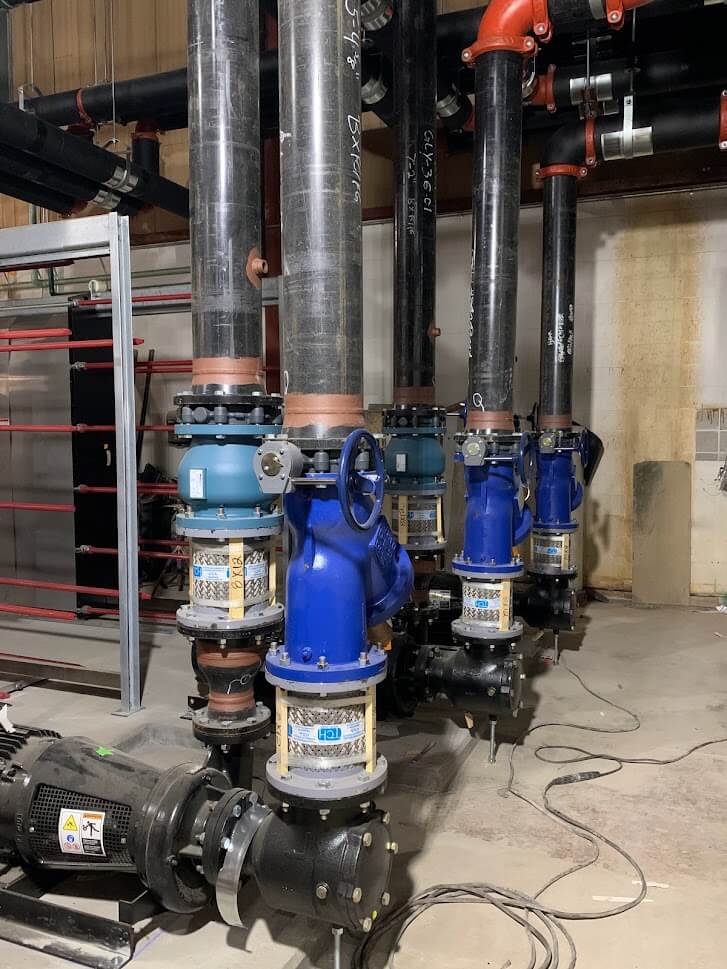 General Piping, Inc. counted on NIBCO grooved butterfly valves to meet the strict deadlines of a high school renovation project. "NIBCO's grooved butterfly valves were easy and fast to install, and they've performed well," said Justin Richardson, project manager, who led the renovation of Lawrence Central High School in Indianapolis, IN.
Extensive Renovation Underway
Originally built in 1963, approximately 463,000 square feet of the high school's 531,000 square feet was included in the renovation, along with a three-story addition to the front of the original building. The building has gone through several renovations since it was built but had not seen any significant updates since 1989. It is in the midst of a four-year, $80-million renovation project.
Not only will the school look completely refreshed, but it will also function better, with modernized plumbing, heating, and cooling systems that will promote student comfort and learning. General Piping of Indianapolis began work on the high school in July 2020.
"We were brought in to install all the hydronic piping for the heating and cooling systems, as well as the entire plumbing portion of the renovation, which included new piping, new fixtures, and new mechanical equipment," said Richardson.
For the renovation, the interior portions were completely gutted, and, in some cases, the concrete floors were taken down to dirt to pave the way for a complete redesign of the interior and exterior of the building. Once the building was demolished and the area was made safe, General Piping's crew got to work.
With a total budget of approximately $13 million for the mechanical and plumbing systems, General Piping set out to install 75,000 linear feet of piping and 378 individual plumbing fixtures, including new sinks, toilets, water fountains, and emergency eye wash stations for the science laboratories. A central main plant in a separate building behind the high school contained all the major mechanical equipment, including the heating system boilers and cooling system chillers.
Tight Timing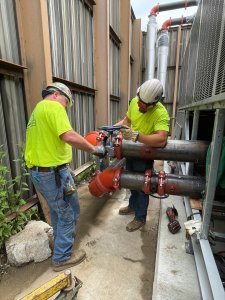 Because the high school was in session for part of the renovation, some work took place in an occupied building, which presented challenges from a timing perspective. To expedite the installation, General Piping prefabricated all the major mechanical room work offsite at its fabrication shop and then shipped it to the jobsite for installation. All the mains and branch piping for both the hydronic and plumbing systems were prepared and installed in the field.
"We had a window of time when we shut down the heating system in April and had to have everything torn out and the new system installed and functional by October, when it started getting cooler. Because of the amount of welding that was needed, the only way to achieve that was to fabricate everything offsite," explained Richardson.
Once the heating system was installed, General Piping duplicated the process with the chilled water system, removing the old system in October and having the new system in place by the end of March, before the weather turned warmer.
To complete the project, General Piping used primarily NIBCO fittings, valves, and FLO-BOSS® Coil-Connect® kits, which come bagged and tagged ready to use for specific pieces of equipment. The project specifications also mandated that copper sweat fittings be used rather than press fitting systems.
"For the prefabbed portion that was brought onsite, we strategically placed our grooved joints, using the grooved system (or grooved valves in some cases) as a natural break to connect the system as quickly as possible without problems," said Richardson.
The owner of the building had specified a specific grooving system that meant General Piping had to modify standard lug butterfly valves by using an adaptor or by fabricating weld flanges to the valve in its fabrication shop to make the grooved connection. These were used on the mechanical hydronics system for 2-1/2" steel pipe and larger, up to 12".
"Upon learning this, our NIBCO representative brought to our attention that they offered grooved butterfly valves that could eliminate the extra work," said Richardson. "I'd estimate that nearly 80 percent of the valves on this project are grooved valves."
NIBCO's grooved butterfly valves are faster to install than others because they have two bolts regardless of their size, while standard lug valves have a minimum of four bolts, and larger valves have even more bolts. Contractors also find that the grooved valves are easier to orient in a system, because they can be pushed and adjusted into place before torque is applied to lock the valve into position. Finally, grooved valves are overall lighter in weight.
NIBCO Products Preferred
General Piping has a long history—more than 20 years—of using NIBCO products, especially its valves. "More often than not, NIBCO is our preference," said Richardson.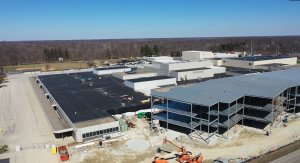 The majority of General Piping's work is bid/spec, which allows the contractor to choose from several different manufacturers that meet the specifications outlined. "NIBCO almost always is an option, so when all things are equal, NIBCO is our go-to," added Richardson. "In a competitive, low-bid environment, cost is always important, and NIBCO products are always priced competitively, giving us peace of mind in knowing our material cost will be in line with our competitors.
"Since we have been using NIBCO products as long as we have, we have great comfort in the quality of NIBCO products," he continued. "We rarely have problems, and in the rare instance we do, the problem is addressed in a timely fashion, and we know that NIBCO will stand behind its products."
Distribution is available locally in Indianapolis, making it convenient for General Piping to find products in stock. If they are not in stock, they are only a day or two away.
"NIBCO's got a great local distribution network," said Richardson. "We know that we can get almost any product we need quickly, which is important on a renovation project such as Lawrence High School, where unforeseen issues arise daily."
While press fitting technology was not an option on the Lawrence Central High School project, in recent years, General Piping has been using more and more press fittings on projects. From a business standpoint, General Piping realizes the advantages of pressing because of the labor cost perspective. Pressing installations are quicker and problem-free.
"Now, when we have the option of using press fittings, we go exclusively with pressing on copper systems," said Richardson. "And we always choose NIBCO for the same reasons as the valves—quality products. We don't have issues, and if we do, they are taken care of immediately."
That quality assurance has made the Lawrence Central High School project, scheduled for completion in fall of 2024, go smoothly so far.
"Really, the only challenges that we faced on this project are the same ones that the entire world is facing—the lead times on many building products have ballooned," said Richardson. "Other than that, the project has gone smoothly.
"Having NIBCO products on this project has been instrumental," Richardson continued. "NIBCO products are user-friendly; they install without issue, and we have the confidence that the company stands behind its products. I just can't say enough good about NIBCO."
For more information, visit www.nibco.com.