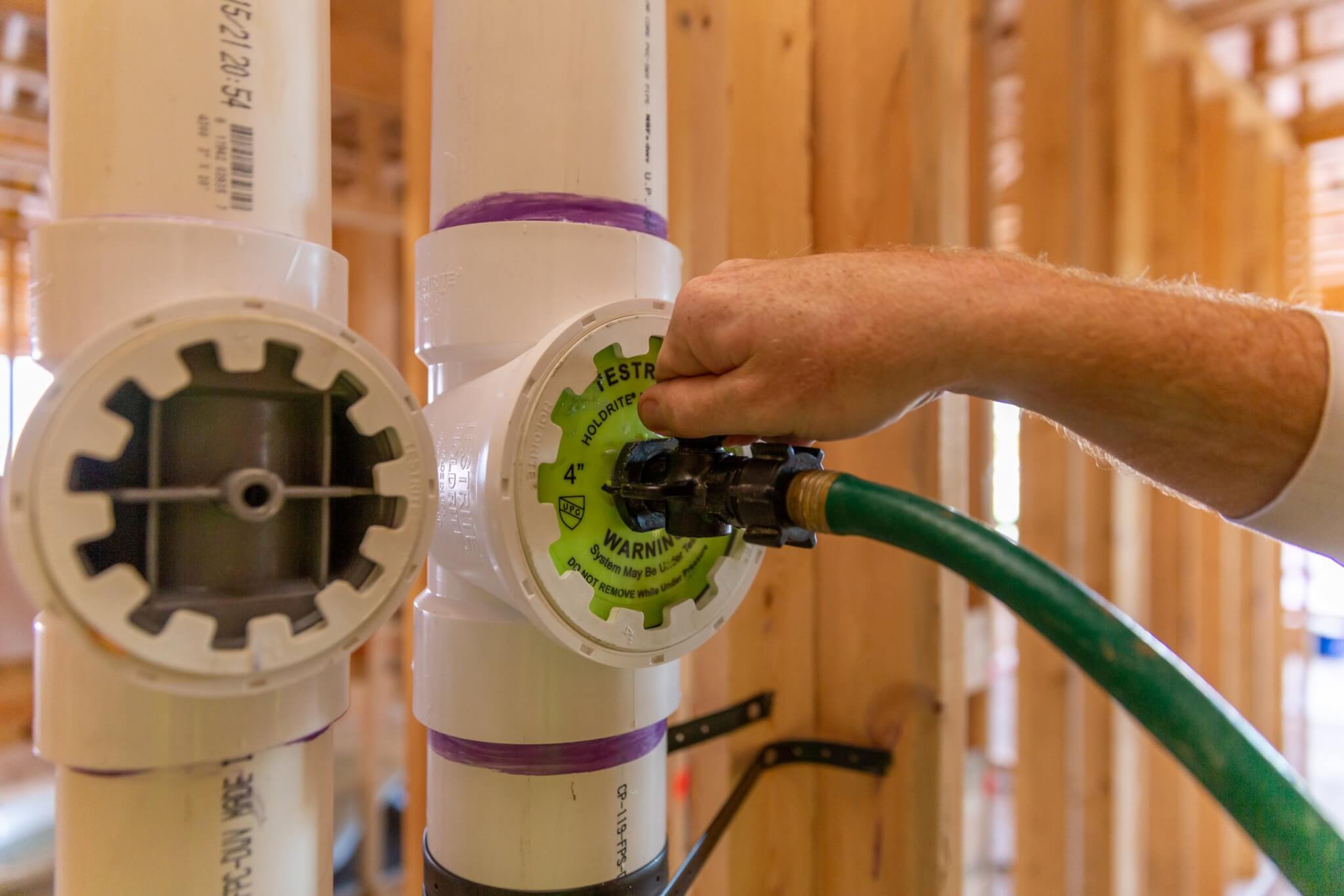 By Neil Ross
Product Manager, Reliance Worldwide Corporation (RWC)
For decades, plumbing contractors have used inflatable or plumbing test balls to perform drain, waste, and vent (DWV) testing for new pipe installations, as required by plumbing code. But those traditional DWV testing systems often slow the plumber's job down and can put them at risk of physical harm. In today's world of labor shortages, plumbers and contractors need the best technologies available to get the job done efficiently and safely.
To address the common challenges of working with traditional DWV testing systems, new products have entered the scene, such as test wedges that integrate with permanent test tees, which increase productivity, improve cost savings, and enhance safety on the jobsite—all while remaining code-compliant.
Faster DWV Testing
The DWV testing method of using an inflatable test ball system is a tedious process and can create jobsite delays. The test ball process includes first having to insert and inflate the ball without rupturing it, adding water into the upper piping system until it reaches the upper terminal, and then checking for any escaping water.
When the entire DWV testing process is completed, a leak may be discovered, which becomes a costly situation due to the extended hours and labor needed to repair it. And with inflatable test balls, there is not an option to let some water out of the pipe to fix the issue. You must drain the entire test water, repair the leak, and begin the process over. With a test wedge, plumbers can conduct partial tests, draining the pipe where needed, which reduces unneeded repetitive work, saves water, and provides more flexibility.
Finally, an inspector is called to sign off on the permit, and you deflate the test ball. If the building is multistory, that is even more time spent, since you will need to complete the process for each floor.
With available products on the market, such as HoldRite's TestRite system from RWC, you can save time by using technologies that are designed to make your job easier. This solution helps streamline DWV testing:
Requires one simple tool and fewer steps to complete the test, making the process two to four times faster.
Eliminates the need to climb to upper floors or the roof to fill water into the piping system. Though you can still follow that process with test wedges, they can also be filled from the bottom up. This creates a more accurate and speedier test.
Helps you perform the test correctly on the first attempt. Some DWV testing systems hold tests for the full 15 minutes required and then some, which is not always the case for traditional inflatables. Holding the water level consistently longer allows the test to be held as long as it is needed to complete the full test on the first try.
More Cost Savings
Whether you are performing a test or fixing a leak from a traditional inflatable device, the usual method will always cost you extended hours and labor. Modern testing methods not only streamline workflow but may even save on expenses in other ways:
Reduce the need for initial materials costs. For example, TestRite does not require additional tools like air pumps, compressors, and thread sealants, which are expenditures that can add up.
Increase the lifespan of the testing product. A test ball has about five uses maximum, but a test wedge can be used five to 10 times more than a traditional plumbing ball. You can also replace the O-rings, if damaged, to extend the life of the device.
Enhanced Safety
One of the most significant facts to note about the traditional plumbing ball testing method is it can expose contractors to all the Occupational Safety and Health Administration (OSHA) "fatal four" top causes of worker fatalities: falls, electrocution, being struck by an object, and being caught in or caught between objects or machinery.
Falls: Slip-and-fall hazards on floors could be created if the test ball ruptures or as the test ball is deflated at the end of the testing process, spraying water out of the test port location.
Electrocution: Water spillage could mix with power cords onsite, creating an electrocution hazard.
Struck by an object: Test balls are very sensitive to inflation pressures. This makes it easy for them to overinflate and burst, which could cause flying shrapnel.
Caught in or caught between: When a test ball deflates, it can get sucked down the pipeline, putting a contractor at risk of getting a hand sucked into the pipe because of the force of rushing water.
When looking to purchase a DWV testing system, look to manufacturers that provide products that meet plumbing code requirements, such as TestRite:
Rated up to 50' of head pressure, 22 psi, and five floors
Laboratory-tested and IAPMO (UPC/cUPC/IPC) listed
By using updated methods of DWV testing, you can avoid plumbing test balls failing during placement, inflation, and removal. And by using products that address the limitations of outdated testing methods, you can save time and money on the jobsite, all while keeping yourself and your team safe.
For more information, visit www.holdrite.com/us/en/dwv-plumbing.