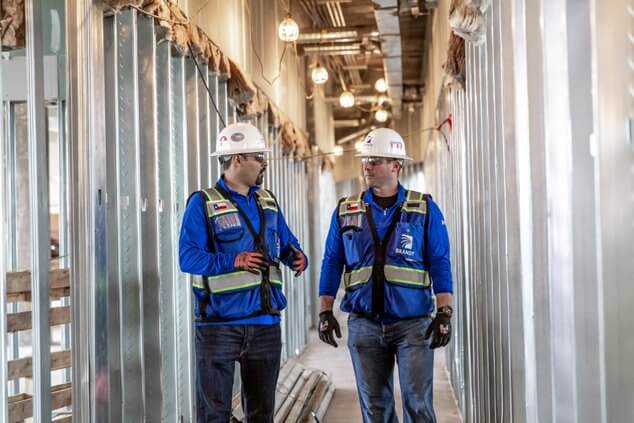 With just 25 months to construct a 12-story, two-building assisted living facility in Dallas, TX, Brandt Companies relied on the Reliance Worldwide Corporation (RWC) HoldRite products they have trusted for more than 15 years to save time while meeting code requirements. Brandt was commissioned to install firestop and plumbing systems. Project Superintendent Andrew Meshell and Project Manager Spencer Jackson chose HoldRite's engineered firestopping solutions and pipe support products.
HoldRite's new construction plumbing rough-in products helped Brandt reduce installation times while maintaining quality on the jobsite. HydroFlame Pro cast-in-place sleeves were the natural choice for Meshell and Jackson for UL-listed firestop sleeves. Their telescoping functionality means they can easily fit into tight areas.
When it came to in-wall rough-in plumbing, the team secured pipes with HoldRite stout and copper brackets and clamps. Not only did they offer the right pipe support for the job, but they also locked the measurement down so the team did not have to worry about the under-slab rough-in being off when they came back later to install fixtures. The brackets gave the contractors peace of mind that the pipes were secured in the wall right where they needed to be.
Ultimately, Brandt installed more than 4,000 HydroFlame Pro sleeves, as well as HoldRite clamps and various other components, to meet the job requirements and the deadline. To them, HoldRite has always been—and continues to be—an innovative partner with solutions to get the job done efficiently without sacrificing quality.
"One of the best things you get out of the HoldRite products is they take a 30-minute job down to a 5-minute job."

— Andrew Meshell, Project Superintendent, Brandt Companies
Brandt continues to use HoldRite products because they are user-friendly and versatile, allowing the team to work quickly and use across a diverse range of applications. "One of the best things you get out of the HoldRite products is they take a 30-minute job down to a 5-minute job," Meshell said.
To Meshell, HydroFlame Pro sleeves are easy to install and can be used in a variety of installations. When working on the Dallas assisted living facility, his team only needed to bring one type of sleeve on the site to accommodate multiple jobs.
"Because of [HoldRite's] versatility, we're able to meet and beat the expectations from our customers to maintain a schedule," Jackson said. "I would say there's no comparison. This is the right product to use."
For more information, visit www.holdrite.com.