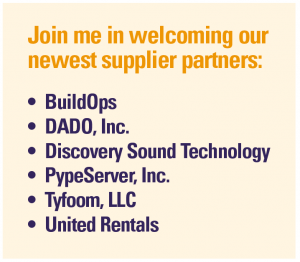 This issue of Smart Solutions highlights new technology, products, and services to help meet continuing labor and other challenges in the industry. For example, by using FARO Technologies Inc.'s new laser scanners, one Limbach worker can capture in a few hours what used to take a team of people to complete in a week. Limbach also adopted MSUITE's FabPro software in a pop-up fabrication shop, minimizing assembly and installation time and completing the project two months early.
Atomatic Mechanical Services Inc. credits XOi Technologies with helping them manage their workload with existing personnel rather than hiring more people. With Procore software, Monterey Mechanical Co. increased efficiency, saving one day a week of work per employee. Because Boston Children's Hospital used Marking Services Inc.'s products to keep track of documents for thousands of facility assets, they were able to access needed warranty information easily, saving money. 
Investing in time-saving products paid off for CRW Mechanical, which won a project bid by switching to a Milwaukee® Long Throw Press Tool that slashed labor costs. Piping Systems Inc. bought a Watts-Mueller cutting system to reduce cutting times and gain a competitive advantage. Bayer's Plumbing used MIFAB's modern grease interceptor solution to keep costs and installation time down for a restaurant renovation. Installing Marley® Cooling Towers from SPX Cooling Technologies, Inc., Wayne Crouse, Inc. shaved several days off of the schedule for a challenging hospital project. 
For a demanding new warehouse project, Current Mechanical counted on Victaulic's experienced virtual design and construction team, fabrication services, and grooved mechanical couplings to save installation time when its workforce was stretched thin. Olson Plumbing and Heating leveraged Viega ProPress to take on a mountain of a project: building a new visitor's complex at the summit of Colorado's Pikes Peak.  
Members are meeting customers' demands with energy-efficient products. For example, Daikin Applied helped a medical center update its aging HVAC infrastructure and secure a $160,000 energy-efficiency rebate from the local utility provider. Following an energy audit, McKinstry specified Uponor's flexible Ecoflex preinsulated piping to resolve a remote Minnesota school's longtime heating problems and save the school thousands in energy costs. A community college installed new Lochinvar boilers to meet its ambitious energy-reduction goals.  
This issue also features technical insights from Sloan on upgrading water systems, from IMI Hydronic Engineering on climate control, and from Wieland Chase on the effectiveness of dezincification-resistant brass. We hope you will take advantage of our manufacturer/supplier partners' knowledge and expertise to help you improve productivity and increase profits.