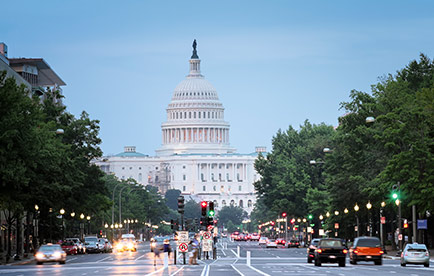 Early February saw the release of the first report related to Executive Order (EO) 14025, White House Task Force Report on Worker Organizing and Empowerment. MCAA and the UA provided joint input for the report. MCAA and the Construction Employers of America (CEA) also filed an amicus brief with the National Labor Relations Board (NLRB) on the topic of worker misclassification. February also marked the publication of an EO requiring project labor agreements (PLAs) on direct federal construction projects. MCAA's partnerships ensure our members' voices are heard.
Biden Administration Worker Organizing and Empowerment Agenda Notches Up
The Biden Administration's worker organizing and empowerment agenda notched up with the release of EO14025, White House Task Force Report on Worker Organizing and Empowerment, on February 7, 2022. The report includes 70 recommendations across a broad range of government agencies and programs to broadly empower and support the nation's policy to promote collective bargaining, declared in the National Labor Relations Act (NLRA) of 1935.
The comprehensive report is a first installment of the task force's ongoing work. A follow-on report is called for in six months.
MCAA and the UA filed several sets of comprehensive recommendations for the task force's initial report. We will continue to participate in the process going forward.
Following are just a few of the many task force recommendations of particular interest to union-signatory construction industry employers.
Updating the regulations implementing the Davis-Bacon Act – MCAA provided comments on the Biden Labor Department's initial draft regulations. A proposed set of new regulations has passed paperwork review and is expected out soon.
Inter-agency crackdown on worker misclassification – The task force report calls for renewed interagency efforts to crack down on the scourge of worker misclassification that is all too common in the construction industry. MCAA and the Construction Employers of America (CEA) filed an amicus brief with the National Labor Relations Board (NLRB) on February 10, 2022, in the Atlanta Opera case asking the NLRB to return to the proper worker classification criteria to be applied to questions of employment status under the national Labor Relations Act as applied in the Board's FedEx case standard, and overturning a more permissive rule that overemphasized pretextual "entrepreneurialism" under the Trump NLRB's Super Shuttle decision.
The MCAA/CEA brief said: ". . . The incentives to misclassify construction industry employees across the broad range of labor and employment laws are great – and unscrupulous employers are assiduous in finding naked pretenses to cloak misclassification as some form of "entrepreneurialism." The subterfuges used by unscrupulous employers in these schemes are as various as they are transparent. Airport taxi drivers working controlled shifts in leased company vehicles are no more modern-day Cornelius V Vanderbilts in waiting than are construction piece-work drywall installers likely to become international prime contractors. And if they are, they can just as readily make their starts as bona fide employees. The notion of entrepreneurialism in this context is a cynical pretense for exploitation – at the expense of workforce standards and workforce equity for the good of the economy overall."
In its brief in the Atlanta Opera case, the MCAA/CEA called for a reconsideration of the recent NLRB Velox decision, and for adoption of a strict liability standard for worker misclassification under the NLRA, i.e., – misclassification alone without further charges is a per se violation of Section 7 employee rights to engage in protected concerted activity.
Specific Federal agency actions called for in government contracting– The task force calls on the Veterans Administration to use labor participation as a specific evaluation factor in its construction program awards. The task force also calls on the General Services Administration to provide training and listening sessions on the benefits of union representation for government contractor employees. Moreover, the task force report calls for the more robust deployment of labor policy advisors at all executive agencies. Some aspects of these broad contracting proposals would be implemented in robust use of the Project Labor Agreement (PLA) mandates issued in the Administration's recent Executive Order on PLAs described below.
Biden Administration Issues Executive Order Requiring Project Labor Agreements on Direct Federal Construction Projects
On February 4, 2022, President Biden issued an Executive Order mandating use of project labor agreements (PLAs) on direct Federal construction projects of $35 million or more. The Biden EO revokes a previous EO on the matter issued by President Obama (EO 13502, issued February 6, 2009, which had remained in effect since then).
Threshold – The Biden EO applies to projects of $35 million or more, and contracting officers are required to provide a written report of any exceptions that might apply to exempt an otherwise covered project. The EO allows agency discretion to use PLAs on projects of lesser value if circumstances warrant. They likewise retain discretion to seek use of PLAs on Federally assisted projects if circumstances warrant.
Coverage – The PLA mandate applies to all prime contractors and subcontractors performing onsite work on covered projects. The EO does not require a PLA with any labor organization but does set out that a PLA must contain protections against strikes, lockouts, and other work stoppages and provide for uniform project dispute resolution methods. A preexisting signatory relationship is not required for prime contractors and subcontractors to bid and perform work on covered PLA projects.
Exceptions, transparency and periodic reporting – Senior agency procurement officials are authorized to grant exceptions from the EO's mandate in written justifications for specific reasons (as follows: project of short duration, is a single craft job, there are a limited number of specialized firms to perform the job, the PLA requirement would based on market data frustrate free and open competition, and other limited factors). Agencies are required to file quarterly reports with the Office of Management and Budget (OMB) on use of PLAs and any exceptions that have been granted. Agencies also are required to publish that data on centralized public websites.
Effective dates, regulatory implementation, and contracting officer training – The EO directs the Federal Acquisition Regulatory Council to publish proposed rules implementing the EO within 120 days of February 4, 2022, and to become effective on solicitations issued on or after publishing final regulations promptly after public comments are processed. (However, the EO states that it is also effective immediately, and that agencies are encouraged to comply with the EO on covered contract solicitations issued on or after February 4, 2022, to the extent already permitted by law.) OMB is directed to issue regulatory guidance to agencies on the written exceptions and publishing data reporting on use of PLAs. The EO further directs the Secretaries of Defense, Labor, and the Director of OMB to design a training strategy for agency contracting officers to implement the EO within 90 days of issuance. Then, within 180 days of the publication of final FAR regulations, those same entities must provide a report to the Assistant to the President for Economic Policy and the Director of the National Economic Council on the content of that training strategy.
On publication and release of the EO, MCAA CEO Tim Brink issued the following statement to the White House:
Moreover, in times of tight labor markets it is absolutely prudent for contracting officers to consider the manifold advantages of the building trades workforce development training and skills – as well as workforce deployment and nationwide portability advantages of the union sectors' workforce development system as compared with the lack of that sophistication in the unorganized sector of the industry.
MCAA had long and consistently supported the Federal government construction program contracting officers having the same proprietary discretion judgments options with respect to project contracting matters – including labor policy and performance advantages – as private sector project owners enjoy.
Related Articles