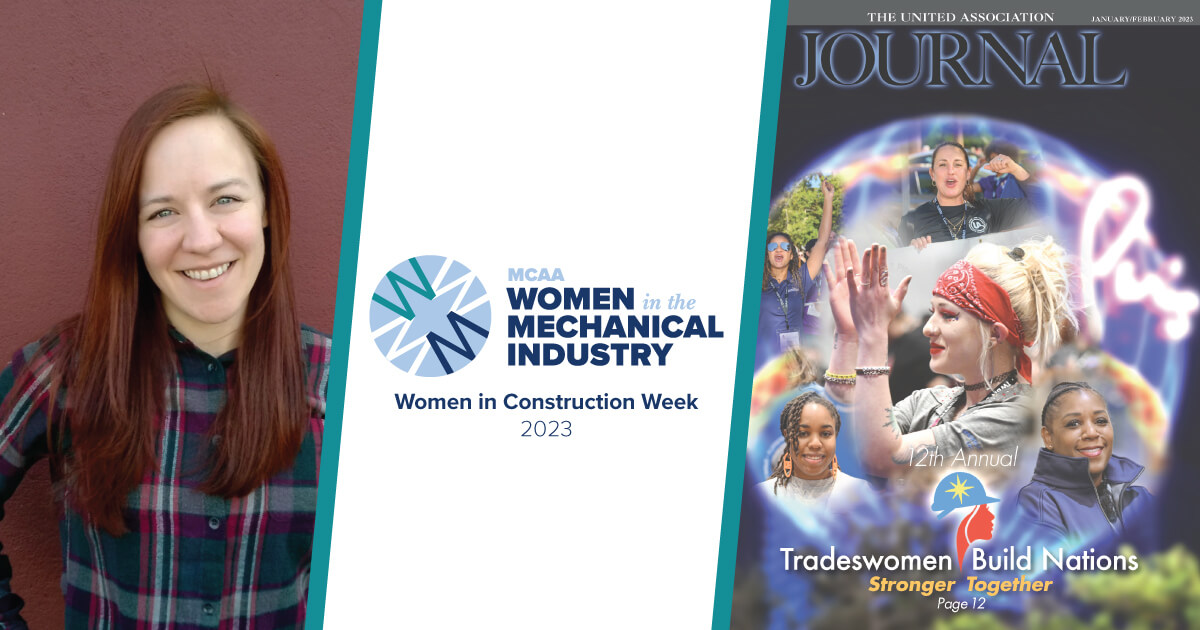 Karin Dahlin, First Woman to Win UA International Apprentice Contest
Karin Dahlin is a journeyman service pipefitter with Minneapolis Pipefitters local 539. She received her HVACR degree at Minneapolis College in 2018 and completed her apprenticeship with local 539 in June of 2022. She chose this trade because of the variety it offers, and she enjoys working on something new each day.
Last year, Karin participated in a series of United Association Apprenticeship contests, culminating in the International Contest in Ann Arbor, MI, where she finished first place for HVACR Service Technician. The HVACR Service Technician winner was Karin Dahlin from Local 539, Minneapolis, MN, District 4. Making her the first woman contestant to win.
12th Annual Tradeswomen Build Nations (TWBN) Conference
North America's Building Trades Unions (NABTU) hosted their 12th Annual Tradeswomen Build Nations (TWBN) conference last October in Las Vegas, NV welcoming more than 3,100 tradeswomen and construction industry leaders convened. NABTU's TWBN conference remains the largest gathering of its kind in the world. The United Association was the largest international union represented at this year's TWBN conference. The UA had 615 attendees, breaking its attendance record once again. In an article posted in the United Association Journal about the conference it was said that "being in a union ensures that women get paid the same hourly rate as men on the job, but the big questions raised at the TWBN conference this year were: Are women being treated the same on the job, are women getting the same on-the-job training, are women regularly being offered overtime hours, and how can unions ensure equity on the job?" Inequity is one of many issues that tradeswomen are working hard to change for women in unionized trade careers. Conferences like this allow these women the opportunity to share experiences and best practices with fellow tradeswomen, learned about new programs and opportunities in the industry, and engaged with top leaders from government, industry, building trades unions. Next year's conference will be held December 1-3, in Washington, DC.
Read the full article from the UA Journal Here: https://www.mcaa.org/wp-content/uploads/2023/02/UA-Journal-Jan-Feb-2023-TWBN35.pdf
Be sure to join us in Nashville June 12–14, 2023 at the 3rd annual Women in the Mechanical Industry Conference. Register today! https://mcaaevents.org/wimi-conference/ 
Related Articles