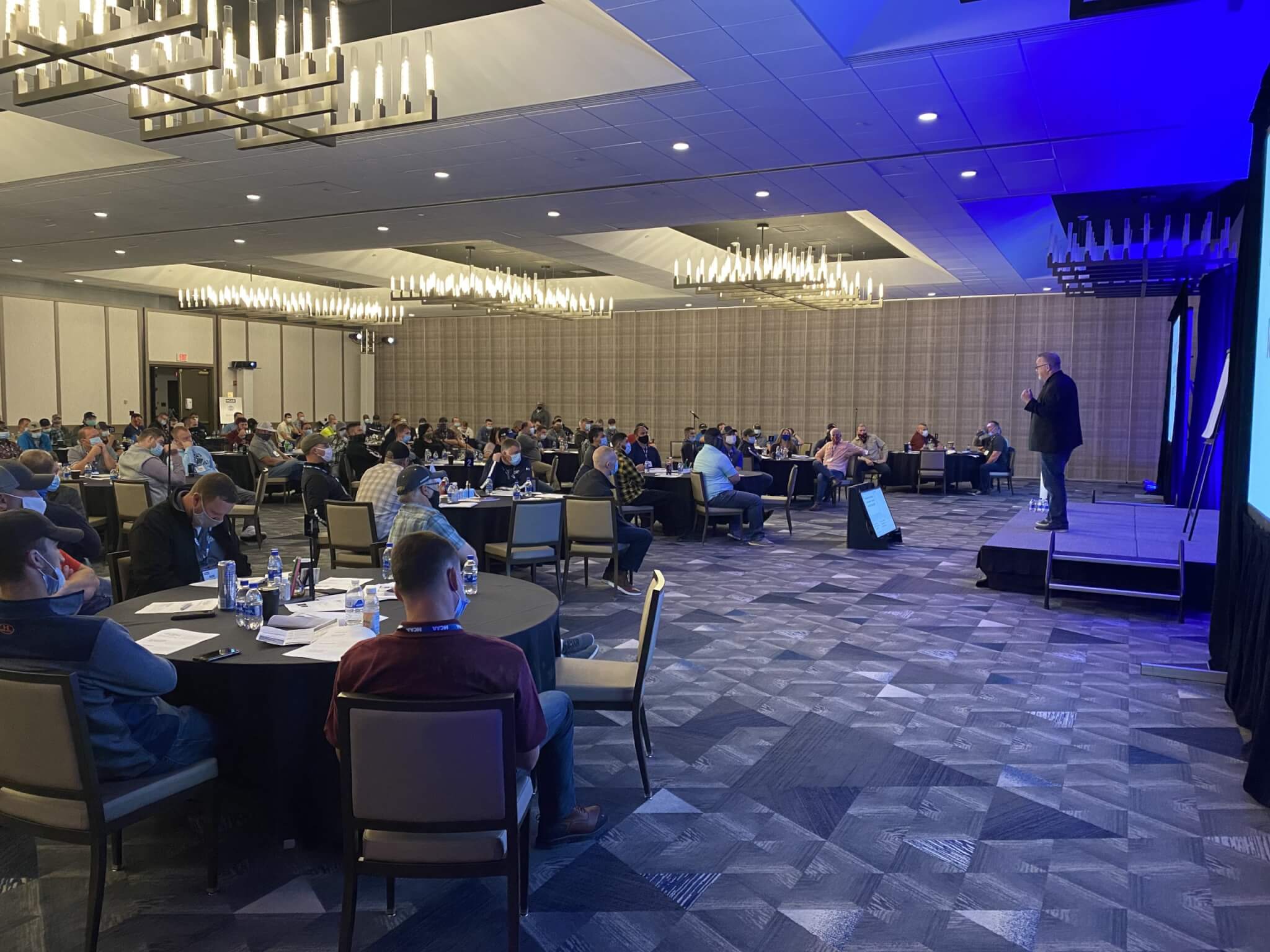 MCAA held its first in-person conference since the onset of COVID-19 this week in Toledo, Ohio. The MCAA Field Leaders Conference (FLC) was a great success with 125 field personnel, made up primarily of foremen and superintendents, spending three days together networking, sharing best practices and learning from industry experts.
In an effort to keep all attendees safe, MCAA instituted several safety policies including, the wearing of face masks at all times, daily temperature checks and distanced conference tables with fewer chairs. All attendees were encouraged to use the numerous hand sanitizing stations throughout the meeting space, and follow social distancing guidelines.
MCAA partnered with the MCA of Northwest Ohio and Executive Vice President, Anne Saloff, to ensure the success of the conference. In addition to registering multiple foremen, journeymen and superintendents, Saloff also registered fifth-year apprentices from the UA Local 50.
A highlight of the conference is always the product display held the first evening. MCAA would like to thank DEWALT, Jay R. Smith Mfg. Co., MILWAUKEE TOOL, Victaulic, Viega and Zurn for their participation in Toledo. Representatives from these members of MCAA's Manufacturer/Supplier Council had the opportunity to address the attendees about their companies and products, and then attendees had the opportunity to visit the exhibitor tables.
The FLC was first held in 2015 and averages 2-3 conferences a year. A big part of the conference's success circles back to the stellar faculty involved. Greg Fuller and Mark Rogers, two MCAA Past Presidents who started their career in the trades and now own their own mechanical contracting companies, share their experiences and lessons learned from being on both sides of the fence. Chris Haslinger, UA Administrative Assistant to the General President, focuses his presentation on the latest equipment and technology that is changing the way jobsite projects are managed. John Koontz, MCAA's Director of Project Management Education and former contractor and professor, brings a balance of academic and practical experience to the group. Kevin Dougherty, leading construction industry consultant, discusses successful ways to build and maintain relationships with focus on being a better listener and how to be the most effective communicator possible. Finally, Mark Breslin, President of Breslin Strategies, conducts a presentation on leadership, how to promote positive change and how to effectively achieve it.
MCAA will be holding two 2021 Field Leaders Conferences in Seattle, Washington (May 12-14) and in Boston, Massachusetts (October 6-8). It's a conference your lead field personnel cannot afford to miss and we hope to see them there!
Related Articles