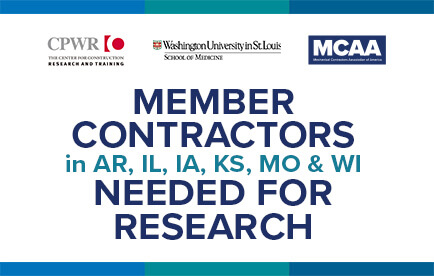 MCAA is collaborating with The Center for Construction Research and Training (CPWR) and Washington University in St. Louis (WUSTL) to prevent injury and improve productivity by reducing manual material handling (MMH). Manually lifting and moving heavy construction materials can cause strain, sprain and related soft tissue injuries. Planning ahead for how materials will be stored, lifted and moved reduces manual materials handling, helps contractors of all sizes stay productive and profitable and saves workers from painful injuries. We are looking for five MCAA member contractors in each of the following states: Arkansas, Illinois, Iowa, Kansas, Missouri and Wisconsin to use a free MMH program and provide feedback through September 2023.
The program includes:
Site planning tools, checklists and materials
Interactive training and coaching resources
Contractors interested in becoming research partners will be asked to:
Participate in a one-hour interview about their current manual material handling practices.
Allow researchers to go onto jobsites to conduct brief observations of workers handling materials and ask them to take a 10-minute survey at the start of the study and six months later.
Participate in six monthly meetings with researchers to discuss changes based on their experiences using the MMH program.
If you are interested in learning more, please email Raffi Elchemmas, MCAA Executive Director of Safety, Health and Risk Management, at raffi@mcaa.org.
Related Articles