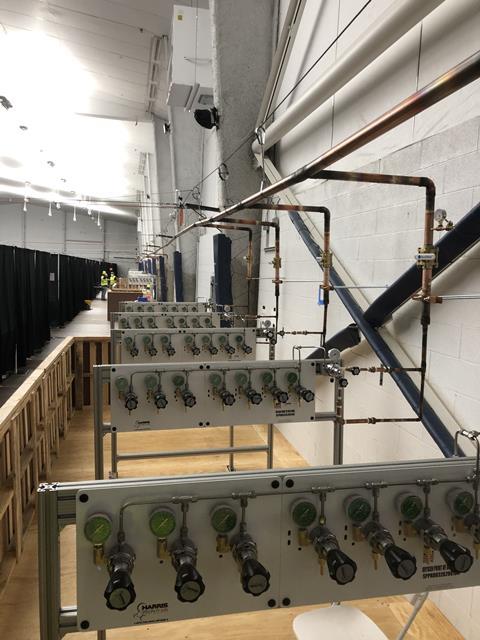 MCAA's manufacturer/supplier, The Harris Products Group has been an important partner as they immediately fulfilled demands at numerous medical and alternative care facilities for COVID-19 treatments. During the first few weeks of the coronavirus outbreak, Harris had produced and supplied thousands of critically needed medical regulators and hundreds of gas systems to distributors throughout the U.S., who were scrambling to meet critical needs.
The collaboration began when McKinney Welding Supply, a distributor of compressed gases, turned to Harris for a custom and urgent oxygen delivery system solution in two New York City field hospitals – the Billie Jean King National Tennis Center and the Brooklyn Cruise Terminal. Together, they designed, produced and delivered systems with 78 panels and 1,170 regulators fulfilling needs of 1,092 patient beds.
McKinney initially reached out to Harris when they realized their current medical regulator supplier could not provide regulators until June. Harris responded with a solution – instead of regulating pressure at each hospital bed with flowmeters, they proposed accomplishing the task with a series of panels that would regulate the pressure near the oxygen source and then distribute it throughout the facility.
"This turnkey solution was perfect and a great use of resources," said Dan Mattiace, General Manager of McKinney. "We could pipe the oxygen supply right to the panels. Each panel would have 14 regulators that would provide oxygen to 14 beds. Harris quickly provided a CAD/CAM drawing of the design, I proposed it to the contractor, we went over it with their doctors, and they all immediately approved it." After approval, McKinney and Harris immediately turned their focus to producing and delivering the systems as quickly as possible.
Harris responded to the challenge by redeploying employees to work on the project at their Gainesville, Georgia facility, where its Specialty Gas Group is based, and its medical-related equipment and systems are produced. They added production lines and called upon supply chain partners to find and provide materials expeditiously. The facility ran multiple shifts, 24 hours a day, seven days a week. The contractor assigned drivers to pick up systems daily, taking them directly to New York so that the plumbers could begin connecting them into the main lines as soon as they arrived.
Just eight days from when McKinney received the very first call about this project, the facility began accepting patients.
Harris excelled at adapting as circumstances changed. Just one example includes a shortage of bulk gas trailers for the oxygen at the Brooklyn Cruise Terminal. To solve the problem, Harris suggested using dewar tanks attached to a back-up supply from high pressure tanks. McKinney was then able to supply the equipment and connect it with the panels and hoses, and avoid delaying the start of the project.
"COVID-19 has been a heartbreaking tragedy, but it is inspiring how our employees and partners are working together to overcome so many obstacles," said Harris Products Group President David Nangle. "I am proud that Harris is using its knowledge and resources to design and deliver gas systems that are contributing so greatly to saving lives during this global crisis."
We are all in this together.
Related Articles