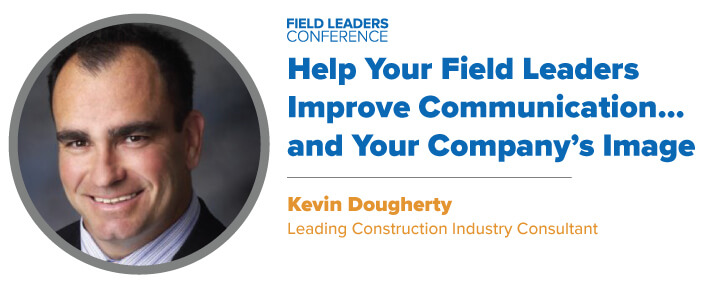 MCAA's Field Leaders Conference is where field leaders realize their importance and value as professionals and members of the management team. Have your field leaders join us in April, May, August or October to learn the skills they need to be business, and results, oriented managers focused on growing company profits and brand.
SESSION HIGHLIGHT
Help Your Field Leaders Improve Communication…and Your Company's Image
with Kevin Dougherty, Leading Construction Industry Consultant
Your field leaders are the face of your company. Are they prepared to communicate effectively, bridge conflict and personality clashes and protect your company's image? Kevin Dougherty's presentation at the Field Leaders Conference provides the tricks and tactics they need to get even the most difficult people eating out of their hands, plus other ideas for improving communication with crews, other subs, management and owners.
Kevin Dougherty, a leading construction industry consultant, has been guiding organizations as they adapt to a changing industry. He provides realistic, open-minded tangible solutions to today's problems. Kevin is based in Sarasota, FL, and frequently speaks to construction industry organizations who welcome his engaging, enthusiastic manner.
We have four conferences coming up in Scottsdale, AZ (April 3-5), Chicago, IL (May 17-19), San Francisco, CA (August 2-4) and Des Moines, IA (October 11-13). Register your field personnel today! This is a conference you can't afford them to miss.
Related Articles