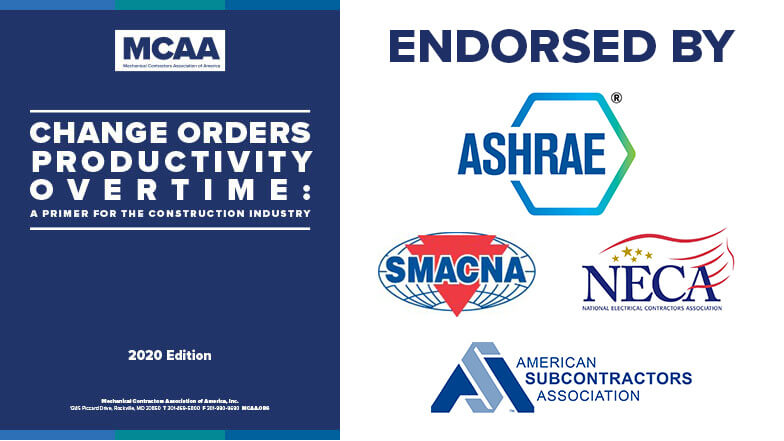 The American Society of Heating, Refrigerating and Air-Conditioning Engineers (ASHRAE) has fully endorsed the 2020 edition of MCAA's Change Orders, Productivity, Overtime—A Primer for the Construction Industry. ASHRAE's endorsement joins those of the Sheet Metal and Air Conditioning Contractors' National Association (SMACNA), the National Electrical Contractors Association (NECA), and the American Subcontractors Association (ASA), making the guide an industry standard for the mechanical, electrical, and plumbing (MEP) industries.
MCAA welcomes ASHRAE to the roster of endorsing organizations. We look forward to the participation of all endorsing organizations as we develop future editions of the publication.
The guide is a planning tool to assist contractors in determining the costs associated with unplanned events, circumstances and factors that may impact the outcome, productivity, and schedule of construction projects. It includes a chapter highlighting the benefits of sharing native critical path method (CPM) schedule files.
MCAA members can download the guide free as a benefit of membership. Printed books are also available for purchase.
Related Articles