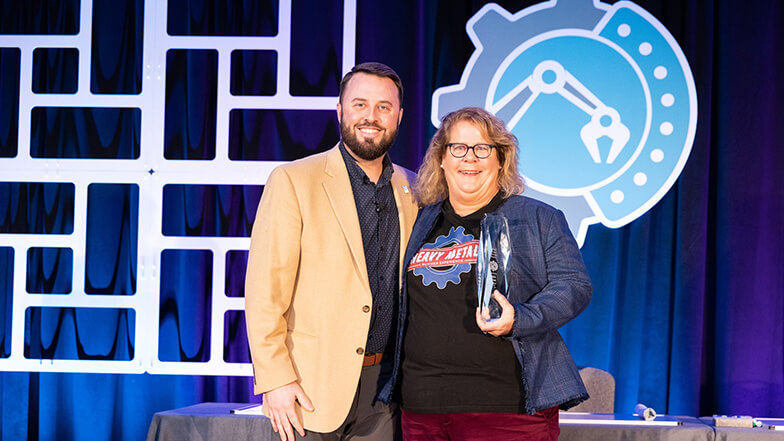 According to the Bureau of Labor Statistics, the average age of a construction worker is 42, and nearly 20% of the workforce is over the age of 55. Finding and recruiting young workers into the trades remains a challenge for contractors. Angie Simon of Western Allied Mechanical, an MCAA member, and the past President of SMACNA decided to do something about it.
At the 2023 MEP Innovation Conference, Simon was recognized by Britton Langdon of MSUITE with the first Industry Advocate Award for her efforts with the Heavy Metal Summer Experience. What started as small camps developed with two contractors – Western Allied Mechanical in Menlo Park, California, and Hermanson Company in Kent, Washington, has grown into a nationwide program. "We started with two camps and jumped to 11 camps last summer [2022] and 170 high school aged students," Simon said. "We are excited for this summer because now we have around 30 camps committed and expect over 425 students," she added.
This incredible growth is the built around the playbook that Simon and her team put together for the camps. It includes everything needed to run a camp – the forms, permission slips, work permits and safety documents. This playbook also provides contractors with lessons and projects for the camps and suggestions for working with local Joint Apprenticeship Training Committees (JATCs) to get as many into the industry as possible.
The camps get kids working with their hands, learning how to use industry tools, and learning some of the basics of the industry. Each camper receives a set of work boots, T-shirts, a bag of tools and the projects that they make. The costs of these items are covered by charitable donations from industry manufacturers, contractors and associations. According to Britton Langdon, "Through DEWALT, Stanley Black & Decker has sponsored the Heavy Metal Summer Experience across the country with resources, expertise and assistance in the camp. In addition, they have provided more than $200,000 in product donations to the campers." The program is also supported with key partnerships from Milwaukee Tool, Procore, Mestek Machinery, SMACNA, and the Makers Grant.
Following the award ceremony, MCAA, NECA and SMACNA announced that they would make a $10,000 donation on behalf of the MEP Innovation Conference. For more information on the Heavy Metal Summer experience, please visit their website.
Related Articles