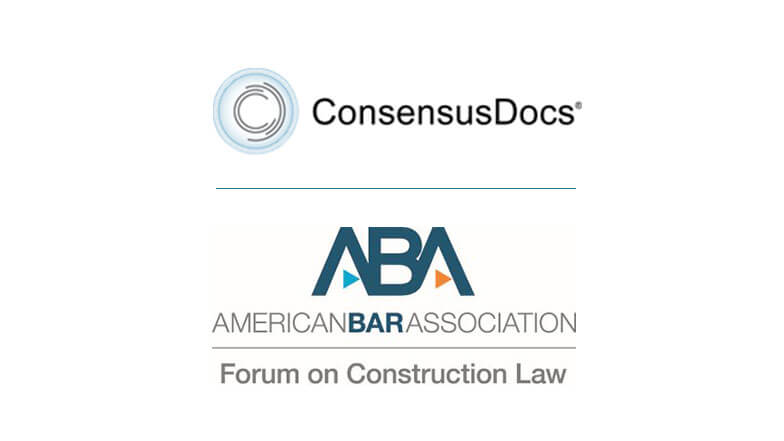 Construction owners, general contractors and subcontractors are increasingly using master agreements to become more efficient in their contract negotiations. The American Bar Association (ABA) and ConsensusDocs will discuss practical ways to maximize the advantages and avoid potential traps in using master agreements in a coordinated manner during a September 24 webinar from 1:00-2:30 PM ET. Registration is open to all, with special savings for those who are ConsensusDocs subscribers.
Those who attend will learn how to equip field personnel to address project specifics in project work orders under the terms of the agreement. Attendees will also gain the contractual tools necessary to create master prime agreements and master subcontract agreements. They will also learn how to structure and organize terms in the master agreement as well as a project order so that project specifics and master terms complement each other rather than conflict.
An emphasis will be placed on best practices in negotiating subcontract terms. The recently published ConsensusDocs 755 standard master subcontract agreement and 756 project work order will help illustrate how an industry standard master contract can assist construction attorneys and their clients in focusing on risk allocation advantages and avoid potential pitfalls.
Speakers
Brian Perlberg – ConsensusDocs Executive Director | Arlington, VA
Brian is a nationally recognized construction law attorney who serves as Executive Director and Senior Counsel for ConsensusDocs, a unique, industry-wide coalition of leading construction associations, including MCAA, producing best practice standard construction contracts.
Kevin Peartree – Ernstrom & Dreste, LLP Partner | Rochester, NY
Kevin F. Peartree, Partner, represents clients in all areas relating to the construction industry, contract law and suretyship. He handles construction litigation, counseling and contract negotiation for contractors, design-builders, construction managers, specialty contractors and sureties.
Kristen Lynn Wendler – Farhang & Medcoff, Partner | Tucson, AZ
Kristen's practice focuses in the areas of Real Estate and Construction. Her business law experience includes business formation, mergers/acquisitions, commercial real estate transactions, non-profit corporations, employment matters, disadvantaged business enterprises, and succession planning.
Pricing & Continuing Education Credits
ConsensusDocs subscribers receive discount pricing of $95.00 when they register for the webinar. For all others, the registration fee is $195.00. The webinar offers 1.5 continuing legal education (CLE) credit hours.
How to Register
Visit the registration page.
You will be asked to login. If you don't have a login, you will have the opportunity to create one.
You may need to go back to the event link if you navigated away to create a password.
Click the Register Now button.
It will show the $195.00 List Price. If your company is a ConsensusDocs subscriber, use the arrow to the right and select the ConsensusDocs Member option. This will change your price to $95.00.
Confirm your details and enter your payment information.
You will receive a confirmation and receipt directly from the ABA.
Related Resource
ConsensusDocs offers a comprehensive library of form documents drafted in a co-equal consensus process. MCAA is a participating member, and MCAA members can save on their orders using the Discount Code: MCAA100. Learn more by visiting the ConsensusDocs website.
Related Articles