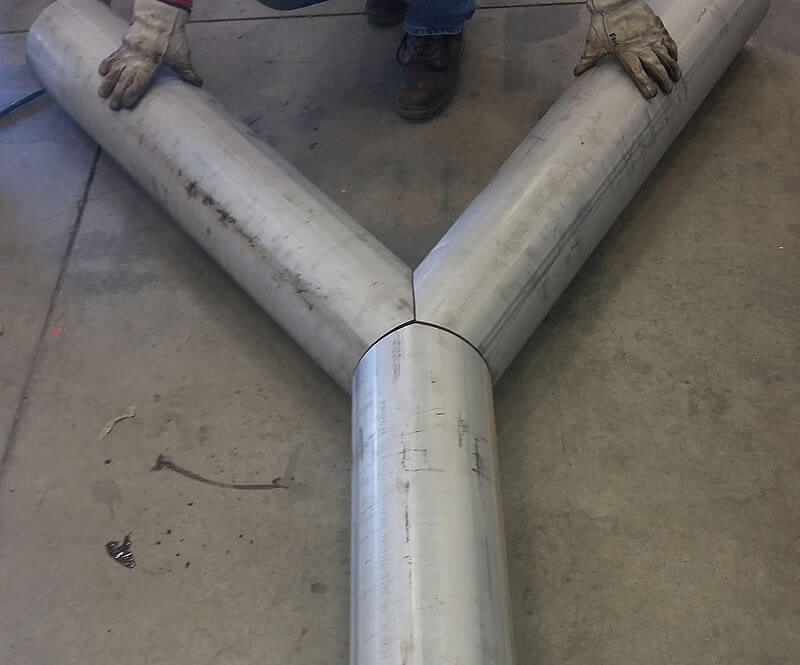 Winger Companies tackled two challenges—the growing scale of its fabrication projects and a tight labor market—with Watts-Mueller machines that allowed them to do more with fewer people. General Manager Mike Smith said, "We increased our finished fabrications while cutting the cost of both consumables and manhours."
Winger is a one-stop mechanical and electrical contracting company serving commercial and industrial markets. It is a fourth-generation, family-owned business that has grown to be the leader in mechanical construction for the Midwest region. Since it was established in 1942, Winger has continuously expanded into new markets to keep up with growth and demand.
"Our fabrication projects had grown to the point where we needed to add automation to our processes in order to become more efficient," said Smith. "We bought a Watts-Mueller W-244 machine in 2015—that gave us more ability to cut and bevel pipe up to 24" OD [outer diameter]," but then Winger needed more.
"We continued to grow in our fabrication projects, both in volume and with projects calling for larger pipe," Smith continued. "In 2020 we purchased a second machine, a Watts-Mueller W-364 capable of cutting up to 36" OD pipe. This machine went into our Cedar Rapids fabrication shop and further extended both our efficiency and our capabilities."
The most pressing reason to purchase the Watts-Mueller machines was to gain efficiency. "We needed to become more productive with the same manhours, and we needed to save on consumables," said Smith. "Where it took 25 minutes to lay out and cut an 8" pipe, the same cuts are done in only around 90 seconds with the automated machine. The Watts-Mueller pipe profiling system allows us to make precise, uniform, clean cuts in a minimal amount of time. We are more efficient, spending less on prep time and less on manhours."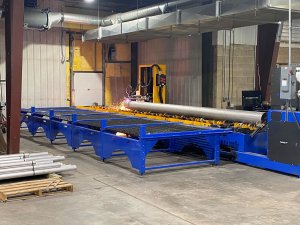 Winger also purchased a conveyor system with the new W-364 machine: a 25' machine bed with an integrated powered conveyor. In addition, Winger purchased another 20' infeed conveyor and rack outside the building, enabling the pipe to be power-fed into the shop.
"Due to labor shortages in the industrial fabrication industry, we needed a way to get more productivity with less manhours," Smith stated. "Where it used to take two people to prep and mark up a pipe for a saddle cut, now the job only requires one person to input the numbers into the 3D-Profile Plus software and simply run the machine. Even the most complicated cuts can be done by one person, the machine operator.
"In addition, it used to take two people to move, stage, and prep large pipe," said Smith. "Now, with the automatic infeed bed, we can load pipe outside the building, convey into the building and right onto the machine bed. Prior to having the feeding racks we had difficulty loading heavy pipe—we had to use a crane, which called for more workers. We are saving in manhour costs, and we have increased the safety for our employees in all of our fabrications."
Smith also appreciated the 3D-Profile Plus software. "The software with the input communication of the measurements, angles, and outlets is very user-friendly," he observed. "I can send numbers from my desk directly into the machine if I need to. Watts-Mueller support has also been good. Our machine operator likes how the support staff has working knowledge of fabrication and can offer more than just technical knowledge about the machine."
For more information, visit Watts-Specialties.com.