A major expansion of the 1960s-era Riverside Regional Medical Center in Newport News, VA, is on track and on budget, thanks in part to Warwick Plumbing and Heating, which relied on NIBCO products, prefabrication, and building information modeling (BIM) to keep the project running smoothly. Because lives are at stake, maintaining uninterrupted service during construction in the hospital is crucial.
To accommodate the growth and changing needs of patient care, the hospital is transforming with a new five-story, 251,380-square-foot addition that includes a new entrance and reception area, pharmacy, 13 surgery suites, two gastrointestinal procedure rooms, pre-op and post-op areas, 72 patient rooms (and shell space for two more floors of patient rooms), and expanded parking areas. Several stages of the expansion have been completed, and considerable attention has been given to making a smooth transition despite the busy patient load.
Powering Up Smoothly
To supply power to the addition, Warwick helped expand Riverside's central energy plant, which provides steam, chilled water, and generator capacity. Riverside doubled the size of its existing central energy plant into a two-story, 17,500-square-foot building. The HVAC system consists of a new 40,000-gallon fuel oil tank, two 1,300- ton chillers, a steam boiler, new generators, and additional medical gas lines.
Warwick used BIM and prefabrication to enhance productivity and keep costs down. For example, with BIM, Warwick's technicians were able to route piping and duct before the walls and ceilings were in place. It was also used for prefabrication of the systems in a controlled environment at Warwick. With prefabrication, the process was streamlined to ensure that there were few scheduled shutdowns and a smooth transition. A utility bridge supported by a structural steel truss system extends across the roof of the existing structure to help provide uninterrupted service from the new construction.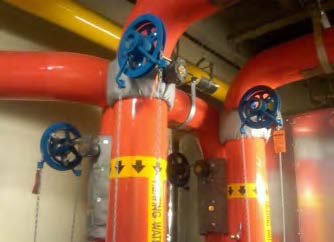 Within a 72-hour time frame during the winter of 2011, the chilled water system had to be rerouted to the separator with 12-inch and 18-inch pipes. Prefabrication of the system for the chillers reduced the number of welds required from 30 or 40 down to five or six. During the transition from the old system to the new system, seven 12-inch and 18-inch butterfly valves in the system were used to reverse the flow, rerouting the water to make a complete primary loop instead of the primary header. According to Nathan Berryman, project manager for Warwick Plumbing and Heating, the use of the butterfly valves allowed the water to flow through the bypass with no need for a special shutdown.
The project involved more than 140 NIBCO butterfly, gate, ball, and check valves. Of those, 76 were butterfly valves, including 14-inch butterfly valves with sprocket rim and chain to provide remote operation on chilled water supply and return lines. "Because of NIBCO product reliability, it's easy to get submittals approved," said Bob Spencer, project manager at Warwick Heating and Plumbing. "That's something that helps expedite the process. Plus, it gives us peace of mind."
Expanding Capacity
The three-year-long, $107-million construction project is scheduled for completion in January 2013. When completed, the Virginia Peninsula community will have access to one of the most comprehensive medical facilities combining advanced medical technology with modern facility design. All with a focus on uninterrupted patient care.
For more information, visit www.NIBCO.com, or contact Sally Boyer, manager, marketing communications, at boyers@nibco.com.