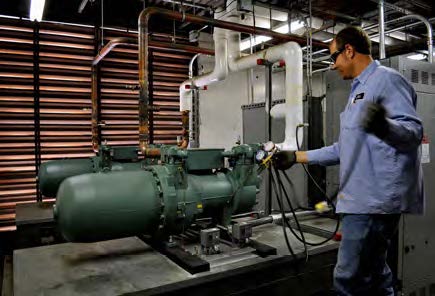 Engineering Support Paves the Way for Retrofit Solution
Confronted with correcting the performance problems of an R22 direct expansion system with two magnetic levitation, oil-less centrifugal compressors at a building in Newport Beach, CA, ACCO Engineered Systems staff ran energy comparisons between oil-less, centrifugal compressor models and screw compressors. To their surprise, BITZER CSW Screw Compressors provided full load and part load efficiencies comparable to the oil-less, centrifugal compressors.
The BITZER screw compressors were easy to install, saving ACCO time and money. Moreover, John Delmatoff, ACCO's lead chiller technician, said, "being able to solve a customer's A/C problem with a much less expensive, positive displacement screw compressor without sacrificing power consumption is a win-win."
According to William Brown, P.E., CEM, chief systems engineer at ACCO, the compressor system at the Olen Properties Building suffered reliability issues that affected the building's tenants. ACCO's challenge was to find alternate R22 compressors that would provide reliable air conditioning to the building and still minimize compressor power consumption.
Dave Streby, lead screw application engineer at BITZER's Atlanta area manufacturing plant, had consulted on replacing other oil-less, centrifugal compressors, so he assisted ACCO with planning the conversion. Screw compressors are heavier than oil-less, centrifugal models, so ACCO had to plan for a crane to lift them to the rooftop penthouse. Streby recommended that ACCO go with the infinite capacity option rather than four-step capacity. Though BITZER offered a controller for the Screws, ACCO elected to develop its own compressor control logic program using the existing system.
Delmatoff had installed many oilless, centrifugal compressors, but this was his first experience with BITZER. "BITZER's engineering support and documentation was fantastic, and I can't believe how quietly the BITZER Screw operates," he said. "It's nearly as quiet as the oil-less, centrifugal compressor."
The installation and commissioning were basically "plug and play," said Delmatoff. He did not have to spend days load balancing or tweaking the complex electronics, and the compressors pulled the building temperature down quickly. BITZER's regional sales manager, Steve Esslinger, even stopped by to support the start-up. "You can't beat the engineering support that BITZER offers," Delmatoff added.
Based on the results of this job, ACCO is preparing to commission two BITZER Screw Compressors for the United Talent Agency Plaza in Beverly Hills, which qualified for a substantial Southern California Edison Customized Solutions energy rebate.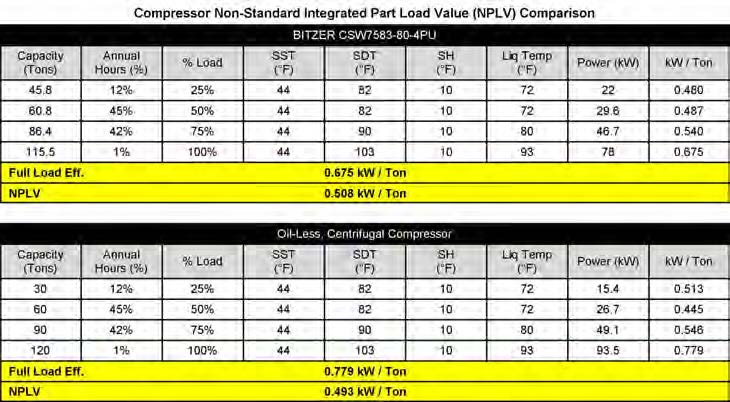 For more information, visit www.bitzerus.com or contact techsupport@bitzerus.com.