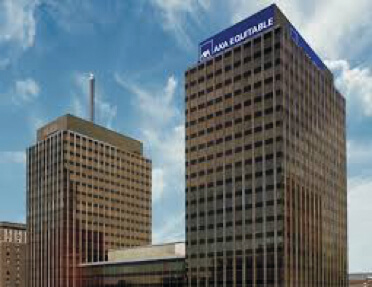 To repair a refrigerant leak in the computer room of an office tower tenant, Davis Mechanical Service, Inc. turned to Parker Hannifin Corporation's ZoomLock™ Braze-Free Fittings, avoiding the need to use a torch or get a burn permit. As a result, Davis Mechanical completed the whole repair in less than an hour and with minimal disruption to the client.
No Time for Downtime
The AXA Towers are among the tallest buildings in Syracuse, NY, and have been iconic fixtures in the city's skyline since Tower II's completion in 1973. Recently, one of the AXA Towers' tenants experienced a R-410A refrigerant liquid line leak in their computer room's variable refrigerant flow (VRF) system, caused by aging joints coming apart. Originally, these lines were held together with a complex, expensive glue and a pinching press that has, over time, started to loosen.
Keeping servers online and accessible is crucial to a company's operations. Thus, the tenant required immediate assistance to patch the leak. With the leak's proximity to their computer system and data center, conventional brazing was out of the question.
"We had to do it in such a manner that caused minimal disruption and maintained cool temperatures," said Davis Mechanical President Chris Geatrakas. "And because of the location of the leak, we could not easily bring in a brazing torch to repair the leak in a conventional manner." A portable temporary air conditioning unit was set in place to maintain temperatures as repairs were performed.
Fast and Fire-Free
To tackle these challenges, Davis Mechanical employed ZoomLock Braze-Free Fittings. ZoomLock's innovative design features a crimping tool to join copper tubes without brazing equipment. Also, ZoomLock fittings are leak-proof, and workers can repeat the joining process faster with ZoomLock than with brazing.
By avoiding brazing tools with ZoomLock, Davis Mechanical was able to make the necessary repairs without having to acquire a burn permit, disable the building's fire suppression systems, or hire a firewatcher during the job.
"We removed the refrigerant from the line, cut the line, cut the bad piece out, and ZoomLock-repaired the leaking line in a very short time," Geatrakas said. "We evacuated the system of air, opened valves up, and got them up and running in less than an hour."
A study by Jay Peters, principal advisor of Codes and Standards International, compared the time required to join refrigeration tube of various sizes by brazing to the time required to join identical copper tubing with ZoomLock fittings. Using ZoomLock saved time at each size; joining went from 31 percent faster with the smallest fittings to 77 percent faster with the largest fittings. While the time needed for traditional brazing increased with each size by a significant margin—35 seconds for 1/4″, 42 seconds for 5/8″, and 75 seconds for 1 1/8″—the difference in installation time between ZoomLock's smallest fitting and largest fitting was just one second—24 seconds at 1/4″ and 25 seconds at 1 1/8″. And most importantly for Davis Mechanical's needs, ZoomLock requires no torch, making it a perfect fit for the job and more efficient than traditional solutions.
The quick, torch-free installation of ZoomLock fittings saved time for Davis Mechanical and ensured that they would not compromise computer systems in the affected area. "No lost data, no lost downtime," Geatrakas noted. "It made our work much easier, cost the customer less, and made us look good."
For more information, visit www.zoomlock.com. MCAA thanks Parker for being a supporter of MCAA 2017.