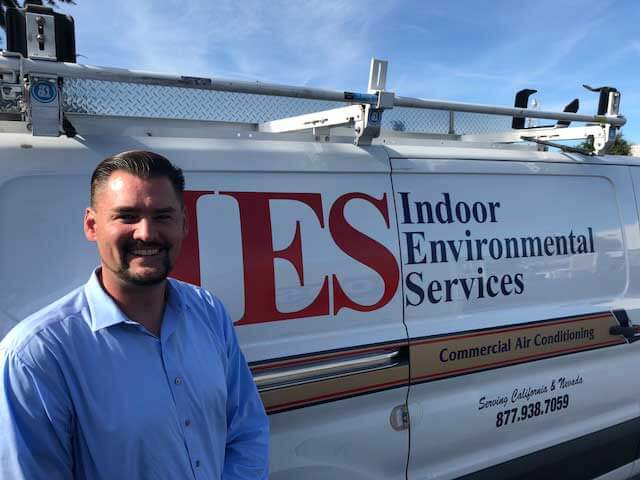 Indoor Environmental Services (IES) of California adopted XOi Vision technology, paired with Key2Act's MobileTech, to provide technicians with an easy platform for capturing video and photos on the jobsite and sharing that content with customers. That investment has yielded many unexpected returns, including reducing the lead time for sales follow-up on field-originated opportunities from two weeks to one or two days.
Standing Out in a Crowded Field
IES is a full-service facilities solution provider that serves business clients throughout California. The company specializes in mechanical contracting, including HVAC, energy projects, and both retrofit and new construction plumbing. About 170 employees work in the field, 60 of which are dedicated to the service business, doing repair, maintenance, and warranty work.
In the busy world of California commercial real estate, many building owners and property managers do not work onsite. IES wanted to distinguish itself from other reputable mechanical contracting competitors by offering clients a higher level of value and transparency through video and photo documentation from the jobsite.
IES had used Key2Act MobileTech field service management for roughly five years when they decided to add an integrated video communication platform. IES leaders met with fellow Key2Act customer MacDonald Miller and learned about their real-world results with XOi Vision.
Jason Saunders, service operations manager for IES, said XOi was a good fit for IES and very easy to implement. The integration of XOi with MobileTech made it easy for IES' technicians to use the video component that XOi offered—even for those challenged by mobile technology.
IES immediately saw the value of streaming data quickly to their end-customers. Customers appreciate seeing what is happening on the roof. Many have not been trained in the mechanical trades and have trouble understanding components on a quote. "If we can show them rather than tell them, it gives them a nice verification," explained Service Manager Eric Yocum. "We've had some customers tell us right away that they want video on every future work order."
As a result of using XOi Vision, IES' clients' perceptions of the value of mechanical services has increased. IES has also seen improved workflows throughout the organization, resulting in greater efficiency. "It's a great platform to standardize certain processes, to share information, to show value to clients. It's a very powerful tool," said Yocum.
With the technology, IES has helped property managers provide better documentation to offsite supervisors and building owners. Saunders said, "We're capturing XOi content—physical video, pictures—onto quotes, which has expedited how fast those quotes are approved. We seem to get less contested quotes, less questions."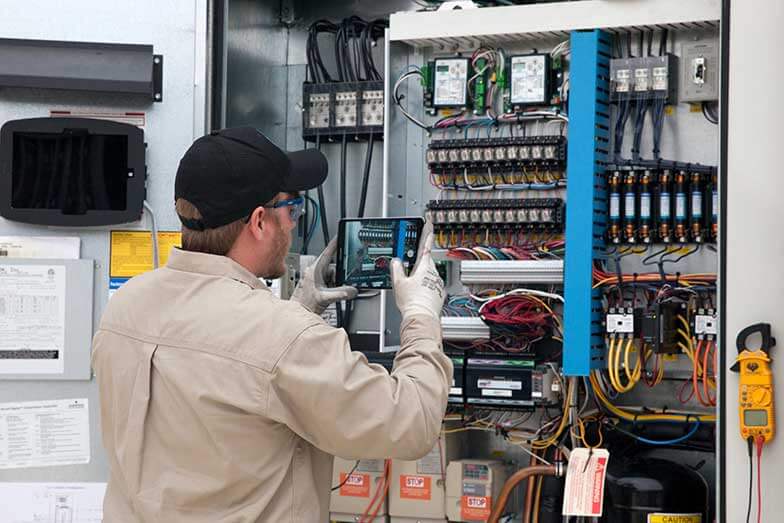 Although they initially purchased XOi to help technicians, IES decided to roll out XOi to the entire service side of the business—about 60 technicians, plus supervisors, sales, and safety coordinators. "I think there's potential to use it throughout the organization, including the construction, estimating, and engineering teams," said Saunders. Increased customer transparency, more efficient workflows and processes, standardized lead-handling workflow, expedited customer quote acceptance, and new training material are just some of the benefits already realized by IES.
XOi also helps IES manage jobs far from the office. The company can send a single employee to a jobsite hundreds of miles away but still enable the project manager and foreman to participate live in the site walkthrough as well as record it for further review.
Both Saunders and Yocum agree that one of the most useful features of XOi is the ability to streamline processes by building role-based workflows. "The ability to create your own workflows and processes has turned out to be one of the things we like the most about XOi. I can write a workflow for anybody in our organization in 15 minutes," said Yocum.
IES has used XOi to standardize its lead process, cutting out two layers of managerial review from the technician-originated lead workflow and routing video content directly to the sales manager. This has reduced lead follow-up time from one to two weeks down to just one or two days.
"There are a lot of lead opportunities and unit replacement opportunities as a result of being able to show customers the condition of their assets," Yocum pointed out.
XOi has also helped IES eliminate most of the work involved with data collection from field service calls. "From the minute we open the door until close, my team doesn't have to collect data, attach data to a service call. It's done for them," said Saunders.
"XOi Vision has been a very versatile product…. It has got many uses other than Mr. Technician and helping him with a service call," noted Saunders.
For more information, visit www.xoi.io.